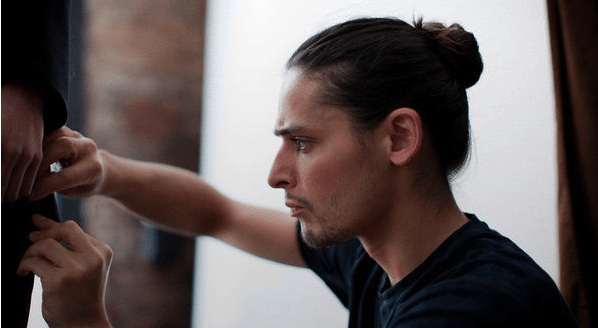 Hair bun hipster has become the latest fad, trend permeating the streets of Brooklyn, NYC as young men experiment, morph their appearances.
Kids, another reason to start reading the NY times again:
In certain arty neighborhoods like Williamsburg and Bushwick, some men are twisting their long hair into a form more famously worn by librarians, schoolmarms and Katharine Hepburn. But don't call the male version an up-do or a chignon. Call it a man bun.
If this is a new trend that the NYT's has picked up on or will end up becoming courtesy of all the media attention brought to it, I have one thing to say; thank God.
For the longest time I have been sick of watching hipster types walking around Bedford Avenue and its sister streets Whythe and Berry (which are of course way cooler to those in the know, well says me) donning Civil war beards. It seemed every other male I would pass by on the street was onto this trend, and of course as most men are capable of growing facial hair it ended up becoming a simply repeated trend. A trend which became a kind of statement of anti conformity (after all how many days can you go without shaving at most jobs before being pulled aside?) for those who could get away with that look. Then again I have always felt one can be more assertive and individualist in their aspirations and doings as a result of their actions as opposed to the way they look. That is after all too easy…
Same goes with the new hair bun. This time only a certain portion of men will be able to grow the man bun (I on the other hand can not, I HAVE A BALD SPOT TO CONTEND WITH THANK YOU VERY MUCH BIXCHES), which once again will make it appealing to a certain segment of the population who will then trump it and give it an air of exclusivity, invincibility. Then again, as much as women claim they don't mind their men being bald ( I have my doubts ladies) there is a certain peacockish disposition when a man is able to flaunt a wild body of hair, especially in a tasteful way that will steer the glances of other men and women one's way.
Yet Gawker who came up with their own response to the new hair bun sees it differently:
Every story published in the New York Times Style section that in any way purports to report on any trend occurring in the borough of Brooklyn is always complete bullshit. Hey, here's one: "In Brooklyn, Committing to a Man Bun."
You see, some of these man buns are being worn in Brooklyn.(The white part.)
Then again at the risk of getting egg on my face did the mainstream press ever care about anything other than what happened in the white part of Brooklyn? When was the last time you read about Peurto Rican hair styles? Ultimately the point that Gawker validly make is that perhaps this wouldn't have made the news had it not been seen in Williamsburg or Bushwick where all the supposed arty poseurs live.
Either way, I'm willing to bet the hair bun will become this year's must have male accessory, assuming you don't have a bald spot a stodgy boss to deal with.
For those of you gents adamant on replicating the hair bun, allure offers these tips:
Step 1: Work a styling cream through wet or dry hair to tame flyaways. Hawkins suggests a leave-in conditioner or cream with a waxy finish, like Aveda Light Elements Texturizing Creme.
Step 2: Rake the hair back and up with your fingers. "This will keep it from looking like a ballerina bun," Hawkins says.
Step 3: Twist the hair into a rope and roll it into a circle at the crown. "This is how Samurai warriors wore it. It's a point of power," says Hawkins.
Step 4: Wrap a black elastic—Hawkins loves Goody Ouchless Hair Elastics—around the bun a few times to secure it in place.