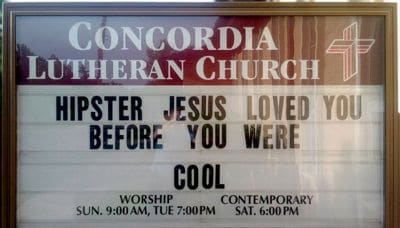 photo via Brett Jordan/Flickr
When I first arrived in Williamsburg, Brooklyn it was in 2002 where if one was lucky they could find a 1000 square foot loft with 20 feet ceilings and a sky loft in a dilipidated factory convert for a mere $600 a month. That of course was on the south side. If on the chance anyone asked me to describe the south side (as opposed to the much more gentrified north side being implied) I would respond it was paradise if you were into cheaply priced bodega food, blaring latin music and 24 x7 crack dealers and addicts hustling up and down the street looking for their next sale/hit.
What though did exist then and has ironically (yes, I know hipsters exist solely for that word) now received a following in recent times with all the new South Williamsburg residents is the Ressurrection Presbyterian Church. Back then it was a place that I would sit across the road from munching on my dollar tacos (yes bixches dollar tacos) listening to the congregation fly out in Latin melody and everyone who needed saving being saved. But now the Ressuerrection Presbyterian Church has become its own new hawt bixch.
Confused. I'll allow the following excerpt from today's NYT's style (of course) section to qualify:
ONE recent Sunday night on the south side of Williamsburg, Brooklyn, a crowd of more than 100 men and women in their 20s and early 30s gathered.
True to the unspoken dress code of the neighborhood, they were wearing high-waisted skinny jeans, vintage T-shirts and deliberately homely sweaters. One woman in a floral romper, her platinum-blond hair cut in a shag, carried a Bob Seger vinyl record under her arm. After a gospel band played, the group listened as a man with a tattoo and a shaved head, Thomas Vito Aiuto, gave a talk that referred in turn to Woody Allen, jogging and London cabdrivers.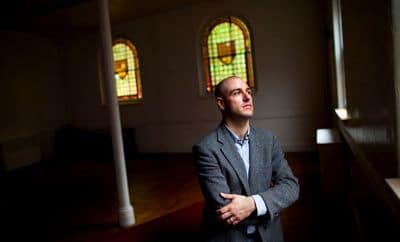 Kids, let me tell you right now- I am foaming at the mouth. Who would've thought hipsters would've finally turned to religion but turned to it in the most iconic way possible- deep in the hood.
Resurrection Presbyterian Church and Mr. Aiuto (known as Vito), its pastor, have developed a reputation for attracting the artistic young denizens of the neighborhood to services that combine readings of Psalm 85 with sermons that have a somewhat secular inflection.
But lest you bixches get overtly excited that this Pastor Aiuto is to become what Moby once became to hipsters all over the world, Mr Aiuto makes it clear he doesn't want his church to be special, and that he in fact gets riled up when the suggestion comes up that his church is now the new hip it venue to be seen at.
That may be all be true and Mr Aiuto then spends the next 3 paragraphs trying to convince the NYT's writer that he's just this wonderful mensch that happens to love God and empower humanity until you read the part that like his young worshippers whom he courts and is aware have curried a following with him- that he too in his own way is just hip, if not hip-ster than his devoted worshippers.
"I had perceived my life as an amusement park ride: I'm going to do the most drugs and be with the most people and do the most extravagant things and pretending I'm Jack Kerouac, and nobody's experienced this like I have," Mr. Aiuto said. "I kept thinking, 'You got to a place where you were so desperate you knew that if there's a God, only God could help you,' and the dominoes fell pretty quickly after that."
Frankly there is nothing like a man turning to self redemption with the aura of a self inflicted artisan seeking his inner greatness through the help of a hip and compassionate Jesus.
Mr. Aiuto, who said he prays every day — in the morning, at noon and 4 p.m., and before bed — and works 60-hour weeks that include counseling, writing his Sunday sermon and performing weddings, acknowledged that his persona presented contradictions.
"In some ways, I'm a hipster, depending on how you use the term," he said. "If I'm fighting against it too hard, that's my fault."
But just in case you're now convinced you have your next cool hipster pastor, Mr Aiuto offers the following:
But "that's an unhelpful description of our church. It's a way of looking at a person and not acknowledging their personhood. I'm trying to battle the trend of irony and sarcasm and not meaning what you're really trying to say."
Personally I miss my $600 loft, but that was after the city came and took it away from me and now I pine for the days of raw energy and heartfelt creation, as I sit here as a guest at my benefactor's country house and wonder what benediction and being a savior really means- I'm sure Mr Aiuto has a few thoughts on that matter…