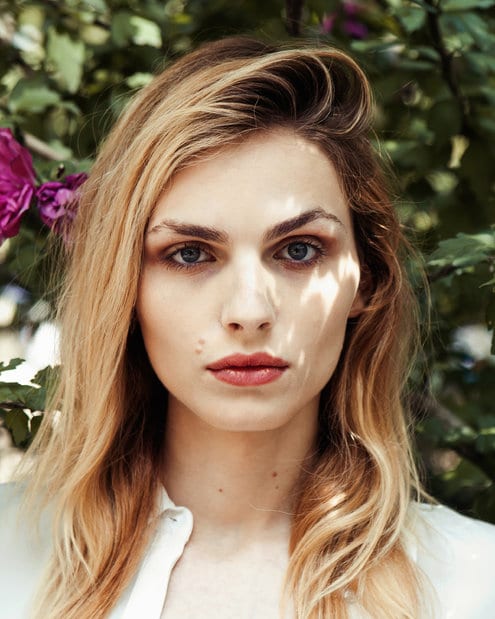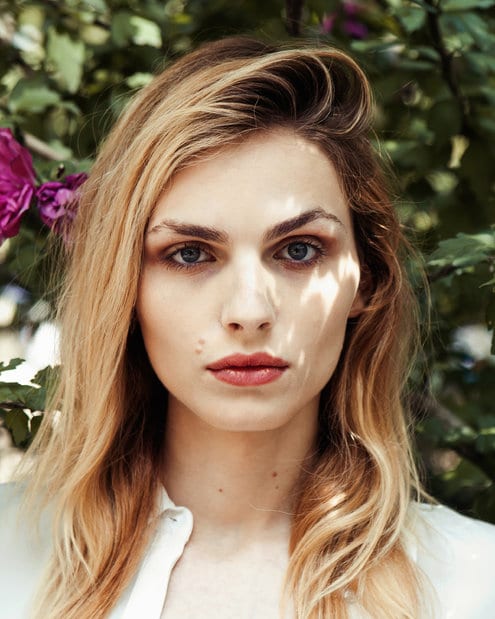 Will former androgynous model Andrej Pejic now Andreja Pejic after a recent sex reassingnment operation prevail as a high grossing fashion model since changing over as a woman? That in essence is the question posed by a new kickstarter campaign that the model has launched as she seeks to explore the journey of transgender persons in the fashion industry.
Andreja Pejic has reassignment surgery, but will the beauty brands take her seriously?
Offers the 23 year old model: 'I hope that by sharing my humanity, pain, tears, laughter, joy, and biggest struggles on film, it will shed light on what it means to live as a transgender individual.'
Already in production over the course of the last two years, Andreja Pejic and her filmmaker friend Michael Hirschorn have taken to shooting footage for the documentary, covering the model's last few photo shoots as a male model, her sexual reassignment surgery and her big reveal to the public.
In order to film the next six months, the team is appealing for $200,000 in funding, and have so far raised $18 758 (at time of publication) with 31 days left on the clock.
Andreja Pejic – who rose to fame as an androgynous male model – is still unsure as to whether the fashion industry will accept her as a female, or whether much of her appeal will now be lost. This upcoming chapter, she says, will be crucial to the documentary.
A trailer for the film depicts the model from their humble beginnings as a young boy growing up in a Serbian refugee camp, her family having been 'torn apart' by war.
Later moving with her mother, with whom she is very close, to Australia; and her brother, the model would come to then be discovered by a talent scout working in McDonald's at the age of 17.
With an avalanche of interest beginning to spawn and NYMag putting the model on its cover declaring the then male model as 'The Prettiest Boy in the World,' the model's niche had seemingly been set in stone.
'If she wanted to remain a success, she had to remain a boy,' her Kickstarter campaign reads. 'Her agents said it. The press said it. The world expected it. Most importantly, her family relied on it.'
Speaking to The New York Times last week, Andreja Pejic said: 'There are agents that would tell me: "Don't ever do it. Don't transition. You'll lose everything".
Or will she?
As of this weekend Andreja Peijic announced she had left her former agency, DNA, to join The Society – an all woman's agency – as a solely female model. On Saturday, she posted her new photo card to her Instagram account with the caption: 'New agency! New life!' 
'When I was little, I dreamed of being a girl. In fact that was my biggest dream,' Miss Pejic says in a scene from her trailer, seemingly shortly before her life-changing surgery. 'It's a goal I've had my whole life. It's all been kind of leading up to this.'
In a following photo, she is sprawled out on a hospital bed, hooked up to an I.V., and in one scene, she is hunched up in a hotel room weeping, and muttering: 'I really miss my mom.'
In another, Anreja Pejic dives into her agonizing decision as to whether or not to tell people, her agent included, about her transition post surgery.
'We live in a world that doesn't like, trust, or respect transgender people,' she says. 'It felt like there were two options for me.
'I could transition, forget about my past, hide it, live in fear. Or I could be proud, share my story with the world and hope that it does some good.'
Ultimately, it was Michael Hirschorn who convinced Andreja Pejic to not only tell her agent and her business associates, but to tell the whole world her story.
'This is a powerful part of an immensely courageous journey, we need to film this!' she recalls him telling her. 'You know how many trans people – and people in general – are out there hiding, forced to live as someone they are not? You could give them hope by going public about this.'
The UK's dailymail tells that Andreja Pejic has turned down offers from 'large global networks,' eager to swoop in on her story, but has opted to go down the road of independent film making instead, so as to 'maintain creative control.'
She insists that she and her team are contributing their own money to finish the documentary, but can't afford to cover the full costs.
Pejic is offering a variety of rewards for healthy donations, including signed merchandise, a Google Hangout with herself; or, for pledges of $10,000 or more, tickets to attend a show with her at London Fashion Week.
Whether Andreja Pejic will appear in any of the shows herself, at this week's New York Fashion Week or in London, Paris or Milan, is a question left hanging. She has personally told this author in the past that was something behind her as she sought more lucrative campaigns to divest in.
Time will tell if the beauty industry which the model hopes to finally be taken seriously by will be swayed as the model fully embraces her true identity. The question now is will the beauty and fashion industry?
Happy Birthday Andrej Pejic. But no more runway shows?
Finally my hawt bixch Andrej Pejic is getting a reality show
Andrej Pejic causes blogger to wonder out aloud if he is a boy or a girl.
Andrej Pejic dissed lover comes forward…
Andrej Pejic lands Fragrance campaign. But will he be a boy or a girl?
Andrej Pejic is now a glamorous slinky society slut. What's new?
Andrej Pejic here he goes again- posing as a female on another women's magazine cover.
Andrej Pejic astounds once again with push up bra campaign
Andrej Pejic is the bride to be. Redefining masculinity…
Andrej Pejic has a new fashion mantle: Schön Magazine's Homme Fatale.
ANDROGYNOUS MODEL ANDREJ PEJIC EXPLAINS HOW HE IS FORCED TO DIET TO KEEP HIS 25 INCH WAIST.
WELCOME TO THE DISEASE KNOWN AS MANOREXIA. MEN WHO STRIVE TO LOOK LIKE MALE MODELS.
BARNES AND NOBLES DOESN'T WANT YOU TO BE SHOCKED BY THE ANDROGYNOUS STATE OF UNDRESS OF ANDREJ PEJIC.
IN SEARCH OF MY MASCULINITY IN A MODERN WORLD.
ANDREJ PEJIC- IN SEARCH OF A SEX CHANGE.
THE ARRIVAL OF THE SUPERMODEL AND TRANSSEXUAL FRENCH KISS.
THE TOP TEN HOTTEST GUYS OF NYC: 2010.