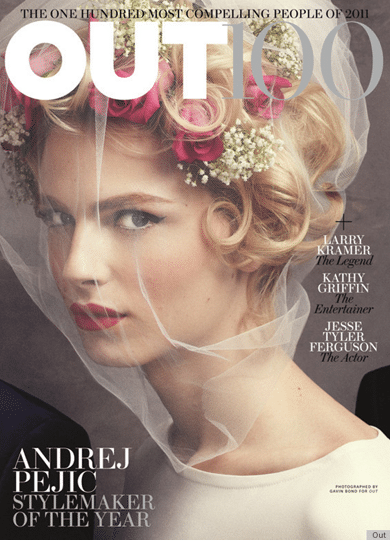 Proving once again that Andrej Pejic is far too beautiful for the likes of you and me, the 20 year old Aussie male model got the nod from taste maker OUT magazine who voted the androgynous model (who is having a wild time of depicting both male and female oeuvres, but probably more female forms of late) as its 'Stylemaker of the year.'
Says OUT's editor in chief, Aaron Hicklin: "the cover was inspired by marriage equality of NY and DC." He then goes on to describe Pejic as the "embodiment of intersections," for his blurring the gender boundaries in the fashion industry.
Pejic told the magazine, "most male models have girlfriends, but backstage, when no one is looking, they like to pinch me."
"The truth is I have to work twice as hard to be taken seriously," Pejic said.
Which probably intimates to the fact that the model literally starves himself to keep his 25 inch frame which allows him to play the ambidextrous role of male and female chanteuse.
Asked by an OUT journalist in the video above what he would say to some of the younger men who let say lived in smaller towns of America who enjoyed playing with the masculine and effeminate and playing with clothes the model (who personifies the journalist's question) responds it's okay and it's good to be creative.
One senses that Mr Pejic is relishing in his role as the modern equivalent of the theatrical androgynous doyen first brought to the fore with David Bowie's Ziggy Stardust character adaptions before the artist back in 1974 reiterated on stage after a concert he gave that it would be the last time that he would play the role of ZIggy as he feared his persona had been overshadowed by his alter ego. In the end Mr Bowie was able to re invent himself time and time again, whilst all the while hinting at his love affair with the androgynous. It seems in this respect Mr Pejic is fashion's answer to a cultural vacuum that had existed until now as well a barometer of the new role plays that boys and men can now go and adapt now that the media has chosen to validate the ambidextrous themes that men can play (after all if a woman can aspire to a man's world, why not the other way round?). Or has it?
Have a look at this behind the scenes getting ready of David Bowie's Ziggy Stardust concert in the make up room, it's too eerie:

Ziggy Stardust & the Spiders from Mars (1/11) by Notzi81
Writes theimproper: Maybe, when the novelty wears off, someone will finally photograph him as a man.
But perhaps the following insight says more about the enigma that is Mr Pejic as well at what exactly being a man today really means:
While he may be a thing of beauty, with femine hips, wide eyes, high cheek bones, but, alas, no breasts, he's irritated with all the attempts to define him.
"Define, refine, constrict, package, and sell… No thank you," he tells Out.
And perhaps reflecting idealistic youth the young man has this to say as well:
"I would like to live in a world where your gender, nationality, sexual orientation, and, above all, financial status didn't affect the opportunities you are given in life, the way you're treated by others, and your overall freedom," he adds.
"In a world like that, I wouldn't be given such a complex definition."
Could you imagine, a man or a woman without societal complexes to deal with? Free to redefine oneself and not have to live to the absurd adage; 'just be a man about it!' Whatever being a man or woman really means these days…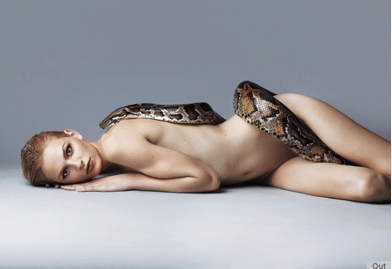 Andrej Pejic has a new fashion mantle: Schön Magazine's Homme Fatale.
ANDROGYNOUS MODEL ANDREJ PEJIC EXPLAINS HOW HE IS FORCED TO DIET TO KEEP HIS 25 INCH WAIST.
WELCOME TO THE DISEASE KNOWN AS MANOREXIA. MEN WHO STRIVE TO LOOK LIKE MALE MODELS.
BARNES AND NOBLES DOESN'T WANT YOU TO BE SHOCKED BY THE ANDROGYNOUS STATE OF UNDRESS OF ANDREJ PEJIC.
IN SEARCH OF MY MASCULINITY IN A MODERN WORLD.
ANDREJ PEJIC- IN SEARCH OF A SEX CHANGE.
THE ARRIVAL OF THE SUPERMODEL AND TRANSSEXUAL FRENCH KISS.