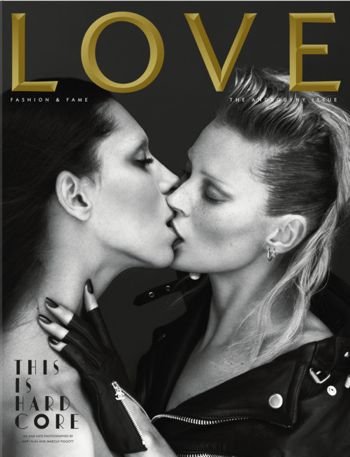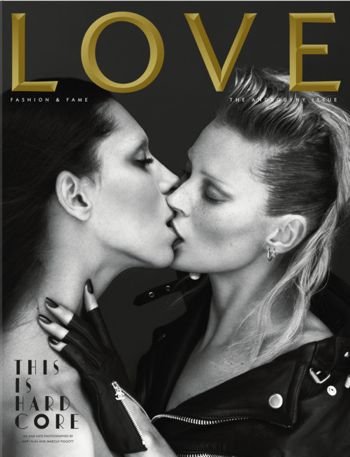 In the continuing stake of de sexualizing fashion and by extension the hyperbole that surrounds it (even though paradoxically it is used to sell and position merchandise and ideas that draw on sexual innuendo) the fashion world has once again reinvigorated itself by continuing to position the neutral state of gender. Enter the androgynous neutral appearing figures of transsexual super model Lea T and that of supermodel Kate Moss on the Feb cover of Love magazine for their androgynous issue. 
Which is to say, sexiness no longer hinges on distinct female or male hegemony definitions but rather the aberration of said definitions. Which is not to say all sex or the idea of it is dissolved, it's just now the subjects are depicted like young amorphous Ancient Greek kouros sculptures reveling in it- but with barely a trace of personal emotion. Thus neutral androgynous figures partaking in amorous states of undress or to be correct redress. 
In short to be as far away as overt sexuality has become the new hyper sexual, especially with the guise of the androgynous or neutral. 
This follows on with Steven Meisel's recent depiction or fur, fashion, androgynous women and the volatile as seen in his use of tall androgynous models by the seaside lacquered in oil slicks. Which is fashion's conscious attempts to recognize the visceral world we live and all the complexities, dangers and diabolical instances that make its corridors.
That's not also forgetting Steven Meisel's recent shoot with current male model du jour Andrej Pejic, who has purposefully played on his androgynous appearances for the November issue of Vogue Italia, where the 19 year old Pejic is surrounded by females in languorous positions devoid of any overt sexuality.
Should we then be surprised even if some of us are outraged then that fashion is now moving forward and depicting emotionless, gender free appearing models (never mind their fame and history within fashion that we implicitly know about and overlook for the sake of the work's effrontery) in a world starved of love, and yet overwhelmed with it- assuming you call preening in front of the camera embraced love?
What then do we make of the transgender model Lea T and her supermodel partner locking lips? A engagement of our times, or a repudiation of our times?
Whatever you think, it certainly has our attention and got us thinking and that after all can't be a bad omen.
THE OIL AND WATER ITALIAN VOGUE PHOTO SHOOT IS FINALLY HERE.
IT'S TIME TO SEE VOGUE ITALIA'S LATEST CONTRIBUTION TO THE ANDROGYNOUS STAKES.
LEA T, A TRANSEXUAL MAKES IT AS FRENCH VOGUE'S COVER GIRL.
Lea T the transexual lands Fashion cover.