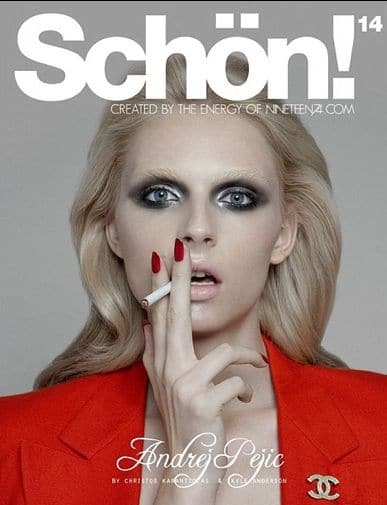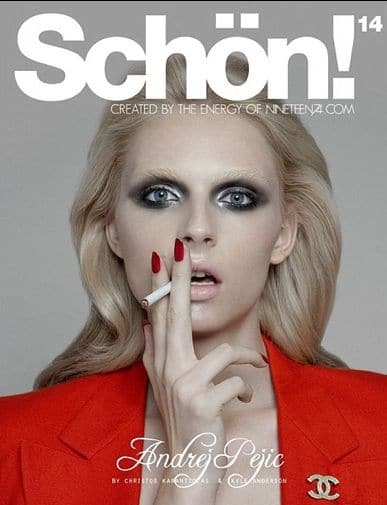 Forget femme homme fatale, this bixches is just another day at the office for fashion's bad boy, Andrej Pejic as he continues on his tear away journey as the go to for the diabolical, subversive, and slightly deranged. Part sartorial, part serious, part combative, the visage of Andrej Pejic has now morphed into a new standard within the realms of fashion.
Drawing on the influence of Marline Dietrich (isn't it obvious?) Schön Magazine out of Germany have installed mock camp, high glam and the austere insouciant glaze of a young man who could be a girl who could be a boy. Such are the preferred twisted and tantalizing themes of high camp and edgy dispositions ingratiating certain quarters of the fashion world. Yet perhaps this says more about the clothes, the look and more about the attitude, the conflict of the times, the transience nature of our existence and the ephemeral presence of beautiful men and women who mock us into submission.
It's the young man's 4th cover to date and following his recent appearances in the 2012 spring collections where he romped as a femme fatale it seems this young man has definitely cornered this quarter of the market all for himself. The only caveat being is how long before he resists the urge to physically deny himself his natural state of being for even Andrej admits – 'it's damn hard work being a size 25 all day long.'
Just eat lots of air and inhale on those Marlboros slowly Andrej…
ANDROGYNOUS MODEL ANDREJ PEJIC EXPLAINS HOW HE IS FORCED TO DIET TO KEEP HIS 25 INCH WAIST.
WELCOME TO THE DISEASE KNOWN AS MANOREXIA. MEN WHO STRIVE TO LOOK LIKE MALE MODELS.
BARNES AND NOBLES DOESN'T WANT YOU TO BE SHOCKED BY THE ANDROGYNOUS STATE OF UNDRESS OF ANDREJ PEJIC.
IN SEARCH OF MY MASCULINITY IN A MODERN WORLD.
ANDREJ PEJIC- IN SEARCH OF A SEX CHANGE.
THE ARRIVAL OF THE SUPERMODEL AND TRANSSEXUAL FRENCH KISS.