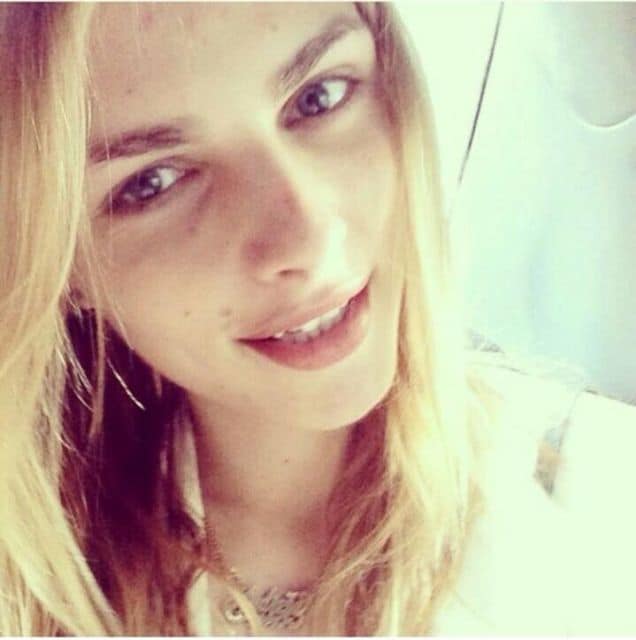 Andreja Pejic formerly Andrej Pejic has told she has performed sex re assignment surgery and is no longer a he but a she.
The top model known for their androgynous looks who first rose to international prominence in 2010 tells that the decision to fully embrace their identity as a female was a natural one and had in fact begun the process of eventual migration as early as 17 with the use of puberty blockers, before a chance discovery whilst living in Melbourne, Australia saw the then unknown model scooped up and literally jettisoned into an international star almost overnight.
Finally my hawt bixch Andrej Pejic is getting a reality show
Andrej Pejic causes blogger to wonder out aloud if he is a boy or a girl.
Andrej Pejic dissed lover comes forward…
Andrej Pejic lands Fragrance campaign. But will he be a boy or a girl?
Andrej Pejic is now a glamorous slinky society slut. What's new?
Andrej Pejic here he goes again- posing as a female on another women's magazine cover.
The transgender model would tell in an interview with Entertainment Tonight that modeling soon positioned her as the token new look for the androgynous set, and by implication stalling her plans to realize her vision of adopting a female persona.
Told Andrej Pejic via Style.com : 'I think from my teenage years, when I decided I needed to express my femininity, I was happy with the way I looked. But SRS [sex reassignment surgery] is kind of the last part – it's sort of the icing on the cake,'
'It makes me feel freer than ever. Now I can stand naked in front of a mirror and really enjoy my reflection. And those personal moments are important.'
Whilst the model would soon become a favorite and a darling of the editorial and fashion world she would come to acknowledge that her androgyny would be at odds with the sensibilities with the namesake beauty brands who would resist booking her for their lucrative national/international campaigns.
Offered the model tellingly: 'There are a lot of roadblocks, particularly when working with cosmetic brands or perfumes or those sort of commercial, corporate things. It's been more difficult to break into that world than 'fashion' because it hasn't been done before. They don't have any market research, and people in that world aren't risk-takers,'
'You have to prove to them over and over that you are liked by people, you have a skill, and you can sell a product," 
jezebel: Pejic joins a growing number of trans models who are coming out publicly. A year after Pejic start modeling, Isis King made headlines as the first trans woman to compete on America's Next Top Model. Two years later, model Lea T came out to the world as transgender in FrenchVogue. Former RuPaul's Drag Race contestant Carmen Carrera is well on her way to being a supermodel.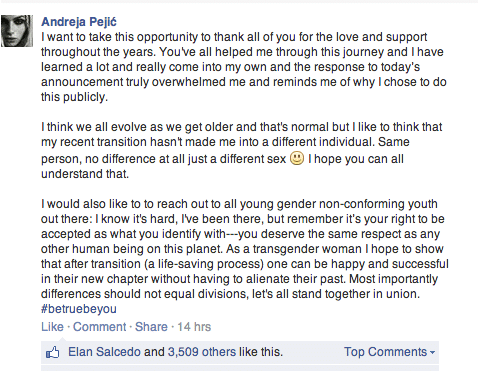 While it took the model three-months to recover from surgery, she plans to continue supporting the lesbian, gay, bisexual and transgender community through activism and advocacy work.
'My goal is to give a human face to this struggle, and I feel like I have a responsibility,' she said.
'What's in between anyone's legs is not who they are.'
Of course the question now is will the beauty brands that every model aspires to will take her seriously or not?
Andrej Pejic astounds once again with push up bra campaign
Andrej Pejic is the bride to be. Redefining masculinity…
Andrej Pejic has a new fashion mantle: Schön Magazine's Homme Fatale.
ANDROGYNOUS MODEL ANDREJ PEJIC EXPLAINS HOW HE IS FORCED TO DIET TO KEEP HIS 25 INCH WAIST.
WELCOME TO THE DISEASE KNOWN AS MANOREXIA. MEN WHO STRIVE TO LOOK LIKE MALE MODELS.
BARNES AND NOBLES DOESN'T WANT YOU TO BE SHOCKED BY THE ANDROGYNOUS STATE OF UNDRESS OF ANDREJ PEJIC.
IN SEARCH OF MY MASCULINITY IN A MODERN WORLD.
ANDREJ PEJIC- IN SEARCH OF A SEX CHANGE.
THE ARRIVAL OF THE SUPERMODEL AND TRANSSEXUAL FRENCH KISS.
THE TOP TEN HOTTEST GUYS OF NYC: 2010.