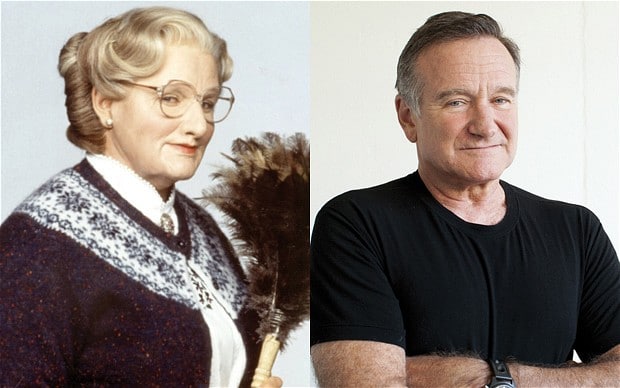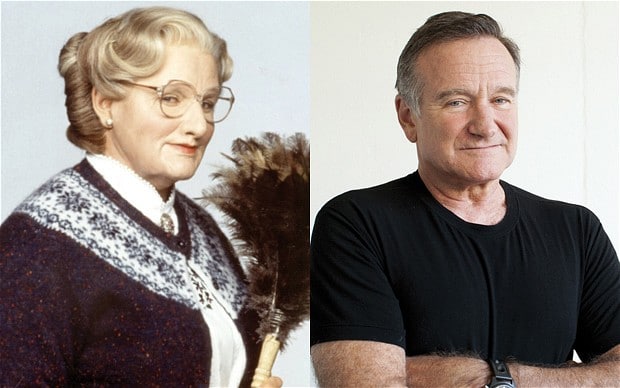 A source has told that Robin Williams only signed on to do the 1993 Mrs Doubtfire sequel cause he needed the money, this after CBS decided to cancel the tv sitcom, The Crazy Ones after only one season.
Told the neighbor and friend via the Daily Telegraph: 'He signed up to do them purely out of necessity. He wasn't poor, but the money wasn't rolling in any more and life is expensive when you have to pay off two ex-wives and have a family to support,'
The source would also tell that the actor who come 2014 had already made 4 films had been dreading making more films as they 'brought out his demons,' adding 'Robin had promised himself he would not do any more as he invested so much in his roles that it left him drained and particularly vulnerable to depressive episodes.'
The friend who would sometimes go cycling with the actor in the actor's home town of Tiburon, just outside of San Francisco would also add that the prospect of having to be forced away from home during shooting would also hang on his mind.
Adding: 'He didn't like being away from the family for too long, which was a big issue for him when he was shooting films," the friend said. "That's why he agreed to do the TV show (The Crazy Ones). It was filmed nearby in San Francisco and they were very flexible with him.'
Gold digger? Were Robin Williams and wife Susan Schneider having marital problems? 
Has the media sensationalized Robin Williams death? 
Deep Depression: Robin Williams was sleeping 18 hours a day 
Robin Williams was drinking on CBS set. Was a terror to work with. 
NSFW: Fake dead picture of Robin Williams causes Zelda Williams, daughter to quit twitter 
Rebecca Erwin Spencer is the personal assistant that discovered Robin Williams dead body 
Trouble? Why were Robin Williams and his wife Susan Schneider sleeping in separate beds? 
Robin Williams bought Conan O'Brien a bicycle to cheer him up 
Robin Williams depression. Was he wrong to commit suicide? 
Robin Williams hung himself with a belt whilst his wife slept in the next room 
Robin Williams tortured photo at AA meetings prior to suicide surfaces 
Robin Williams died by hanging himself. Did he drink himself to death? 
Robin Williams had serious money problems. Divorce had made him broke 
Robin Williams suicide. Had just checked back into rehab last month 
Robin Williams dead. Why did he commit suicide? Asphyxia reported. 
In addition to reprising his cross-dressing role as the nanny Mrs Doubtfire, Williams had all but finished work on 'Night at the Museum: Secret of the Tomb' – the third time he played President Teddy Roosevelt for the 'Night at the Museum' series. The project is scheduled to be released in December.
The actor also had come to finish 'Merry Friggin' Christmas,' a holiday comedy due out in November; 'Boulevard,' a drama that has already premiered at the Tribecca Film Festival as well as the voice for Dennis the Dog in science fiction comedy 'Absolutely Anything.'
In May, 'The Angriest Man in Brooklyn,' a comedy with Mila Kunis, came out to less than flattering critical reviews. This after fans stopped watching the actors recent re entry into sitcom tv via CBS's The Crazy Ones which came to be scraped after only one season. By then the actor must have been wondering if his star status had begun to wane, possibly setting himself for a fall as he no longer felt connected to his projects.
Producers would also tell in lieu of the actors death, that the 'Mrs Doubtfire' prequel which was in early development would likely be scrapped, nevertheless one wonders if producers may have begun to have cold feet as the actors star status was beginning to wane?
Although the actor had been involved in a number of film projects prior to his suicide it is thought it wasn't necessarily for his love of film that kept the actor busy.
Told the actor in September 2013, via Parade magazine: 'The idea of having a steady job is appealing. I have two [other] choices: go on the road doing stand-up, or do small, independent movies working almost for scale [minimum union pay]. 
'The movies are good, but a lot of times they don't even have distribution. There are bills to pay. My life has downsized, in a good way. I'm selling the ranch up in Napa. I just can't afford it anymore.'
The ranch referred to was the actors 640-acre Napa Valley property that he had originally quietly listed in 2012 for $35 million, but by April of this year the actor had  officially put up for sale asking for $29.9 million.
When asked if he had lost all his fortune, the actor told: 'Well, not all. Lost enough. Divorce is expensive. I used to joke they were going to call it 'all the money,' but they changed it to 'alimony.' It's ripping your heart out through your wallet. Are things good with my exes? Yes. But do I need that lifestyle? No.'
Asked why he had chosen to star in films like Patch Adams and Old Dogs, he said: 'It paid the bills. Sometimes you have to make a movie to make money…You know what you're getting into, totally. You know they're going to make it goofy. And that's OK.'
The above sentiments would later be corroborated by another source via radaronline telling that the actor was by now fully depressed and in a kind of existential funk as he grappled with his career, money woes and the ensuing depression he would feel after shooting, which would often leave the actor spent and disconnecting with the outside world, where he took solace in solitude and binge drinking…
Told the source via Radar: 'Robin slipped into a deep depression. He felt embarrassed and humiliated that the show had been a failure. It was very hard for Robin to accept. Here he was in his sixties, and forced to take a role on television for the money. It's just not where he thought he would be at this point in his life.'
'There was also frustration that Robin expressed at having to take television and movie roles he didn't want to take, but had to for the paycheck," the source said, referencing his recently announced decision to film Mrs. Doubtfire 2. 'Doing sequels was never Robin's thing, and he wasn't that excited at having to reprise the role of Mrs. Doubtfire, which was scheduled to start filming later this year.'