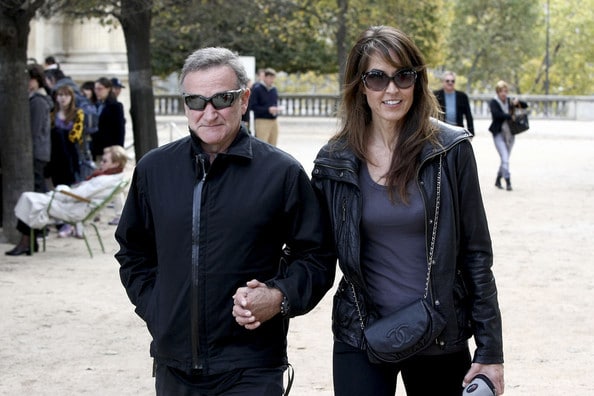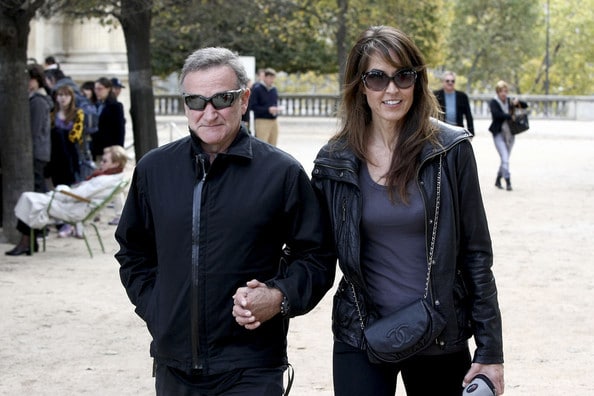 Since the death of Robin Williams questions have been asked as to the nature of the actors relationship and marriage to his wife, Susan Schneider and whether the pair were necessarily getting on?
Perhaps most puzzling is the question of why had the pair slept in separate bedrooms on the evening of the actor's suicide? Was this simply a one off event, an arrangement which suited the actor who could withdraw to his vices and detach or the sign that the pair may not have been necessarily receiving the love and support that they sought in their marriage?
Reflects celebdirtylaundry: Robin was last seen alive at about 10:30 pm on Sunday, which is when his wife Susan Schneider decided to go to bed. Apparently Susan and Robin slept apart because she had no idea what time her husband decided to retire for the evening. Interestingly enough, Susan left the family home at 10:30 am Monday morning and didn't even bother to check in on Robin – kind of strange considering that, according to well-placed sources – his depression was super serious and glaringly apparent to everyone close to him.
Has the media sensationalized Robin Williams death? 
Deep Depression: Robin Williams was sleeping 18 hours a day 
Robin Williams resented Mrs Doubtfire sequel. Needed money after sitcom cancellation 
Robin Williams was drinking on CBS set. Was a terror to work with. 
NSFW: Fake dead picture of Robin Williams causes Zelda Williams, daughter to quit twitter 
Rebecca Erwin Spencer is the personal assistant that discovered Robin Williams dead body 
Trouble? Why were Robin Williams and his wife Susan Schneider sleeping in separate beds? 
Robin Williams bought Conan O'Brien a bicycle to cheer him up 
Robin Williams depression. Was he wrong to commit suicide? 
Robin Williams hung himself with a belt whilst his wife slept in the next room 
Robin Williams tortured photo at AA meetings prior to suicide surfaces 
Robin Williams died by hanging himself. Did he drink himself to death? 
Robin Williams had serious money problems. Divorce had made him broke 
Robin Williams suicide. Had just checked back into rehab last month 
Robin Williams dead. Why did he commit suicide? Asphyxia reported. 
Admittedly the fact that Robin Williams wife failed to check on her husband raises questions as to the nature of the pairs relationship, whether they had been fighting, going through a difficult time or could it simply have been a situation that Susan Schneider by now had become acclimated to her husband's schedule, his penchant for sleeping in (a source has since said the actor was sleeping 18 hour days) and was nonplussed by the actor's lack of presence?
And yet one can't help but wonder if there was more going on than has yet to be revealed? Were the couple going through a personal crises? Had the actor become so private and glum and begun hitting the bottle that Susan Schneider felt she had no recourse but to stay out of the actor's way? Had she intervened or attempted to intervene, get the actor to go back to rehab, therapy, consult other family members or close friends?
And what of the evening of the actor's death, could it be when the actor retired to his room, to shut the doors behind him that he had snapped after a possible altercation with his wife, deciding then and there to take his life?
Contemplates celebdirtylaundry: Were Robin and Susan having problems and did he fear that another divorce would completely ruin him financially? Robin had spoken in recent months of how costly his first two divorces were. Was this a man fearing a third go-round that turned to his old ways of coping – through self-medication? At the very least it sounds like Robin wasn't exactly in sync with his wife when she didn't even bother to check in on him before leaving yesterday morning. Do you think there is more to this story that is going to come tumbling out? If you knew that your loved one was severely depressed would you leave them to their own devices for 14 hours?
Commentators on the web have since been quick to judge Robin Williams wife who one can only imagine is going through degrees of insurmountable grief, with some calling Susan Schneider's on the surface lack of attention to her husband as uncaring, devoid of empathy with some even wondering if Susan Schneider had married the actor cause she was a gold digger?
In the end it's a private matter and as tempting as it is for the media to speculate as to what may actually have preceded the actor's taking his own life and what part his personal life may have led to his demise we ought to take solace in the fact that for the longest time we were blessed to be entertained by Robin Williams and to remember whilst he and other celebrities invoke wonder and curiosity in their stage and film roles they too also lead private roles that only they could play and lead. A realization that may have weighed very heavily on Robin Williams as he grappled with the great divide of his public image and his private self capitulation….