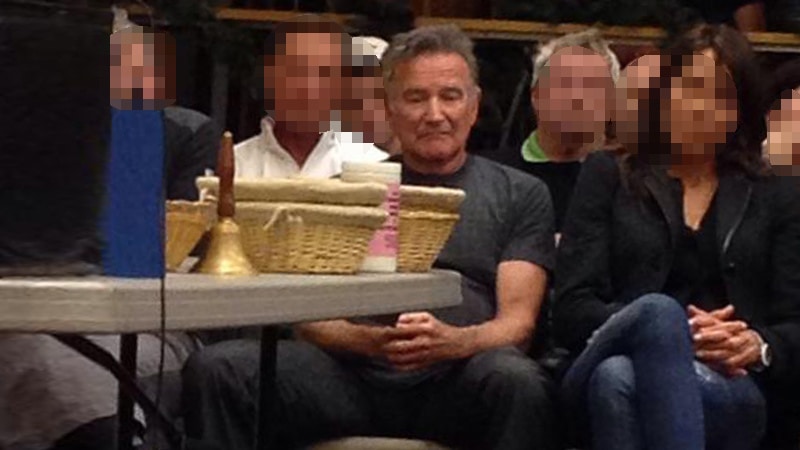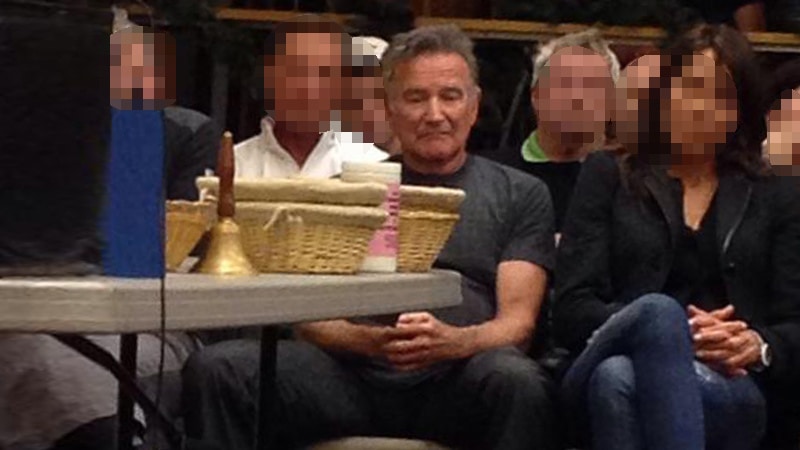 An image depicting Robin Williams visibly tortured whilst attending his recent Alcohol Anonymous (AA) meetings at Minnesota's  Hazelden Addiction Treatment Center has surfaced.
The photo first published on radar online shows the actor's grim determination to meet his struggles head on.
Gold digger? Were Robin Williams and wife Susan Schneider having marital problems? 
Has the media sensationalized Robin Williams death? 
Deep Depression: Robin Williams was sleeping 18 hours a day 
Robin Williams resented Mrs Doubtfire sequel. Needed money after sitcom cancellation 
Robin Williams was drinking on CBS set. Was a terror to work with. 
NSFW: Fake dead picture of Robin Williams causes Zelda Williams, daughter to quit twitter 
Trouble? Why were Robin Williams and his wife Susan Schneider sleeping in separate beds? 
Rebecca Erwin Spencer is the personal assistant that discovered Robin Williams dead body 
Robin Williams bought Conan O'Brien a bicycle to cheer him up 
Robin Williams depression. Was he wrong to commit suicide? 
Robin Williams hung himself with a belt whilst his wife slept in the next room 
Robin Williams died by hanging himself. Did he drink himself to death? 
Robin Williams had serious money problems. Divorce had made him broke 
Robin Williams suicide. Had just checked back into rehab last month 
Robin Williams dead. Why did he commit suicide? Asphyxia reported. 
Tells radar: After a lifetime of addiction, actor Robin Williams was valiantly battling his demons even in the months before his death. RadarOnline.com has exclusively learned that before entering rehab this summer, the actor was spotted at a San Francisco AA meeting earlier this year.
Williams was photographed looking grim and focused at a San Francisco AA meeting earlier this year:
Told the actor regarding his experiences in Alcoholics Anonymous during a 2013 interview:
'I felt so good about the first AA meeting that I attended that I went out and drank the next day," he said. "And then I felt so bad that I came to the [next] meeting and said, 'I screwed up. I can't come back.' A friend said, 'Why not?' I went, 'I drank after the meeting.' And he said, 'Hey, we don't shoot our wounded. Come back.'
CBS SanFrancisco would also report that a team photographer, Dean Kendrick had been attending AA meetings at the same time as Robin Williams recently.
Told the photographer of Robin Williams: 'He was very slow in his movements and his demeanor was also very low,'
'He really, really needed support at that time.'
CBS would also report that Kendrick came to be impressed at the entertainer's willingness to reach out to others for help.
'He was one of the very first to raise his hand and open his self to vulnerability to anyone about his own personal situation.'
Williams went sober cold turkey in the 80s after battling alcohol and cocaine abuse. After roughly twenty years sober, he relapsed and entered rehab in 2006. Most recently, he entered rehab again this summer  but reps said at the time it was only to 'fine-tune' his ongoing 'commitment' to his sobriety. Nevertheless questions have since been raised if the actor got to finish the program he had enrolled in and whether in fact judging by the very latest images since posted on social media just before the actor went on a self imposed exile if he had fallen off the wagon and had taken to drinking with abandon again?
The below photos also document the actors increasingly harried and haggard appearances, perhaps as a result of having capitulated to his vices in recent times…?
Told 15 year old Dairy Queen employee, Abby Albers (seen pictured with Williams below) when the actor came to visit her store after having started rehab at a local Minnesota private clinic late June: 'Williams seemed to be struggling during his visit to the store,'
Albers would  tell that actor was subdued and unrecognizable during the visit in late June.
Adding: 'I didn't think it was actually him (at first),'
And then there was this sobering telling from one of Robin Williams neighbors who had managed to see the actor days before his death: 'He was very drawn and thin, he did not look like the Robin who first moved into this community many years ago.
'He was a shell of himself, exhausted and not in the best spirits, but still the nice guy I had always known. There seemed to be something on his mind.
'He was not at all like his stage persona, that was not the Robin I knew. He was more quiet and down-to-earth, not over-the-top like he was in the movies. He listened well.
'He was often quiet and very private.
'The last time I saw him he seemed to be in a bad place emotionally.'
Image taken last week of July during in house rehab