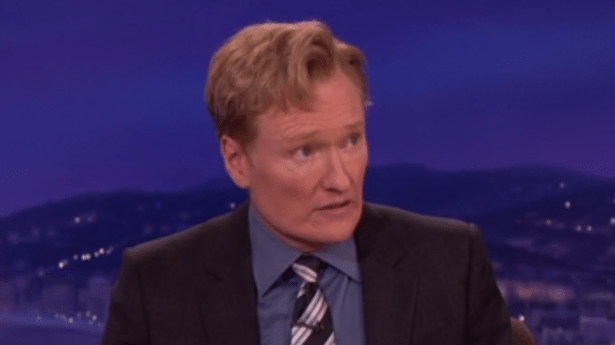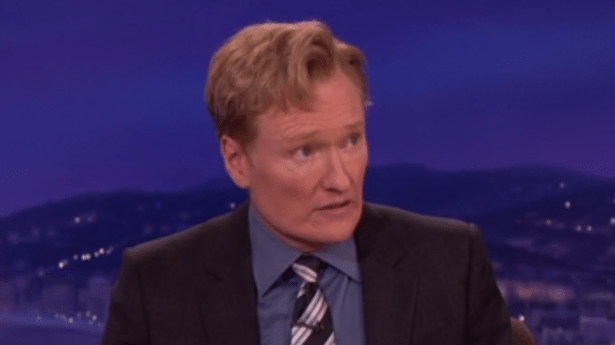 When late night host Conan O'Brien took a few minutes to remember Robin Williams  during a live taping, calling the late comedian, 'the best talk show guest in the world,' what he hadn't told audience members at the time when the comic was tearing up deep inside over the loss of his close pal was that said close pal had once bought him a bicycle to cheer him up when he was playing the late night being dumped shuffle.
'He was generous in so many ways, he just had such a generous spirit as well,' Conan said on Tuesday night's show. 'But just as a quick example of what he was like, five years ago I went through publicly kind of a bump in the road, and I was feeling a little low. Out of the blue, Robin Williams buys me a bicycle.'
Told O'Brien in full, that might make us realize the depth of the comic's relationship and the pathos involved with digging inside to make everyone around you feel better when sometimes one is struggling inside for dear sanity:
It sounds like a silly thing, you know, like he was the first person to buy me a bicycle since my parents got me a bicycle… when I was 35. But I was kind of low and Robin loved to ride and I loved to ride and he bought me a bicycle, but this was so Robin Williams, he bought me this bicycle and he had it delivered to my house and it was the most absurd bicycle you've ever seen. It was bright orange and bright green and had shamrocks on it.
So I called Robin up, because who does that? I didn't know him well enough to justify this kind of, "You didn't get me anything." So I called him up and I just said, "Robin, I'm floored by this bike." And all he would say was, "Well I knew you ride and I knew you could use it," and he went, "Does it look ridiculous, does it really look ridiculous?" And I said, "Yeah, it looks ridiculous."
And he went, "Good. Do you really look stupid riding it?" I said, "Yeah I'm going to look really stupid." And he said, "Well then that's good then."
"He had just that amazing spirit of fun. The generosity but also the fun at the same time. And so often I would just look at that silly bike and think, "What a wonderful spirit, what an amazing spirit," Conan said during the show. "And we know now that he had his battles, and I think it's very courageous for someone to be that generous in the face of that kind of depression."
via Uproxx
Gold digger? Were Robin Williams and wife Susan Schneider having marital problems? 
Has the media sensationalized Robin Williams death? 
Deep Depression: Robin Williams was sleeping 18 hours a day 
Robin Williams resented Mrs Doubtfire sequel. Needed money after sitcom cancellation 
Robin Williams was drinking on CBS set. Was a terror to work with. 
NSFW: Fake dead picture of Robin Williams causes Zelda Williams, daughter to quit twitter 
Trouble? Why were Robin Williams and his wife Susan Schneider sleeping in separate beds? 
Rebecca Erwin Spencer is the personal assistant that discovered Robin Williams dead body 
Robin Williams depression. Was he wrong to commit suicide? 
Robin Williams dead. Why did he commit suicide? Asphyxia reported. 
Robin Williams hung himself with a belt whilst his wife slept in the next room 
Robin Williams tortured photo at AA meetings prior to suicide surfaces 
Robin Williams died by hanging himself. Did he drink himself to death? 
Robin Williams had serious money problems. Divorce had made him broke 
Robin Williams suicide. Had just checked back into rehab last month 
Robin Williams dead. Why did he commit suicide? Asphyxia reported.