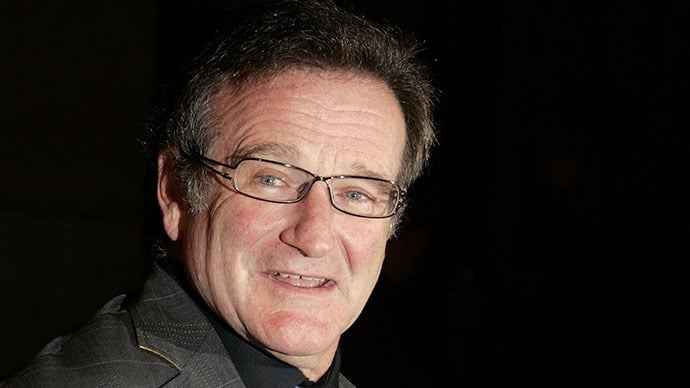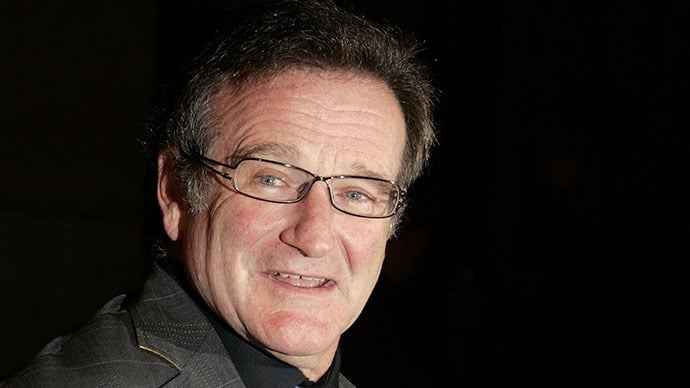 Even before Robin Williams had taken his own life the actor had been remarkably candid about the fact about the fact that he was afflicted and had spent years wrestling his demons which had manifested themselves in alcohol and cocaine abuse.
Nevertheless since Robin Williams suicide there have been some who have criticized the actor (chiefly Fox's Shep Smith) for choosing to take his own life which on some level belies society's misunderstanding and discomfort with mental disease and depression. Which is to suggest we live in a society where we are constantly reminded we can have it all and if we don't it's just a matter of keep trying and to remain chipper until things finally come your way.
Gold digger? Were Robin Williams and wife Susan Schneider having marital problems? 
Has the media sensationalized Robin Williams death? 
Deep Depression: Robin Williams was sleeping 18 hours a day 
Robin Williams resented Mrs Doubtfire sequel. Needed money after sitcom cancellation 
Robin Williams was drinking on CBS set. Was a terror to work with. 
NSFW: Fake dead picture of Robin Williams causes Zelda Williams, daughter to quit twitter 
Trouble? Why were Robin Williams and his wife Susan Schneider sleeping in separate beds? 
Rebecca Erwin Spencer is the personal assistant that discovered Robin Williams dead body 
Robin Williams bought Conan O'Brien a bicycle to cheer him up 
Robin Williams dead. Why did he commit suicide? Asphyxia reported. 
Robin Williams hung himself with a belt whilst his wife slept in the next room 
Robin Williams tortured photo at AA meetings prior to suicide surfaces 
Robin Williams died by hanging himself. Did he drink himself to death? 
Robin Williams had serious money problems. Divorce had made him broke 
Robin Williams suicide. Had just checked back into rehab last month 
Reflects the UK's guardian: I've said it before, and I'll say it again; dismissing the concerns of a genuine depression sufferer on the grounds that you've been miserable and got over it is like dismissing the issues faced by someone who's had to have their arm amputated because you once had a paper cut and it didn't bother you. Depression is a genuine debilitating condition, and being in "a bit of a funk" isn't. The fact that mental illness doesn't receive the same sympathy/acknowledgement as physical illness is oftenreferenced, and it's a valid point. If you haven't had it, you don't have the right to dismiss those who have/do. You may disagree, and that's your prerogative, but there are decades' worth of evidence saying you're wrong.
Yet that too raises the argument how could someone with so much going for them, possibly feel depressed to the point of suicide? With all the money/fame/family/success they have, to be depressed makes no sense?
Yet here is what we ought to understand about mental disease and depression- it is illogical and deeply persona. What may seem manageable or reasonable to one person may in fact be all together unfathomable and unmanageable to another. Involved in such assessments are the fact that we all arrive at life with different experiences, challenges, setbacks, proclivities and understandings. How one gets through life is often a confluence of all of the above which is to say there is no necessary right or wrong about how one goes about things and how they especially understand, perceive or relate to life- it is a deeply personal challenge.
Yet if we take the step back and begin to ask what depression really is and why it leaves those of us afflicted with it unable to fathom certain life experiences we ought to not offer moral judgements but our sympathy and compassion, remembering that life is a deeply personal experience and how one person takes on challenges and setbacks is often conditional on their own setbacks, challenges, experiences and importantly their very own personal perceptions. The key here though is the fact that perception and understanding of life can never always be logical but in the beholder of the individual, even if it may appear to an outsider as completely and utterly illogical.
Which is to say when we as a society deem an individuals act of suicide as selfish what are we really saying about that person's particular experiences and perceptions and are we in some way forcing our own views, experiences, judgements, understanding and perceptions of life that can only logically belong to ourselves? And more importantly are we further condemning an individual caught in a quagmire for the very fact that they are caught in a quagmire?
Reflects the guardian: The "selfish" accusation also often implies that there are other options the sufferer has, but has chosen suicide. Or that it's the "easy way out". There are many ways to describe the sort of suffering that overrides a survival instinct that has evolved over millions of years, but "easy" isn't an obvious one to go for. Perhaps none of it makes sense from a logical perspective, but insisting on logical thinking from someone in the grips of a mental illness is like insisting that someone with a broken leg walks normally; logically, you shouldn't do that.
If we accept the notion that depression doesn't make one think logically, or automatically confide in friends and family what service are we then providing to those afflicted and to any one of us who could find ourselves in deep existential despair or in the throes of mental anguish the accusation that they are anything less the assertion that somehow such an individual is flawed? By the very definition of being depressed or mentally ill one can not expect to judge such an individual to being capable of behaving in a way that most members of society deem appropriate.
Sometimes the reality is that an individual can indeed be highly intelligent, successful, talented and at the same time equally afflicted and morose and consumed with illogical oppressing thoughts, which by definition is why they are depressed in the first place. We ought not as a society condemn such individuals and if we claim we are more moral, more logical (and to what degree?) we should then be able to step outside of our own egos, insecurities and understand that life is indeed full of absurdity, irrationality and that in the end only the individual can make light of day should they choose to or able to.
above image found here