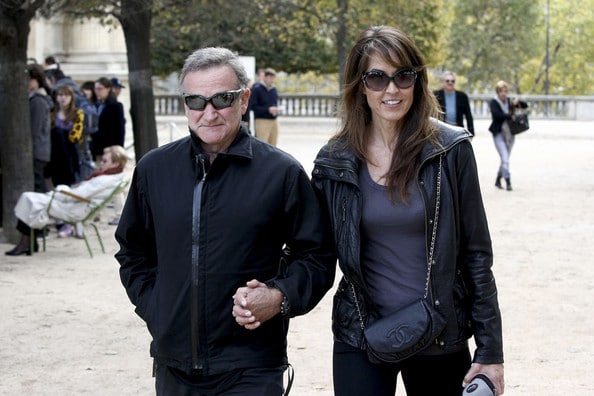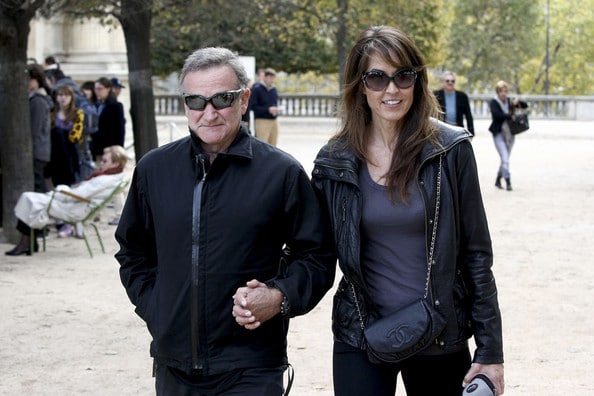 Since the discovery of  Robin Williams body questions have been asked as to why the actor and his wife, Susan Schneider had taken to sleeping in separate beds and whether that intimated any degree of discord between husband and wife? Discord which may have exacerbated the depression that the actor had come to increasingly be feeling in recent months…
Gold digger? Were Robin Williams and wife Susan Schneider having marital problems? 
Has the media sensationalized Robin Williams death? 
Deep Depression: Robin Williams was sleeping 18 hours a day 
Robin Williams resented Mrs Doubtfire sequel. Needed money after sitcom cancellation 
Robin Williams was drinking on CBS set. Was a terror to work with. 
NSFW: Fake dead picture of Robin Williams causes Zelda Williams, daughter to quit twitter 
Rebecca Erwin Spencer is the personal assistant that discovered Robin Williams dead body 
Robin Williams bought Conan O'Brien a bicycle to cheer him up 
Robin Williams depression. Was he wrong to commit suicide? 
Robin Williams dead. Why did he commit suicide? Asphyxia reported. 
Robin Williams hung himself with a belt whilst his wife slept in the next room 
Robin Williams tortured photo at AA meetings prior to suicide surfaces 
Robin Williams died by hanging himself. Did he drink himself to death? 
Robin Williams had serious money problems. Divorce had made him broke 
Robin Williams suicide. Had just checked back into rehab last month 
Robin Williams dead. Why did he commit suicide? Asphyxia reported. 
The questions have come after Lieutenant Keith Boyd, from Marin County Sheriff's Office would tell that his department had concluded that Robin Williams had spent his final hours in a separate bedroom from his wife. It would be a further 12 hours before the actor's body which by then had already had set in rigor mortis would come to be found by the Robin Williams personal assistant Rebecca Erwin Spencer  late the following morning.
Officials would tell the actor had last been seen alive by his wife Susan Schneider at around 10.30pm on Sunday, when she went to her room. They would tell that they believed the couple had been the only people in the house at the time/
A police report would tell that Schneider left the family mansion in Tiburon, north of San Francisco, at around 10.30am on Monday, thinking her husband was still asleep.
It wouldn't be until 11.45am that the actor would come to be found by Spencer after he failing to respond to knocks on his door.
Schneider would only come to learn of her husband's death only after emergency services, called by Williams' assistant, pronounced the 63-year-old dead at 12.02pm.
Told the wife via a statement at the time: 'I lost my husband and my best friend, while the world lost one of its most beloved artists and beautiful human beings.
'I am utterly heartbroken. On behalf of Robin's family, we are asking for privacy during our time of profound grief. As he is remembered, it is our hope the focus will not be on Robin's death, but on the countless moments of joy and laughter he gave to millions.'
Revealing the results of a preliminary investigation, assistant chief deputy coroner Lieutenant Keith Boyd, from Marin County Sheriff's Office, said the actor appeared to have died from asphyxia due to hanging.
Offered Lieutenant Keith Boyd after determining that the actor had died of asphyxiation: 'It is unknown when Mr Williams retired for the evening in a bedroom at his home.'
Boyd would also add that initial tests showed the Robin Williams had been dead for at least 12 hours, also pointing out that the actor's body appeared not to have been moved after death and there were no signs of a struggle.
Asked whether Williams and his wife were sleeping in separate bedrooms, Boyd said: 'We're not going into that part of the investigation. What I will say is that she retired to bed. Mr Williams' wife retired prior to Mr Williams into a room in the home. It is not known at this time exactly when Mr Williams retired for the evening, but he went to a different room of the home.'
What remains of intrigue is why Robin Williams wife had not come to check in on her husband, which may be customary if one assumes that she had become acclimated to the actor's schedule and the notion that the actor preferred his solitude. A state of affairs that may have increasingly become the normal course of affairs as the actor increasingly sank into despair and depression.
That said one is also inclined to wonder if the actor had retired to another room in the house that evening was simply a one off occurrence or by now the usual pattern of behavior between husband and wife, and if so was that indicative of any possible tension between the married couple and had that tension exacerbated the actor's sense of forlorn hopelessness which led to him taking his life?
The actor's two ex-wives have yet to speak about his death. His first marriage, to Valerie Velardi, collapsed in 1988 after he had an affair with cocktail waitress Michelle Tish Carter. Carter sued him in 1986, claiming he did not tell her he was infected with the herpes virus, which he transmitted to her. The case was settled out of court.
In 1989, Williams married his son's nanny, Marsha Garces, who was already pregnant. They split in March 2008. Williams was open about the effect his alcohol addiction had on his family relationships, and blamed his drinking for the break-up of his 19-year second marriage.
'You know, I was shameful, and you do stuff that causes disgust, and that's hard to recover from,' told the actor at the time.
That attitude may have led to the actor wishing to spare his current wife the degree of what he may have considered untoward and shameful behavior by insisting on separate sleeping quarters.
A state of affairs that by now may have been an ongoing matter which augers the question, was Susan Schneider necessarily aware of the disarray in the actor's life and to what degree that disillusion may have manifested itself? Which is to wonder out loud had she been a party to the actor's possible drinking bouts and had the actor constructed the idea of separate bedrooms so as to allow himself the room in which to continue his 'shameful behavior' unhindered?
Explaining his addiction to alcohol, Robin Williams once said: 'It's just literally being afraid. And you think, oh, this will ease the fear. And it doesn't… It's just a general all-round arggghhh! It's fearfulness and anxiety.'
Although the actor continued to struggle with depression and last month checked into Minnesota's Hazelden Addiction Treatment Center for help, and the fact that he spoke candidly about his drink and drugs problems in interviews, longtime friends said he always concealed his inner self. A part of himself that the actor may have also been loathe to share with his third wife, Susan Schneider….?