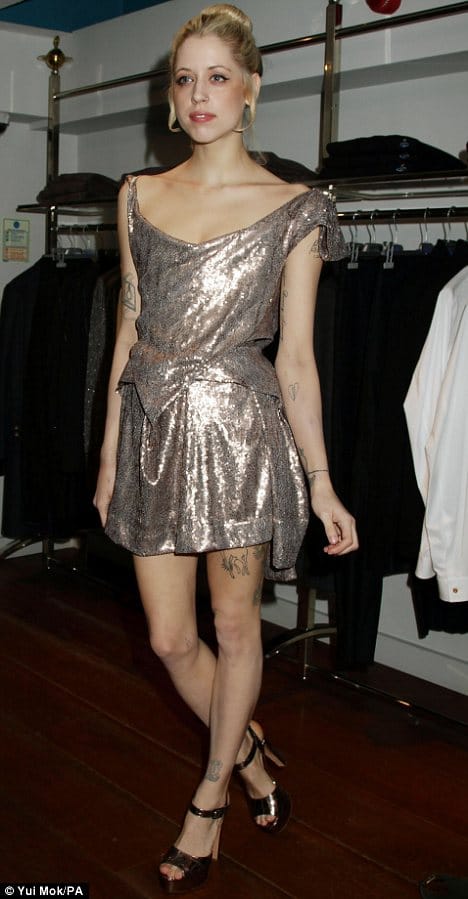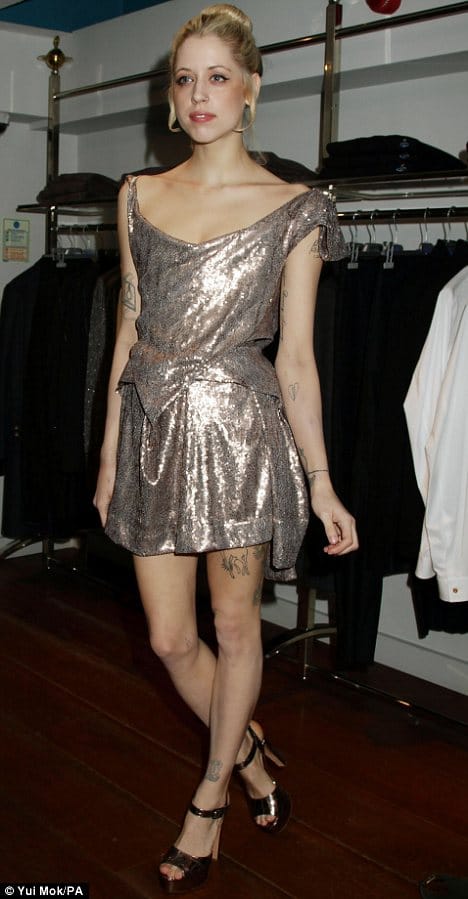 A new report paints a harrowing picture of a young woman torn by self doubt and self esteem issues. So conflicted was the British socialite,  Peaches Geldof with her sense of self and public image it would lead to her manifesting an out of control eating disorder.
The report va the UK's Daily Mail tells how Peaches Geldof was suffering from an eating disorder before her death, just as her mother, the late Paula Yates did before her.
Reflects close family friend Gerry Agar: 'I was worried about [Peaches'] weight loss. You could see that she was struggling with self-esteem issues — just as Paula did,' 
 'She even had fillers in her lips just like Paula did at the end of her life.'
Peaches Geldof drug rumors go viral. Did she overdose after all? 
Peaches Geldof had a bad heart and cholesterol problems says doctor 
Peaches Geldof funeral: Body released to family, new theory on death 
Why do we care about Peaches Geldof? The fascination of glam and death.
Peaches Geldof post mortem inconclusive. Hinges on toxicology reports 
Peaches Geldof memorabilia posted on Ebay. Profiting off her death. 
Peaches Geldof obsessed with libertine cult Ordo Templi Orientis (OTO). 
Scientology forced Peaches Geldof on purification ritual. Starved to death 
Peaches Geldof diet led to excessive weight loss. Lost 50 pounds in weeks 
Peaches Geldof UK headlines. Are they over the top? 
Peaches Geldof posted 7 family photographs 19 minutes before she died. 
Peaches Geldof post mortem to be Wednesday. 
Peaches Geldof insider: 'She had a death wish.' 
Was Peaches Geldof in the grips of anorexia? 
Agar says that people have drawn a parallel between Peaches and Paula because they 'both did drugs,' but 'it was the eating issues that they really had in common,' that he believes which is what finally unnerved the famed daughter of Yates and rock legend Bob Geldof.
'Paula was very, very badly anorexic, and it was really only when she was first with Michael[Hutchence, the Australian musician whom she left ex-husband Bob Geldof for] that she loved herself enough to stop.'
Gerry says Paula may have been bulimic as well: 'I remember Bob Geldof once told me that he used to help her to take care of her teeth because all of the vomiting made them really bad.'
Hollywoodlife posits to wonder if Peaches Geldof's mother, Paula may have passed her eating issues on to her daughter?
Tells Gerry Agar: 'Peaches lost such a lot of weight and then talked in interviews about going on juice-only diets. I remember very well Paula's efforts to lose weight after Tiger [her fourth daughter] was born were extreme,'
'She was determined to drop the 'baby weight' — and she lived on nothing, literally just a brussels sprout a day.'
The report correlates recent observations that the socialite was fast losing weight and was publicly appearing a former shell of herself, often appearing emaciated.
The UK's mirror also tells how TV doctor Chris Steele fears Peaches Geldof may have had an eating disorder when she died.
Pictures of the Peaches Geldof's hands showed damage to the knuckles that he believes could have been caused by her making herself sick – which bulimics do .
Told Dr Steele: 'Without any evidence but just to my eye, Peaches' knuckles are darker than the rest of the finger and they are enlarged.
'It is highly likely it is from bulimia. That's not just bulimia of a couple of weeks' duration, it is a long-term problem.'
The South Manchester GP added: 'They could be enlarged, scarred, grazed, discoloured.
'I don't know of any other condition that causes that in the knuckles.'
It is now commonly believed that the young woman may have suffered a cardiac arrest as a result of extreme dieting as she dealt with self esteem issues and the conflict of her rising status and the world she coveted and the world she at the same time she was in deep conflict over.
Why did Peaches Geldof tweet final picture of mother, Paula Yates? 
Peaches Geldof death not suspicious say cops. Did Bob know? 
How did Peaches Geldof die? Did she overdose?