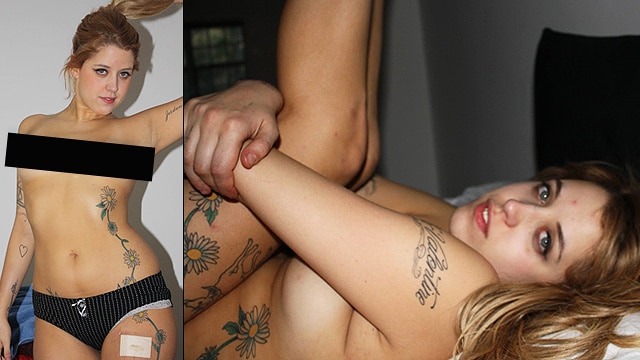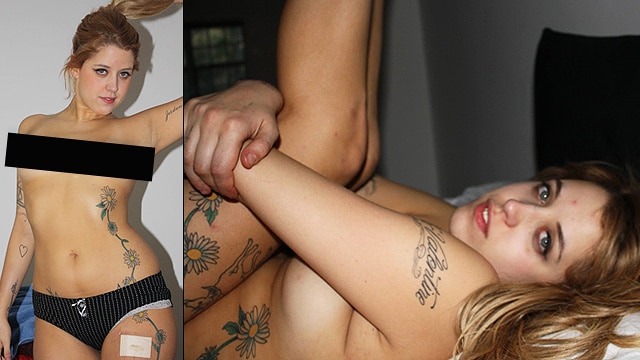 Making insiders wince is the following item that just turned up on BlindGossip.com: that an unnamed organization, believed to be scientology which forced unnamed woman, believed to be Peaches Geldof, to undergo a purification ritual to rid her body of years and years of toxins.
One of the tennents of the ritual included purposeful restricted dietary intake which may explain why the British socialite had drastically lost so much weight in recent weeks. It may also be the reason why she died, as it is now being speculated Peaches Geldof may have passed away as a result of a cardiac arrest, often associated with extreme dieting or anorexic tendencies.
Tells the item: This organization is going to have a lot to answer for if this woman's passing is linked to their practices.
In the weeks and months just prior to her demise, she lost an extreme amount of weight, supposedly from a "diet."
That was no "diet." That was a "purification" ritual prescribed by the organization. She was told by their leaders that it would cleanse her of the toxins that had built up in her body after years of substance abuse.
The purification consisted of excessive exercise (several hours each day), very restricted food intake, vitamins, and long sauna sessions (sweating out the toxins for four or five hours a day). Does that sound healthy to you?
Peaches Geldof drug rumors go viral. Did she overdose after all? 
Peaches Geldof had a bad heart and cholesterol problems says doctor 
Peaches Geldof funeral: Body released to family, new theory on death 
Why do we care about Peaches Geldof? The fascination of glam and death.
Peaches Geldof post mortem inconclusive. Hinges on toxicology reports 
Peaches Geldof had an eating disorder. Struggled with self esteem says insider. 
Peaches Geldof memorabilia posted on Ebay. Profiting off her death.

Peaches Geldof diet led to excessive weight loss. Lost 50 pounds in weeks 
Peaches Geldof UK headlines. Are they over the top? 
Peaches Geldof posted 7 family photographs 19 minutes before she died. 
Peaches Geldof post mortem to be Wednesday. 
Peaches Geldof insider: 'She had a death wish.' 
Was Peaches Geldof in the grips of anorexia? 
Why did Peaches Geldof tweet final picture of mother, Paula Yates? 
Peaches Geldof death not suspicious say cops. Did Bob know? 
How did Peaches Geldof die? Did she overdose? 
Needless to say many commentators guessed the organization in questioned was scientology and the woman in question was Peaches Geldof.
What is known as fact is that Peaches Geldorf had openly admitted to being a member of scientology for two years before purportedly leaving it behind and embracing other belief systems, specifically after marrying Thomas Cohen.
via showbizspy: "I am a Scientologist," Geldof said. "I've been a Scientologist for a while now. I might as well be open about it.
"It's something that I agree with," she continued, "and it's something that … it's like difficult to explain. Like I was confused about what path to go through, and I felt like I needed a spiritual path. And I was thinking about it a lot and looking at different things.
"I always kind of felt that I was lacking something when I didn't have a faith … In the end, all it's about is making yourself a better person. Like, that's all it's about. It's just working through stages and working with other people to become a calm person and it's really helped me in that way. I have good friends who are Scientologists."
Scientology often boasts about their success with treating drug addiction through their Narconon program and related courses.
above image via gawker, after Peaches Geldof was found having sex with a stranger at a scientology center- see video below.
A sampling of comments made on the blindgossip.com made me wonder. See what you think and go to see for yourselves what other commentators think:
My thoughts too. So for once it's not a drug OD but sounds like she was tragically mislead! When are we going to get our body NATURALLY detoxes itself as part of normal physiology? Supplement companies and organizations like the COS and certain so called holistic health clinics and coaches are part if a multi BILLION DOLLAR industry…you're a walking dollar sign to them. If the Doctors show is reading this PLEASE do a special on this to help educate people. I'd say Dr Oz but he got on the weight loss/ detox/ supplement infomercial band wagon along time ago and lost credibility with me.
If Peach's dad is not a member surely he has enough power and money to go after whoever was misleading her? They should be held accountable to prevent other deaths.
Peaches and scientology. Sick,sick sick. I am horrified by this.
Woman: Peaches Geldof
Organization: Scientology
Peaches/$cientology
Well, it's called the Purification Rundown, administered by the Church of Scientology.
Peaches Geldof…
Woman: Peaches Geldof
Organization: Scientology
So it seems she was in scientology and knew about the Purif and used it, perhaps without proper supervision.
If she died suddenly it could well be the effect of heat exhaustion, where after a person's body temp rises too far they are apparently all right for a while but suddenly collapse; their hearts, livers, kidneys, all stop working without warning. Their BP goes down like a stone and there is no way to recover them. The strange death of Konrad Agner in Germany is a possible example of a faithful Scientologist who died of heat exhaustion.
I hope someone can at least put this idea around in the British media. It is well worth considering.
She has also been linked with OTO ( Ordo Templi Orientis) but I'm going with Scientology. There is a section on purification on their website if you want to look it up. So sad. She did look thin recently, and there was a story on TMZ that even remarked on her thin appearance at a recent event she attended. I will keep her family in my prayers (and goodness, her two little boys are adorable. I can't imagine growing up without a mother).