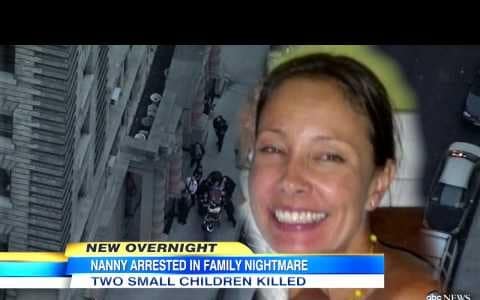 Marina and Kevin Krim reveal how their surviving daughter Nessie saves them.
Oh really! Marina Krim's nanny Yoselyn Ortega begs judge to bar media!
Marina Krim's nanny Yoselyn Ortega pleads not guilty to murder. Declines to speak…
Marina Krim's nanny Yoselyn Ortega grand indicted to serve the rest of her life in jail.
Marina Krim's nanny Yoselyn Ortega was stressed out about money. Did the Krim family hold out…?
Marina Krim's nanny Yoselyn Ortega now believed to have been motivated by money, but wont confess…
Marina Krim's nanny's Facebook page now insists that Marina Krim killed her children.
Marina Krim too remain tight lipped. Refuses to address nanny's allegations…
Marina Krim's nanny Yoselyn Ortega insists she was the one abused and mistreated.
Marina Krim's nurse Yoselyn Ortega thought she was too underpaid and didn't like the way she was spoken to.
Cops say Marina Krim's nanny Yoselyn Ortega refuses to admit killings….
Marina Krim's nanny Yoselyn Ortega now formally charged with first degree murder.
Marina Krim's nanny Yoselyn Ortega was warned she'd be fired. Refused to clean…
Marina Krim's nurse Yoselyn Ortega to be arraigned from hospital bed. Still wont speak…
Recent developments over the killings of  Marina and Kevin Krim's children 6 year old Lulu and 2 year old Leo Krim at the hands of their former nanny Yoselyn Ortega now paint a picture of a woman who was at her wits end trying to make ends meet financially and somehow along the way snapped when she decided to take the lives of the Krim family children.
Despite earning a respectable $18 an hour for her nanny duties which would have brought her annual salary up to $32 000, a sum commensurate to what other similarly employed nannies enjoyed courtesy of their affluent Manhattan employers it seems Ms Ortega was unable to fulfill her day to day living arrangements and somehow this left her embittered and increasingly resentful of her employers who in comparison lived a markedly affluent lifestyle.
To date speculation has run rampant that Ms Ortega felt belittled by her lot and scorned that her employer, the Krim family whom she had over the last 2 years of her employment had begun to form a close bond with. That though some are suggesting may have been the trigger which brought out Ms Ortega's hostility who may have by now come to expect much more from her employer given the very personal nature of their relationship who in the light of her financial duress could only muster an extra 5 hours a week of paid work, as a house cleaner (something that is said to have repulsed Ms Ortega and caused great indignity).
In fact the Krim family had also gone out of their way to introduce Ms Ortega to another family who were in the market for a nanny whom eventually decided against hiring Ms Ortega given that they found her sour and unkempt. Although that too raises the question if Ms Ortega was really hurting for money why didn't she make an effort to make a better presentation or just simply accept the hours offered to her until other opportunities presented themselves. Or was it a situation that Ms Ortega felt that she was being taken advantage of and felt she deserved better without her having to resort to now cleaning up after her employer? Which is to say the task of being a nanny may be more quite involved and the pay most nanny's draw may in fact not be actually what they ought to be paid given the degree of responsibility and effort involved? Or is it a situation that Ms Ortega felt she was owed better pay simply because her employers were affluent and in her mind almost mandated to do so given how she had expressed to them the degree of financial duress she was experiencing?
Other ideas postulated is the notion that Ms Ortega who had been in the United States for ten years, having arrived from the Dominic Republic with an accounting degree was no where closer to her aspirations of living the American dream. Which poses the awkward question how does one actually survive in a city like NYC with a salary of $32 000 especially when they have aspirations to send their children to private schools in the hope that they can later gain traction in the workforce, a reality hardly lost on many working families.
Nevertheless it seems Ms Ortega grew to resent her employers the Krim family who were in the position to live the type of lifestyle that she yearned for herself (it is said Ms Ortega had spent considerable sums of money on a sublet before being forced to relinquish it and consequently forced to move back in with her sister with her son in tow) and who also now found herself becoming increasingly bitter towards especially having by now being warned that she risked losing her tenure if her attitude and performance didn't markedly change for the better. Something that it appears caused Ms Ortega great distress and a feeling of betrayal.
Nevertheless despite Ms Ortega's financial woes authorities are not necessarily convinced that this in and of itself was the precursor which led to her slaying the children.
Said a law enforcement agent to  dnainfo: "There was definitely an issue with treatment by her employees, and money issues. But there must be some other craziness that has not come out."
Complicating Ms Ortega's financial situation was her relationship with her the father of her son, Jesus who may or may not have been assisting in the financial responsibilities of raising their 17 year old son.
Offers the huffingtonpost: Investigators tracked down Jesus' father, Leno, a Dominican native who lives in Inwood and drives a taxi.
He and Ortega separated amicably in 2001 and he had "no ill will toward her," and although he said he rarely saw Ortega, they "had no problems between them," sources said.
"He was shocked by what happened," a source said. "He had no idea what demons were raging."
Leno told officials that he had dutifully sent $140 a month in child support to his son in the Dominican Republic. The figure, he said, was established by a Dominican judge. He also regularly visited his son there. He stopped having to pay child support when his son moved to New York, as Ortega didn't petition a city court to require Leno make payments here.
Ultimately one is forced to wonder had the Krim family offered their nanny a raise as some have suggested that they ought to how much different things today may have been but then again one can easily argue what obligation were the Krim family to offer their employee a raise? Which raises other awkward questions, had Ms Ortega displaced her outrage of the difficulty of living the American dream on her employers rather than the system itself which many would argue makes it difficult for individuals of Hispanic decent to rise?
Although that too could be considered a tenuous argument as there are many who come from impoverished circumstances who are able to rise and acquire financial success and mobility, and yet on the flip that social mobility has over the years gotten increasingly difficult for those not in a position of financial empowerment and forced to live paycheck to paycheck. A reality not lost on many families who increasingly find themselves falling by the wayside just to meet basic expenses.
Regardless of the socio economic implications of the above case many have found Ms Ortega's purported actions reprehensible, which poses the question, if she as a decent hardworking individual aspired to the lot of the Krim family why then did she then resort to murder? Surely even she must have understood that she was transgressing a line of decorum, human empathy and regard for life? Unless of course Ms Ortega rightly or wrongly perceived that she had been violated first….?
Marina Krim's nanny Yoselyn Ortega now hires lawyer. Still not talking to cops.
Marina Krim's nanny Yoselyn Ortega thought to have resented her employers…
Marina Krim's nanny Yoselyn Ortega refuses to cooperate with authorities.
Did Marina Krim's nanny Yoselyn Ortega have a motive?
Why did a Manhattan nanny stab Marina Krim's two children to death?