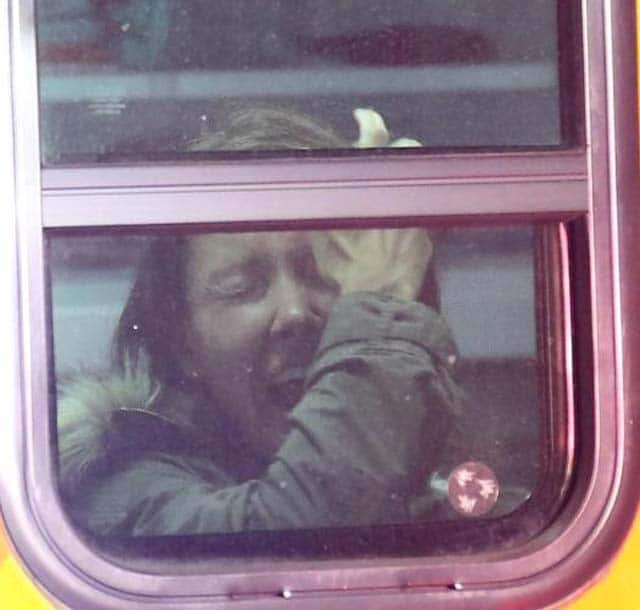 Marina Krim's nanny Yoselyn Ortega grand indicted to serve the rest of her life in jail.
Marina Krim's nanny Yoselyn Ortega was stressed out about money. Did the Krim family hold out…?
Marina Krim's nanny Yoselyn Ortega now believed to have been motivated by money, but wont confess…
Marina Krim's nanny's Facebook page now insists that Marina Krim killed her children.
Marina Krim too remain tight lipped. Refuses to address nanny's allegations…
Marina Krim's nanny Yoselyn Ortega insists she was the one abused and mistreated.
Marina Krim's nurse Yoselyn Ortega thought she was too underpaid and didn't like the way she was spoken to.
Marina Krim's nanny Yoselyn Ortega now formally charged with first degree murder.
Marina Krim's nanny Yoselyn Ortega was warned she'd be fired. Refused to clean…
Marina Krim's nurse Yoselyn Ortega to be arraigned from hospital bed. Still wont speak…
Marina Krim's nanny Yoselyn Ortega now hires lawyer. Still not talking to cops.
Marina Krim's nanny Yoselyn Ortega thought to have resented her employers…
Marina Krim's nanny Yoselyn Ortega refuses to cooperate with authorities.
Did Marina Krim's nanny Yoselyn Ortega have a motive?
Why did a Manhattan nanny stab Marina Krim's two children to death?
In the aftermath of the horrific double murders of the Marina and Kevin Krim's two children, 6 year old Lulu Krim and 2 year old Leo Krim at the hands of the Krim family's nanny Yoselyn Ortega, authorities and media pundits alike have been probing as to what could have led to the inconceivable murders.
Theories have ranged from mental illness, psychological distress to abject hate towards her employers, the Krim family, who Ms Ortega may have viewed with resentment and scorn given their privileged lifestyle in relation to her to next impossible lifestyle which her struggling to keep afloat and disillusioned with her lot to the point of self capitulation.
That said authorities who yesterday begun the arduous task of interviewing the family nanny who was once considered part of the family (the Krim's are said to have visited Ms Ortega's family in the Dominic Republic and bestowed her with gifts) are now beginning to come with a clearer picture as to what preempted the 50 year old nanny's actions.
Since regaining proper consciousness after a failed suicide attempt at the time of the murders Ms Ortega as of this Saturday past who has been kept at Weill Cornell Medical center under tight security was formally charged with first and second degree murder of Lulu and Leo Krim.
During the questioning process which began Saturday afternoon and interestingly without the presence of a lawyer (it is understood Ms Ortega waived her right to a lawyer even though it was previously reported that she demanded one when she regained partial consciousness earlier in the week) authorities were as a consequence emboldened to formally charge the nanny early Saturday evening at 6.06pm.
That said what makes the case even more controversial and will most certainly heighten the accusations and the distress as to what preempted the murders Ms Ortega to date has declined to acknowledge she was the individual who killed the children instead countering that Marina Krim according to the nytimes 'knows what had happened.'
She told the detectives that "Marina knows what happened," said the official, who spoke on the condition of anonymity because he was not authorized to discuss the case. The police have said that Ms. Krim walked into the bathroom to find Ms. Ortega stabbing herself in the throat, with the dying children bleeding in the bathtub.
The official said that while Ms. Ortega was not medicated, she seemed "spacy."
The official said that while the Krim family did not have problems with their relationship with Ms. Ortega and seemed to live an idyllic life, Ms. Ortega, based on what she told the investigators, had a different view.
"She had resentment towards the parents" and said "they were always telling her what to do," according to the official.
Time will tell as to the exact dynamics that went on between Ms Ortega and her employer, the Krim family and what this may suggest about the time trusted concept of well to do families continuing to hire nannies and what this case suggests as to the socio economic tensions that may or may not exist as two little discussed polarities continue to manifest themselves in large dynamic cities like NYC. One being the advantaged and privileged families like the Krim family who are in the position of empowerment and that of individuals like Ms Ortega who are faced with bitter realities that so often lead them to making horrendous decisions that so often cause the rest of us to grimace with shock, outrage and utter despair.
That said I have copied and pasted a variety of comments that readers on this site have already left that have made me wonder at the risk of possibly inflaming the issue…
Well obviously the children were quite a handful considering that the stay the home mom hired a nanny to help. Rapido and furiouso indeed.
You are disgusting. The mother of those beautiful children loved every minute with them—she blogged that the best part of her day was the time alone with her son when the girls were at school. It's widely reported that she didn't leave her kids with the nanny very often—Ortega was only there to help out. If I had three children, I'd do the same—it's dangerous walking in the city with three kids.
So many women hire cheap labor don't talk to their kids or the help and assume all is okay
People raise your own kids and stop putting your children at risk! The kids did not have a say so but were with a walking time bomb. I do not care what they say you don't know a person from a thirld world country!
Ortega was so "well paid" that she couldn't afford an apartment in the Bronx. The moment that people start to earn a living wage, they run away from the Bronx. Ortega gave up raising her own children, in order to raise the Krim children. That strikes me as hard and sad. Nannies have the least personal authority in this situation, less than that of the 2-year old. The response of the Krims to her personal distress, likely brought on by poverty, was to threaten and further humiliate her. Chasing after not one, but three small children wasn't hard enough, Ortega had to be made to scrub toilets as well. If you beat a dog often enough, even a tame one will eventually bite.
Well, I'd say you can pay your bills and have a roof over your head and have no idea of the stresses that the poor endure. Read down and out in pais and London by George Orwell.
Anyway, just to remind you if there is too big. Difference between rich and poor you get revolution of some sort. 
You may not like paying for the poor but that is the price that comes with being rich.
I have friends that are extremely wealthy and by that, I mean billonaires. One in particular would be….. ….. ….. who I grew up with. Our families are very close knit. Do I take it out on him that he is wealthy or that I am jealous? Of course not, and no one else should either. Sick and tired of those that have next to nothing blaming others for their fortune. If you work hard, you can achieve financial success. Don't begrudge those that are sitting high on the hog. It's your own fault if you have little. The wealthy are not responsible for the poor, and to anyone that thinks otherwise, move away and live with like minded individuals.
18 years ago, I secretly video taped my daughters nanny, because we became suspicious when after 4 months, she would still cry everytime we left home for work. The video tape was horrifying. The moment we left, TV Mundo would go on for the entire day, while my daughter just crawled around the room. We fired her the next day.
Regardless of terrible murders … – i don't think it's a very good idea to get that close with your "help" … treating help almost like family.. go on the same trips with them etc…
For most normal people it's no problem .. – but for some coo-coos Jealousy etc can come into play some day … — they might start feeling that they are family .. when they are NOT … and some day reality comes into play …. and those who are psychologically messed up .. who knows what kind of weird / bad things they can do some day..
You are a idiot.. a lot of the people here are missing the point. I don't care if the family paid her pennies the nanny had no right to hurt the babies. And the family also tried to get her another nanny job and at the last minute the other family bailed because of the nanny's demeanor.. The nanny is a MURDERER and I don't care about her poor pathetic life…
I wish that people would stop judging hard working mothers that hire help to care for their children. Nobody saw this coming, it was a terrible tragedy. Don't you people know that more mothers murder their own children that nannies? My heart goes out for the Krims. Hopefully they never get to read this pointless ignorant judgmental comments.