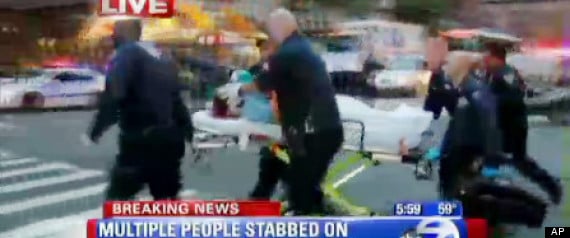 Marina Krim's nanny Yoselyn Ortega was stressed out about money. Did the Krim family hold out…?
Marina Krim's nanny Yoselyn Ortega now believed to have been motivated by money, but wont confess…
Marina Krim's nanny's Facebook page now insists that Marina Krim killed her children.
Marina Krim too remain tight lipped. Refuses to address nanny's allegations…
Marina Krim's nanny Yoselyn Ortega insists she was the one abused and mistreated.
Marina Krim's nurse Yoselyn Ortega thought she was too underpaid and didn't like the way she was spoken to.
Cops say Marina Krim's nanny Yoselyn Ortega resented always being told what to do. Refuses to admit killings….
Marina Krim's nanny Yoselyn Ortega now formally charged with first degree murder.
Marina Krim's nanny Yoselyn Ortega was warned she'd be fired. Refused to clean…
Marina Krim's nanny Yoselyn Ortega now hires lawyer. Still not talking to cops.
Marina Krim's nanny Yoselyn Ortega thought to have resented her employers…
Marina Krim's nanny Yoselyn Ortega refuses to cooperate with authorities.
Did Marina Krim's nanny Yoselyn Ortega have a motive?
Why did a Manhattan nanny stab Marina Krim's two children to death?
It is being reported that the Manhattan nanny purported to have murdered Marina and Kevin Krim's two children, 6 year old Lulu and 2 year old Leo Krim will be arraigned tomorrow as authorities are now set to lay charges against Yoselyn Ortega.
Still incubated after her failed attempt at suicide Ms Ortega was able to sustain consciousness late this weekend when she asked about her immediate family and sought the appointing of a lawyer. Interestingly it was said that she declined to ask about the Krim family and has asked to have her immediate family present with her.
To date Ms Ortega has only been able to communicate by nodding her head and using her eyes as questions been asked of her. Nevertheless when she was asked about her involvement with respect to the death of the Krim family children she declined to respond leading many to speculate whether the murders were as a consequence of resentment towards the Krim family who are said to have enjoyed a privilege life whilst she in turn struggled merely to keep afloat (despite reports of being paid a generous salary) raising questions as to how one class of people in NYC live relative to privileged classes. Hardly the preferred discussion amongst the tea set…
That said some media outlets are reporting that Ms Ortega was planning on seeking psychological counseling (which some wonder if it was a realistic option given Ms Ortega's financial woes) as her financial and personal woes began to spiral out of control. Of course this also raises the uncomfortable question whether the Krim family were aware of Ms Ortega's situation and if so what obligations or responsibilities did they have as her employer to help rectify those issues, if any?
It is known that Ms Ortega began working for the Krims two years ago, and they quickly became "like one family." Nevertheless this further raises more uncomfortable questions, if there was such a healthy family feeling why did the woman take out her grief on the Krim family children? Was it actual resentment and a feeling of slight, class resentment, something that was said to her or is this simply an instance of one woman who was unable to bear the strains of living and inexplicably lashed out at her employer's children?
It is also understood Ms Ortega did not live with the Krim family and had no criminal past.