Being a media whore has no limits.
Despite what you may be thinking the enigma nominally known as Lilo is not creaning and crying at the newest mess she has suddenly found herself in. A thorough look at Lilo's newest mugshot is the phantom looking back at you and laughing- " The truth is I'm still getting paid and you know one of them bitches is going to want to offer me another cool million the minute my block wedge heels scrape civilization."
The truth is she's right, and the more you look at that mugshot, the more you suddenly realize- it's really 'you' in that mugshot, minus the disco blond red hair…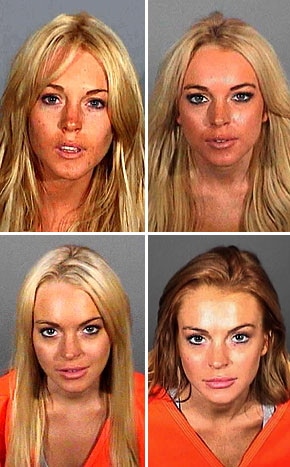 Lilo gets caught with the good shit in her system.
Lilo pledges to turn her life from a carnival to a slow merry go round.
Lilo is offered $1million for her first post jail interview.
Lindsay Lohan would like to tell you as of this morning she's free- sort of.
Lilo has hysterical fit while locked up.
The Lindsay Lohan mugshot T-shirt is finally here.
Lilo is finally on her way to jail.
Lilo checks herself into Rehab.
Lilo calls Judge Revel a 'f**king b*tch!'