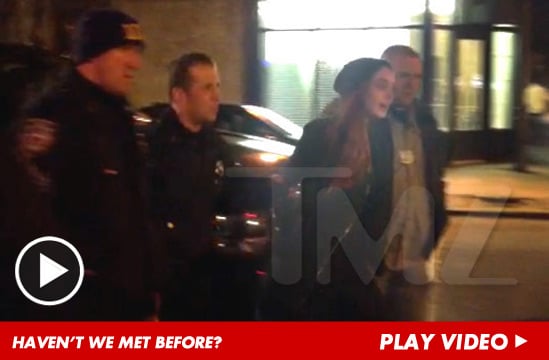 Lindsay Lohan has been drinking 2 litters of vodka a day and sniffing coke for months.
Lindsay Lohan said to have been drinking and binging for days after TV bomb.
And this is what Lindsay Lohan's mum, Dina Lohan said after she was arrested…
Oh really! Lindsay Lohan's victim, Tiffany Eve Mitchell just wanted to give her a free psychic reading.
Oh really! Lindsay Lohan kicks out her assistant from car after he collects her from jail.
Lindsay Lohan arrested for punching blonde psychic at NYC nightclub. Jail?
It's now being revealed that Lindsay Lohan was doing plenty of cocaine and drinking before she had an altercation this morning with Avenue club patron Tiffany Eve Mitchell.
Reveals a source to radaronline who as the club when the milieu erupted: "Lindsay was completely out of control. She was drinking way too much booze and was doing cocaine."
At present it's understood the altercation began when Mitchell asked to take a picture with Lilo. At the time Lilo said no and was said to be exceptionally rude about it.
Yet our collective hero by now riled up and particularly annoyed that the world always wants a piece of her just wouldn't let it go.
With Mitchell having continued dancing with her friends, Lilo is said to have aggravated matters by purposefully shoving into Mitchell on the way to the bathroom. Yet that's when things really took a turn for the worse.
Continues the source: "Lindsay was just looking for trouble. She totally sucker-punched that girl in the face out of nowhere! Nobody saw it coming. Lindsay went wild. She was kicking and screaming, cursing at the girl and then spit at her. The girl looked like she wanted to fight back at Lindsay, but was too startled by all the commotion to react."
Startled? Hmm, that might be the understatement of the year, then again who doesn't mind having on their resume that they got slugged by America's favorite media whore?
Continues the insider:
"Lindsay is a very angry girl inside.
"That fight was completely unnecessary but Lindsay just gets very belligerent when she drinks and parties."
Adding to Lilo's woes after her arrest this morning are a whole slew of charges that were also brought against her in connection to a car accident she was involved this past June which saw our hero lying to the cops about being a passenger in the car that caused the accident when in fact she was the driver.
Why bother starring in failed TV dramas when you can win an Oscar in your own made to watch live tabloid drama?
View more videos at: http://nbcdfw.com.