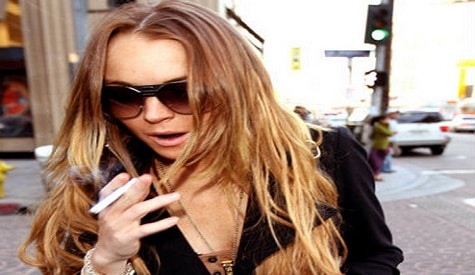 Lindsay Lohan said to have been drinking and binging for days after TV bomb.
And this is what Lindsay Lohan's mum, Dina Lohan said after she was arrested…
Oh really! Lindsay Lohan's victim, Tiffany Eve Mitchell just wanted to give her a free psychic reading.
Oh really! Lindsay Lohan kicks out her assistant Gavin Doyle from car after he collects her from jail.
Lindsay Lohan was doing mounds of cocaine before she punched and spat on Tiffany Eve Mitchell.
Lindsay Lohan arrested for punching blonde psychic at NYC nightclub. Jail?
Lilo would like to inform you that it's all the way down from here…
It seems Lindsay Lohan, our national treasure and collective past time is fast on the road to self annihilation. This according to close friends who have urged the fallen actress to get off her dizzy merry go round  of self abuse.
Reports radar: Lindsay is full of anger. She's grown up in a false reality full of entitlement, 'yes people,' money and a family that enables her troubled behavior," the source said.
"The partying; the drinking and the drugs, it's her way of trying to cope with her mounting legal and career woes. It's like she's purposely self-destructing."
In fact so loaded has been our collective hero, tmz go on to point out that according to friends of the fallen starlet, she's easily drinking up to liters of the good shit of vodka every day just to cope with her life spinning out of control.
tmz: According to sources,  Lindsay's become so stressed by her dire financial situation and the impending probation violation — stemming from her PCH crash this summer — that she's turned to alcohol for relief.
We're told Lindsay — who's struggled with substance abuse in the past and even has a DUI conviction under her belt — would often begin drinking first thing in the morning, and continue drinking throughout the day.
Which is hardly the good news anyone would want to hear of their worse enemy. But then again Lilo is an actress and to date she's been attempting to play the part of sobriety even if for at least seven minutes….
Continues the source at radar: "So far she's been above the law in a sense, and without dire consequences she'll continue to behave irrationally. When she drinks, which is daily at this point, she acts completely out of control and doesn't care one bit who she's hurting in the process."
At present what happens next to Lilo is anyone's guess and a real wild card as our hero may opt to volunteer to submit herself to a six month treatment facility so as to avoid having to spend any possible time in jail.
Says the source:  "Nearly everyone in Lindsay's life is concerned, big time, for her well-being. She's literally going to kill herself if she continues on this wild path."
And such is the messy demise of the American dream swiftly unraveling in a phalanx of twisted metal,lungs, smashed vodka bottles, battered cigarettes and a desperate plea for once and for all to become the American legend she so desperately was always told she could be…