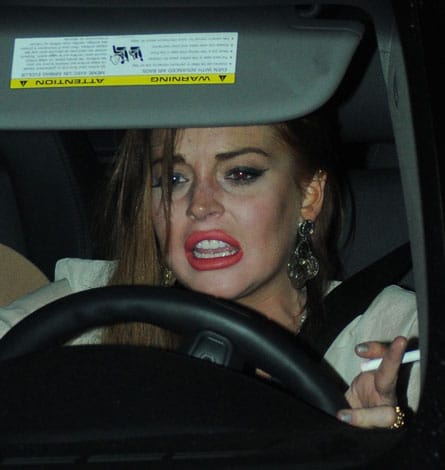 Update: Lindsay Lohan reckons she never even knew hit anyone in the first place…
Lindsay Lohan is once again just the victim of the world that doesn't know when to get out of her way….
Our collective hero Lindsay Lohan was arrested early this morning after an incident which saw her leave the scene of her clipping and purportedly injuring a passerby just outside Manhattan's downtown Dream Hotel.
The incident first happened circa 12.30 this morning when Lilo was attempting to park her Porsche inadvertently clipping the knee of an unnamed man in his 30's who it is understood was not knocked down but nevertheless affected by the incident.
Interestingly one of Lilo's friends got out of the Porsche Cayenne (as opposed to Lilo herself, cause that shit would have been too annoying to deal with and that's what Lilo's friends are there for anyway) to check on the individual as well as for any damages before deciding to proceed with Lilo's flock into the Dream Hotel.
That said things got nasty for Lilo who had a rude shock waiting for her as cops arrested her sorry ass as she walked out of the venue circa 2.30 am (yes the indignity of being arrested week after week).
The victim (even though we all know that Lilo is the real victim) a cook who goes by the name of Jose Rodriguez who at the time suffered no visible injury was nevertheless taken to  hospital for examination. But he did have this to say:
 "She smelled like alcohol and was slurring her words.
They acted like I was nothing. That no one could touch her because she was rich and powerful."
Hmm, interesting. Lilo on the other hand was taken to a local police precinct (she probably which one is which by now) where she was booked on a misdemeanor charge of leaving the scene of an accident and released with a desk appearance ticket which meant not having to come up with any bail money before her release.
Lilo for her part is now describing the incident as 'really fishy' (yes Lilo, so are the chipmunks nibbling on last night's left over good shit in the background) and now believes herself to be the 'victim'(yes kids that word again) of a set up.
Although the offense is just a misdemeanor it could trigger a probation violation for our collective heroine as one of the tenants of her 2011 jewelry theft case when she was sentenced at the time.
Oh well, at least Lilo could have thrown poor Jose one of those spare wet plastic baggies she keeps in her purse, that shit would have cheered him up and of course a ride in the Porsche, on Lilo's lap of course….
Never mind Jose, Lilo will help you get to the bottom of this shit, just as soon as she walks out of the next bar on her itinerary…
Dina Lohan makes a mess of things on Dr Phil show.
Lindsay Lohan was high on ambien during jewelry heist. Is jail next?
Lindsay Lohan insists she's not a jewelry burglar. Blames Suge Knight's son.
Oh my! Lindsay Lohan now a suspect in jewelry heist.
Lindsay Lohan car crash: 'My brakes failed!'
Lindsay Lohan car crash. Truck driver insists Lilo tried to bribe him.
Lindsay Lohan insists she is not a hit and run disaster.
My hero released from jail after only 4 and half hours. Pass me champagne!