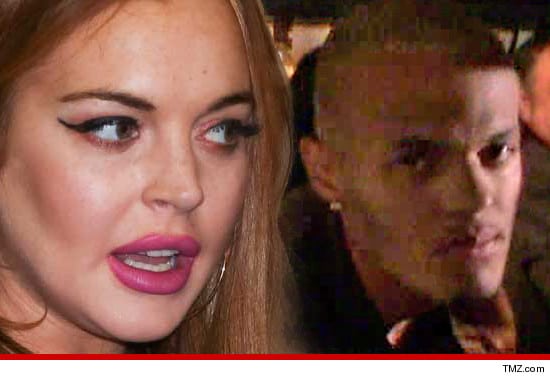 Lindsay Lohan was high on ambien during jewelry heist. Is jail next?
Lindsay Lohan is not the bad piece of trash that you think she is. That is all a big mistake. The real scumbag according to Lindsay Lohan is Suge Knight's son, cause that bixch framed her and everyone knows it including Lindsay….(except the police who of course are not buying it).
With our collective heroine, Lilo now earmarked as a prime suspect (yes the chipmunks nibbling at my ankles are gasping in disbelief too)  in the robbery of a hundred thousands dollars worth of jewels of the home of Sam Magid, cops are now trying to piece exactly what went down the evening of the robbery. What makes all this fuckery hilarious is that Sam reckons them bixches returned the good shit to him, but that doesn't mean the police still don't want to get their man.
tmz: Magid told cops Monday … he was in touch with 2 of Lindsay's friends — one of whom is Andrew Knight — and they said the night of the theft Lindsay had handed them a bag with 2 or 3 pieces of the stolen items wrapped in her t-shirt. The 2 men returned the items to Magid. Other items were still missing.
Magid also said he was in touch with Lindsay, who told him she had hidden some of the other items around the house because she was afraid they would be stolen by burglars. We're told Magid told cops Lindsay confessed she was on Ambien at the time she hid the jewelry and was hazy about exactly what happened.
Bixch hid shit around the house cause she was worried them other bixches would steal the stash. Hmm, now that's what I call a benevolent house guest. Then again why not just tap your close friend Sam and share your concerns? Then again who can't applaud a forward thinking guest for taking the time and going through your hundred dollar stash and hiding it on your behalf?
But this shit is now getting nasty.
Now Lindsay claims Knight is the real culprit, something Knight strongly denies. And apparently cops buy his story, because Lindsay is the target of the investigation.
Magid told cops Lindsay contacted him recently and said, "I'm sorry. Please pray for me."
We're told yesterday Magid gave cops Ziploc bags containing some of the stolen items. In addition to the watches and sunglasses, we're told Tiffany monogrammed silverware was also taken.
Oh dear what to think what to say? Never mind Lindsay, Andrew Knight whispered into our ear as the minority (and of course now obvious suspect) he is more than willing to take the fall for this shit, just as long as you leave him at least one spare wet plastic baggy to suck on whilst his ass gets jammed in the slammer….