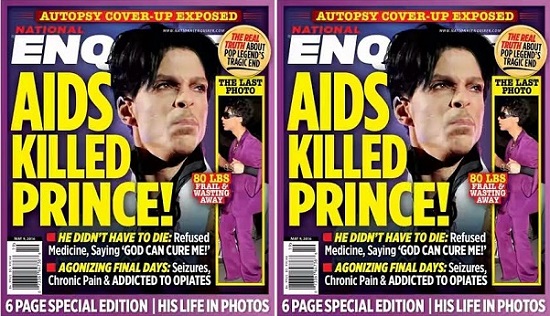 Prince AIDS? Sources have revealed the musician been diagnosed with AIDS, throwing into question what in the end may have led to him suddenly dying?
A new report has come out telling that Prince was 'preparing to die for a little while' after purportedly being diagnosed with AIDS.
According to a report via the National Enquirer, a source is alleged to have told the tabloid that the iconic star prior to his death last Thursday messaging friends on April 19 telling them he was suffering from the disease.
Told the source via radar: 'He was in bad shape.'
Adding: 'Doctors told Prince his blood count was unusually low and that his body temperature had dropped dangerously below the normal 98.6 degrees to 94 degrees.
'He was totally iron-deficient, very weak and often disoriented.
'He rarely ate and when he did, it all came right back up.'
The source is quoted as claiming Prince was diagnosed with AIDS six months ago after contracting the HIV positive virus 'in the 1990s'.
But here's where things get iffy …
Yet according to the source, because of Prince's devout adherence to his Jehovah's Witness faith, refusing medical treatment believing instead he could be cured by praying it away.
'God can and will cure me,' Prince is alleged to have told friends.
Members of his faith are also claimed to have told the iconic musician to ignore saying to the singer he had 'everlasting life'.
According to the Enquirer the disease saw Prince lose more than 30 pounds in weight with the source telling them: 'His face was yellowish, the skin on his neck was hanging off and the tips of fingers were a brownish-yellow.'
Prince love child? Heir Hunters International contacted by man in 30's with legitimate claim
'He wasn't a junkie' L. Londell McMillan Prince lawyer slams drug rumors
Prince criminal murder probe not ruled out as hunt for rogue doctor begins
Tyka Nelson: 'Prince had no will,' files to be executor of estate
'It's going to kill him' Prince had problem with cocaine, percocet half siblings told
Prince stayed awake for six days prior to death. What was he on?
Prince business affairs chaos: Lawyers scrambling after death
Tyka Nelson not competent to manage Prince music rights says former manager
#Prince at Walgreen in Chanhassen Wednesday at 7 pm (last night ) last known picture of PRINCE pic.twitter.com/2OSmlNMtrx

— Doxing-Rx (@DoxingRx) April 21, 2016
The source's claims seem to dovetail with statements from an employee of the Walgreens where Prince was reported to be picking up his own medication telling The National Enquirer: 'We were all just shocked that he came in last night looking so beat. We said, 'We are praying for you.'
The worker then said that Prince's response was this: 'He said, almost under his breath, 'Maybe if you prayed for me a year ago it'd be different right now.' Then he waved and said thanks anyway.'
Which raises the question was Prince actually suffering from AIDS? How reliable are the  National Enquirer's sources?
Throwing more viability to what is increasingly becoming a convoluted story leading to Prince's demise, including claims that he was being sourced a cache of illicitly gotten pharmaceutical drugs courtesy of a 'dodgy doctor' that Minneapolis detectives have begun probing in a possible murder homicide investigation is a report from The Santa Monica Observer.
That report claims a source coming to them two days prior to Prince's death telling them about Prince's purported AIDS diagnosis.
According to the source, Prince contracted the virus in the 1990's, having chosen to keep the illness private. The source also said he hadn't been taking certain medications for the disease because of his religion with the Jehovah's Witnesses church.
All of which raises the question, what ultimately led to Princes death? Was it a confluence of abusing painkillers? Was it a situation of the musician succumbing to illness, an ongoing reported nagging 'flu', overt dehydration or were the later just symptoms of the musician succumbing to AIDS?
Claims being made Prince had been diagnosed with Aids. #sun7 https://t.co/jf8SrDpwF6

— Sunrise (@sunriseon7) April 27, 2016
Prince funeral cost $1645. Ashes taken to secret resting place
Why was Prince cremated hours after autopsy?
Prince drug dealer: 'He spent $40K at a time for Dilaudid and Fentanyl'
Prince: How Jehovah's Witness saved him. The contradiction of a pansexual
Who will inherit Prince's $300m fortune?
Was Prince killed by painkiller addiction, Percocet? A growing statistic of drug mortality in America
Prince to Kim Kardashian: 'Get off the stage bitch, this is America'
Prince autopsy: Will toxicology results reveal opiate addiction?
Tyka Nelson, Prince's musician sister: 'I never asked him for favors'
Did drug overdose kill Prince? Flu stopover was really for opiate heroin fix
Mayte Garcia Prince ex wife: 'My love for him screwed my life'
'Crack cocaine addict' Vanity Prince's ex girlfriend Denise Matthews also died aged 57 this year
Manuela Testolini Prince's ex wife: 'Im not okay'
Prince Rogers Nelson dead: Unresponsive inside elevator at Paisley Park