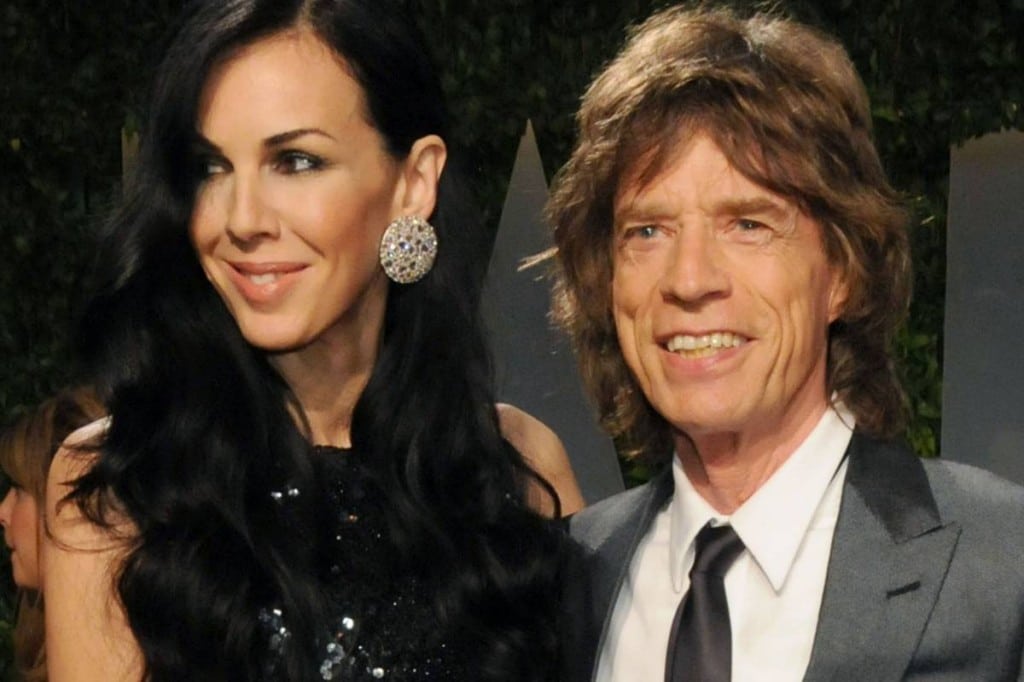 A report has come out telling that at the time of Mick Jagger's girlfriend's death, L'Wren Scott was not broke. Nevertheless the report does note that the fame seeking designer was suffering serious business woes and there are questions as to what degree Jagger agreed to bail her out, if at all?
The report via British GQ stipulates that at the time of her death, Scott also owned her own Chelsea, Manhattan apartment which Jagger had ostensibly helped finance. The report also notes that Scott also had $1 million in personal property (in the form of jewelry) in her name at the time of her death notes page 6.
Offered a close friend to GQ: 'I don't think Mick was a big gift buyer,'
'He bought her the jewelry she picked out, and she did have some really nice pieces, but sometimes she would say that's the only thing Mick gets her.'
Interestingly at the time of her March death, the designer had bequeathed all her jewelry in Jagger's name.
Adds GQ: 'Friends envied L'Wren Scott for her flashy lifestyle, but so much of her increasingly spectacular life was on loan from Mick Jagger.'
Scott's business was $9.4 million debt, and her last fashion show, originally set for London, was moved to a later date in Paris, and then canceled altogether.
Adds GQ's report: 'Jagger had Scott meet friends and business associates — anybody who might share the burden. He was not a man who liked to lose money.'
Accounts filed by Scott's LS Fashion Ltd. in London show the company had liabilities that exceeded assets by 4.24million euros ($5.9million) as of Dec. 31, 2012.
The company's long- and short-term debts totaled 6.75 million euros against assets, capital and reserves of 2.51million euros, according to the accounts, which were filed in October.
The report has only increased speculation that the designer who had sought independence and success with her line may have felt she had little recourse left when business began to go south, as it may have appeared to her that Jagger would not bail her out…
above image found here
L'Wren Scott sister Jan Shane accuses Mick Jagger of fake funeral.
Mick Jagger inherits L'Wren Scott's will. What will he do with $9 million? 
Did Mick Jagger get away with L'Wren Scott's murder?
How L'Wren Scott's suicide was predicted just days before.
L'Wren Scott's celebrity friends ditched her. 
L'Wren Scott frantically texted her celebrity friends before suicide 
L'Wren Scott funeral bitter feud. Where will she buried? 
L'Wren Scott deceived Mick Jagger. I'm not your money machine 
Mick Jagger health fears as singer under round the clock surveillance.
L'Wren Scott killed herself two days before she was to publicly shut her line. 
Why didn't Mick Jagger pay off L'Wren Scott's debts? 
Mick Jagger speaks on L'Wren Scott's death: I'm struggling to understand 
L'Wren Scott housekeeper, Lupe Montufar: Mick cheated on her but she kept quiet. 
Did Mick Jagger cheating on L'wren Scott cause her suicide? 
L'Wren Scott depression: harmed herself only a few weeks ago. 
L'Wren Scott instagram: fake glam life despite $6 million debts. 
L'Wren Scott owed $6 million and could no longer paid employees wages 
Why was L'Wren Scott's assistant called moments before her suicide? 
L'Wren Scott suicide. Business woes to blame? 
L'Wren Scott dead. Suicide? Troubles with Mick Jagger?