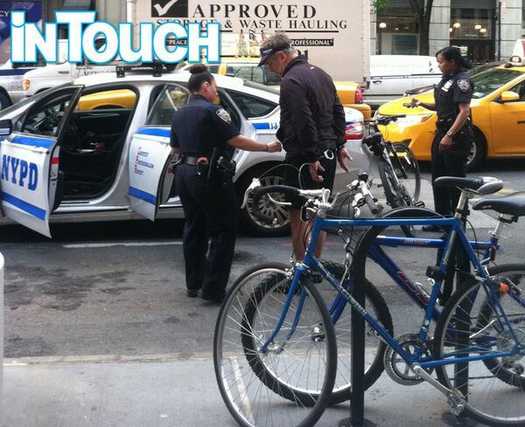 It seems our collective hero, Alec Baldwin can never resist the deep love he has for NYC's police force after the hot head lost his cool after being approached for riding a bicycle up a one way street on Manhattan's 5th avenue and 16th st.
Asked to cooperate with officers, and give up his identification it is reported the infamous actor instead became belligerent as he was pulled over this morning circa 10.15am.
Told a nypd spokesperson: 'The officers approached him and told him that he was riding the wrong way on the street and asked him for ID,'
'But he didn't have any ID on him. He then began to act belligerent to police.'
It wasn't too long before Alec Baldwin was asked to get off his bike and handcuffed and led into the back of a police vehicle, of course to the delight of waiting paparazzi.
From there our collective hero was issued a summons for riding a bicycle the wrong way on a street and disorderly conduct before momentarily being released.
Apparently, when the police want to issue a summons to someone who isn't carrying an ID, they are required to bring them into a precinct. Which naturally our collective hero was not too thrilled with. See below.
One eyewitness told that Baldwin was 'calm and quiet,' though another onlooker said he 'went ballistic on the cops, screaming at them' earlier during the altercation.
If only you were as cavalier and as brilliant as Alec Baldwin too….