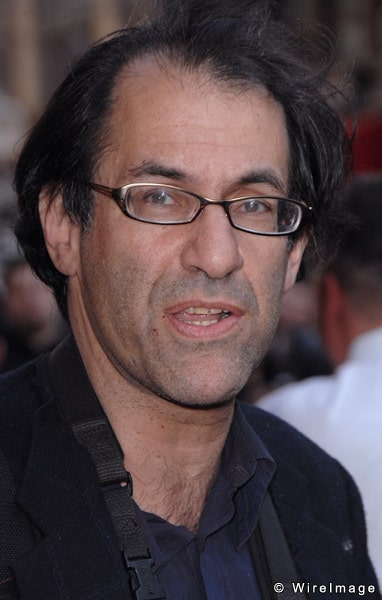 A day in the life of  paparazzo Steve Sands…
Poor Steve Sands. What can you say? You either love him or you hate him. I'll let you make up your own mind….
It seems infamous paparazzo Steve Sands has once again found himself in another spot of bother when his sorry ass ended up in the gutter after the paparazzo desperately tried to get himself some pics of the Alec Baldwin and Hilaria Thomas wedding. This only a week after when Baldwin found himself in an altercation with another paparazzo (see Alec they all love you so much, lucky you!!)
In the background you can hear the paparazzo whining screaming for the police whilst shell shocked security guards shake their heads at the paparazzo who literally fights to get his hand on every picture he feels he deserves.
entertainmentwise: WENN reports that the snapper, named Steve Sands, tried to snap the bride's entourage as they arrived at the private residence in Little Italy, New York.
What do you think kids? Was Steve Sands out of line when he tried to get pics of Alec's wedding (after all it was a private affair even if it was held in a public venue)? Yet according to quoted witnesses the paparazzo was trying to get pictures of the crew as they arrived at a private residence. Sounds like a big no no to us…
Not to mind Steve, Scallywag hopes all those scrapes and bruises will clear up real soon…
Oh dear…
ps- for those in the know Steve used to work with us but after a few ahem 'interesting' episodes I thought better of it. Can anyone guess why?
I also came across this too kids. Make of it what you will:
Rebecca Romijn appeared on "The Howard Stern Show" Friday morning to explain what happened after the photographer yelled at her. "I kept on walking, went down the escalator, and I thought I was going to lose it," she told Stern. "I was shaking, and I started to cry and just left." 
The offensive paparazzo is named Steve Sands, notorious for bullying celebrities. Just last year, our cameras caught him getting physically carried out of the opening of Gabriel Byrne's new restaurant. 
Rebecca's people tell "Extra" that they'll take no legal action against Sands and won't even dignify the incident with a response.