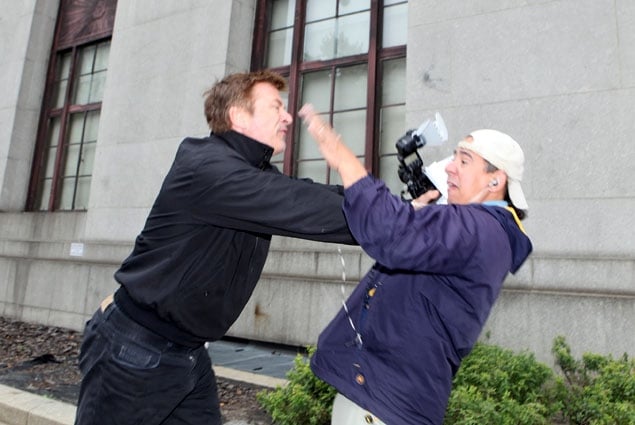 Alec Baldwin would like to show his left hook tonight…
Alec Baldwin is once again making headlines and it's not because necessarily we all want to wish him a happy up coming marriage to fiance Hilaria Thomas.
If last month wasn't bad enough with all the unwanted press about a purported intruder said to be deeply in love with the actor Alec Baldwin, today it seems isn't getting any better after reports that the actor who legally wed his fiance, Hilaria at city hall socked paparazzo (Daily News photographer) Marcus Santos.
nydailynews: The volatile "30 Rock" star popped lensman Marcus Santos once in the face outside the Worth St. office after apparently obtaining a license to wed fiancee Hilaria Thomas.
Santos was standing innocently with two other photographers when Baldwin, 54, approached with an angry glare.
"He was looking mad," said Santos. "He said, 'Step back, step back.' I said, 'We're moving back.''
Mad is right if we are to go by what followed next:
Baldwin then grabbed a second News photographer, Jefferson Siegel, and Santos told the "Rock of Ages" star to back off.
"I said, 'Don't touch him,'" the 42-year-old Santos said. "I knew he was going to attack me. I stepped back, and he kept coming.
Kept coming? Shouldn't Alec be happy with his upcoming marriage to Hilaria? Didn't Baldwin fail to realize the large media interest his sudden snap city hall marriage certificate pick up would have on the hungry paparazzi? Baldwin by now should be used to the attention and understand as a public figure he is fair game for the attention his actions, even if ones he would deem private, receive in a public setting. Or is that just coming from a paparazzo himself?
"He comes after me, starts shoving and punching me — one time, right in the chin. And then he started shoving me, and pushing me. Then he goes the other way."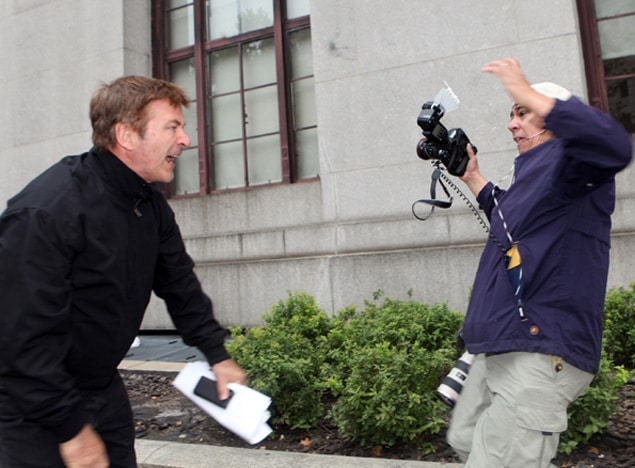 And how did Baldwin  react to the snafus after everything went down?
An unrepentant Baldwin presented his version of the clash via Twitter: "A 'photographer' almost hit me in the face with his camera this morning. #allpaparazzishouldbewaterboarded"
He also bizarrely compared the incident to the fatal Florida shooting of Trayvon Martin: "I suppose if the offending paparazzi was wearing a hoodie and I shot him, it would all blow over .."
Seems like NY Daily news isn't too charmed with Baldwin after all. Then there was this via Baldwin's publicist Matthew Hiltzik:
"The photographer was clearly frustrated, pushed past the bystanders and assaulted Alec with his camera," the statement continued. "There were no punches thrown, and any subsequent physical contact was simply Alec protecting himself."
For now the jury is out on who is at fault, as it is public knowledge that both Baldwin and the paparazzi have long histories of being pains in the ass.
At present authorities are investigating the matter and deciding whether to press charges against the actor. Congratulations on your happy day Alec, can't wait to see what happens on your wedding day…