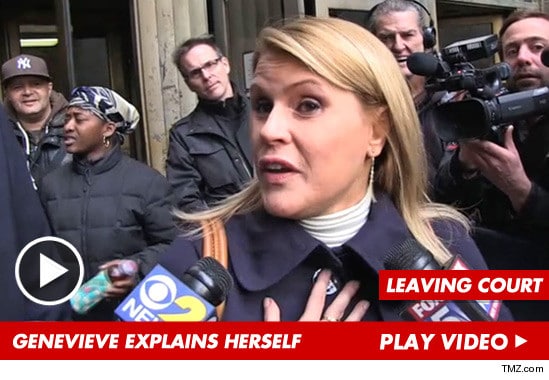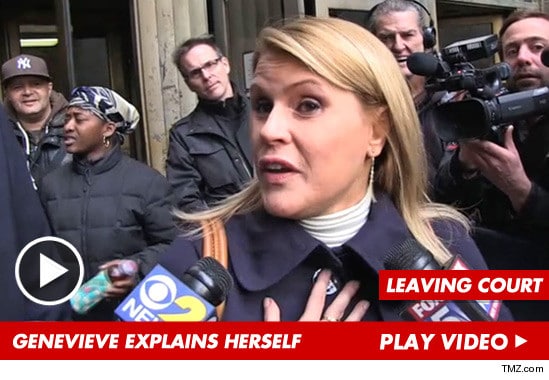 Producer Martin Bregman insists Alec Baldwin had affair with Genevieve Sabourin.
Alec Baldwin stalker, Genevieve Sabourin: 'You're a liar!'
Alec Baldwin and his fiance now take turns mocking stalker on twitter.
Alec Baldwin's stalker: 'We were lovers!'
Alec Baldwin stalker said to be bit part wannabe actress infatuated with the actor.
Stunning Blonde Canadian actress arrested after stalking actor Alec Baldwin.
Kids it seems the shit show called 'she said' and 'I said' otherwise known as the Alec Baldwin stalker terror took a new twist after his purported stalker Genevieve Sabourin got into a brawl this morning on the steps of the courthouse.
After getting herself into a scuffle with the press (because if Alec can do it so can Genevieve…) Sabourin went on to be charged with contempt of court by Judge Robert Mandelbaum for her persistent caught room antics. For her troubles (there will be a book deal mark no doubt…) our collective heroine was sentenced to 30 days jail.
Breaking down into tears as she shouted over proceedings that she was molested outside by court officers, the judge immediately told her that she would be spending time in jail regardless of the outcome of the trial in which she is accused of systematically stalking Baldwin and his wife over the course of 18 months.
Kids tell me where are the straight jackets? Why didn't Alec pull his out of his double breast pocket and share it with Genevieve?
Yet true to form, Sabourin couldn't resist calling attention to herself as she once again took to interrupting the court, this time her very own lawyer, Todd Spodek, even whilst he was passing a motion in her favor.
Kids I have air wrapped at least 16 bags of popcorn for this adventure.
Proceeded to scream our collective matinee idol (yes kids Hollywood has finally arrived and Genevieve will take it any which way she can…):
'This is an injustice. 'Everybody has used their force on me.'
Asked to stop talking by the judge, Genevieve kept her vocal cords firmly in high gear which left Justice Mandelbaum no option but to hold our highness in contempt of court.
From there the judge had four court officers subdue our collective heroine and proceeded to tell her that her 30 day sentence would be imposed immediately after the trial was finished.
Told Judge Mandelbaum: "Like every other person in this courthouse you are not permitted to scream out loud,"
Retorted our fierce antagonist:  'It's very difficult when people lie in front of your face,'
As Sabourin stood under guard, David Paduani, the doorman of Baldwin's East Village apartment gave his version of events on the Easter Sunday in April 2012 that Sabourin was arrested.
Confirming the testimony of Hilaria Baldwin yesterday that Saboruin arrived and told the doorman that Alec Baldwin was expecting her, Paduani said that he phoned to the apartment and conveyed this message.
Hilaria, 29, who testified that the episode left her 'terrified' told the doorman that this was a stalker and to deny her entry.
Paduani, told Sabourin asked if that was Hilaria on the phone and called her a 'prostitute' and said that she was going to have Baldwin's baby.
Yes kids I am on bag three of the popcorn…
When it became apparent Genevieve wasn't going to be granted entry she got in her car, the court heard she drove half way up the road and then returned looking very agitated holding her Yorkshire Terrier until the police arrived and arrested her.
Sabourin's lawyer, Todd Spodek, has told in proceedings his client was simply seeking to resolve her feelings toward the actor, not threatening him.

Kids popcorn bag number 4 coming up…
After the prosecution finished up, Todd Spodek, objected to Baldwin repeatedly calling his client a stalker.
And in a moment that brought up some of Baldwin's well-publicized run-ins with the media and the infamous voicemail he left for his daughter Ireland, Sabourin's attorney Mr Spodek asked: 'Mr Baldwin, is it fair to say over time, you've had anger issues?'
To which our collective hero nonchalantly replied, 'I don't recall.'
A statement he repeated often throughout his cross-examination.
Interestingly when Baldwin left the court after his testimony yesterday he stopped to tell a photographer who he has had a long-running feud with: 'I hope you choke to death.'