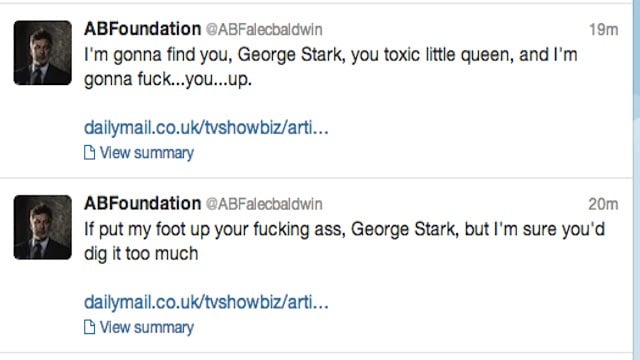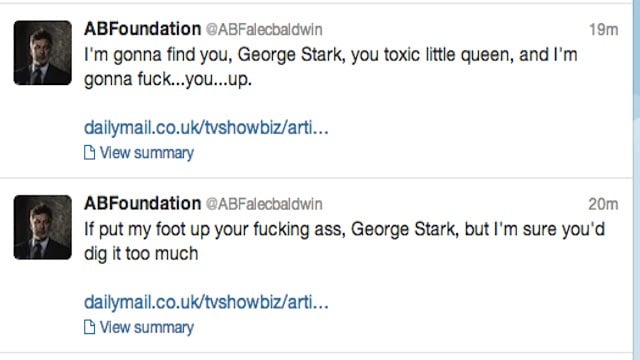 Shia LaBeouf would like to explain how Alec Baldwin had him fired.
Alec Baldwin calls paparazzo a crackhead. Cops intervene.
Video: Oh dear! Steve Sands, Paparazzo gets in a fight at Alec Baldwin wedding.
Alec Baldwin ditches twitter momentarily before snagging Vanity Fair cover.
Alec Baldwin gets marriage license and then socks a paparazzo!
Alec Baldwin now accuses the media of stalking him
Alec Baldwin and his fiance now take turns mocking stalker on twitter.
It seems Alec Baldwin's ongoing contempt for journalists and the paparazzi remains here to stay after a tirade the actor tweeted off after a dailymail report questioning wife Hilaria's actions at actor James Gandolfini's funeral yesterday.
The dailymail article came to be published when staff writer George Stark noted interesting tweets coming off wife Hilaria Baldwin's twitter account, essentially asking for wedding anniversary ideas, this whilst the pair were attending Gandolfini's funeral. Needless to say the dailymail went to work and wrote bristling copy questioning the antics of Hilaria and perhaps her lack of good taste.
Reflected the dailymail's George Stark: "The pregnant yoga instructor's social media feed was full of upbeat posts while "The Sopranos" star's friends, family and co-stars were gripped with grief at a New York Catholic church," journalist George Stark wrote. "Messages included a request for ideas about wedding anniversary presents and promotional notes about her upcoming appearance on the Rachael Ray show."
Needless to say by the time husband Alec Baldwin got a hold of the dailymail report the actor was ready to start dissing off fist fulls of expletives at what he perceives as an unjust world which refuses to ever respect or necessarily understand the sweet essence of himself and wife Hilaria.
Tweeted Alec Baldwin: "My wife and I attend a funeral to pay our respects to an old friend, and some toxic Brit writes this f****** trash."
"My wife DID NOT use her phone, in any capacity, at our friends funeral."
From there Baldwin then threatened to find the writer of the story and "f****…you…up," referring to him as a "toxic little queen."
In addition to the friendly homophobic rants, Baldwin went on to tweet that he had fired his publicist.
Which may or may not be true because soon after Baldwin's frantic tweets, Baldwin's publicist Matthew Hiltzik sent the huffington post the following statement: "It is disgraceful that this reporter manufactured a story and never called for comment or explanation — especially when it needlessly diverted attention away from a day to honor the memory of a beloved figure like Mr Gandolfini."
Joining the fray was also Hilaria Baldwin who also went on to tweet the following:
"I hope that this reporter knows how much pain and drama he has caused from his poor journalism," she tweeted. "Lying and bullying are shameful."
Interestingly Hilaria has this morning gone on to tweet that she 'would like a real apology' after a subsequent article from the dailymail later that day went on to praise her and her husband looking stellar in matching indelible outfits.
Since the fracas a source close to Hilaria went on to insist to The Huffington Post that the yoga instructor had merely later retweeted updates that had been tweeted during the service and was not actively tweeting inside the church.
Interestingly it wasn't long after the rant that Alec Baldwin then took to disabling his twitter account. A pattern of behavior that he has done in the past when he has gone on twitter rampages against the media.
On another note The Daily Mail later went on to remove George Stark's byline and replaced it with one that reads "Daily Mail Reporter." Can anyone guess why?