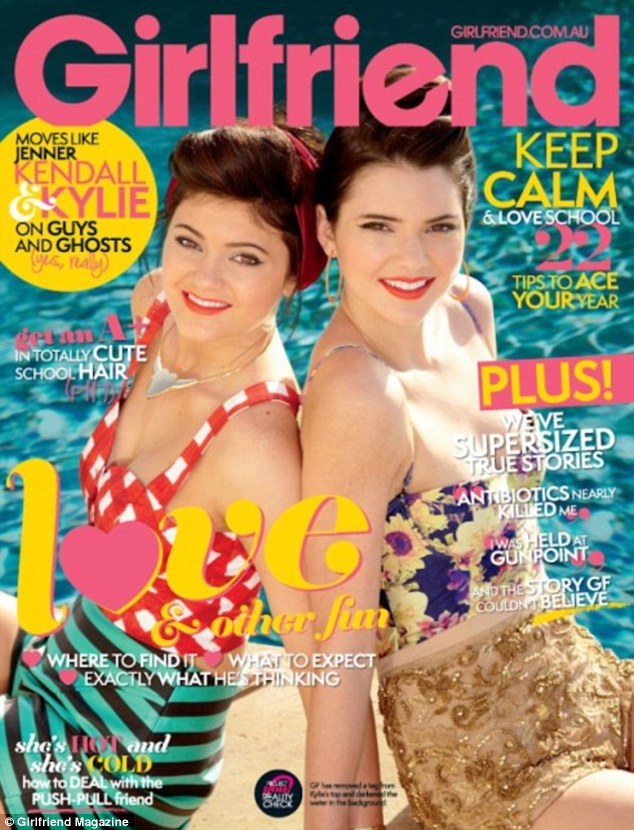 Because they deserve it…
Making the world sing with joy is the latest prized photoshoot of our collective heroes Kendall and Kylie Jenner who star on the cover of Australia's 'Girlfriend' issue.
Seen posing in retro 1950's bikini pieces our heroes have fast become every teenager's fashion and reality hero which led to Kylie excitedly writing the following:
'Hey guys! Kendall and I are so excited about our cover for the February issue of Girlfriend! We hope those of you in Australia can pick up a copy! xoxo,'
The latest cover nab comes after older sister Kendall's recent modeling exploration trip down under with pimp mother Kris Jenner where the 17 year old was chaperoned from tv interviews to champagne boites whilst championing her burgeoning status as fashion pimp.
Judging from the sister's latest coup d'etat the world can continue to expect the sisters to rise in the footpath of their older Kardashian sisters. In the works currently are more modeling and fashion expeditions, the sister's own fashion line, reality show and of course upcoming science fiction novel.
If only you were as photogenic and as well loved as Kendall and Kylie Jenner….
Oh wow! Kendall Jenner miraculously now becomes a Vogue cover model too.
Kendall Jenner tweets new pictures of her in Australia. A modeling star too…
Kendall Jenner is a hawt bixch via instagram. Who cares if she's underage?
Oh my! Look at Kendall Jenner play with Mason in her bikini!
Oh my! Kendall and Kylie Jenner model new bikini line.
Oh my! Kim Kardashian teen sisters snag book deal. How did they do it?