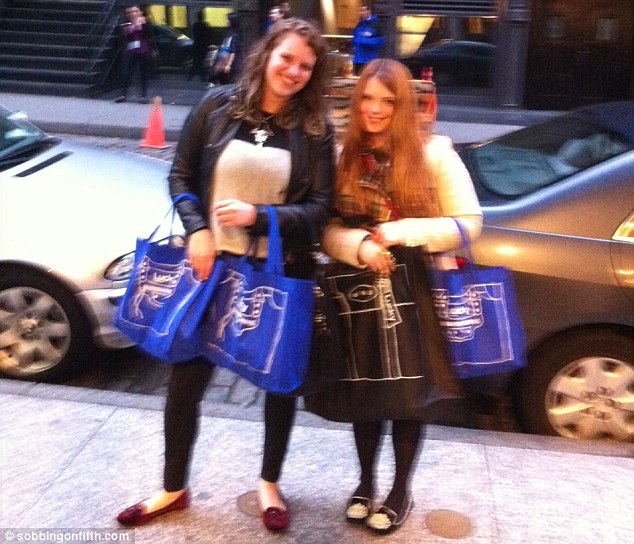 Kids here's an interesting essay that found it's way on racked courtesy of Park avenue brat socialite Sutton Van Brigsby, one half of the due behind newly launched shopping blog Sobbing on Fifth who dwells on her formative years living the idyllic life that most of us only dream about.
Because shopping at Bergdorf Goodman and other high end prestige venues is a rite of passage for the chosen few and helps one cool of all that inconvenient existential angst:
Reads one part of the essay:
Shopping was more than just a hobby growing up: it was a reaction. Made the honor roll at school? Let's celebrate with a trip of the shoe department at Barney's. Broke up with a dreamy boy after nine months? Let's wallow by padding around the second floor of the Miu Miu store on Fifth. (One particular breakup was so bad that Mom decided I could never be seen in the same clothes again, as any outfit ran the risk of bringing up the bad memories. I finally obtained my long-coveted Rick Owens jacket thanks to that particular trauma.)
What's always been great about Mom and Dad is that they understood how dire the need for certain items was. Some parents might scoff at their children pronouncing that they may actually perish if they don't obtain the latest colorway of the YSL Cabas Chyc tote, but not my folks.
And there's the one episode where princess had to be flown off to Paris to acquire the perfect nail polish. I know kids, one's appearance and feeling of self worth (and never mind reading your friend's jealous reactions at the next giggly champagne bash when you casually slip that you had to fly out to Paris just to get your eyelashes tinted…) is of utter paramount importance :
You remember—Chanel's perfect, silky black polish sold out everywhere, and Dad understood that owning a bottle (or six) became more and more necessary to my survival with each passing day. When all of my efforts to track down a bottle here failed (even with Dad's connections!), he flew me, with a faithful shopping companion, to Paris, so I could continue the hunt there. Galeries Lafayette, Printemps, the Chanel boutiques on Rue Cambon and Place Vendôme …I found it.
Of course the real question is not whether princess found her nail polish but whether she somehow managed to find her soul? After all isn't that the real journey of any real socialite?
Nowadays, I have to work to afford my shopping sprees—sometimes life just throws you a curveball. But I'm still grateful to Mom and Dad for all the connections I have. I can still get some of my favorite stores to hold the last Eddie Borgo cone bracelet for me, or greet me with a glass of champagne. If there's one thing my childhood of shopping taught me, it's that these are the things that truly count.
Yes kids, daddy finally did the unthinkable and decided it was time for his two jewels after turning 21 to fend for themselves save except for essentials: cell phone bills, electricity, health insurance and cable. Thing…s of course that you spend half your salary on anyway…
Reflect the sisters on their blog: 'Apparently, it bothered him that we had spent his secretary's annual salary in one trip to Bergdorf,' the sisters explain on their blog.
Yes secretaries can be very cumbersome can't they? So awkward having to justify oneself in front of the hired help…
The UK's dailymail goes on to note the following:
The pair, who were born in New York and say they have been best friends since birth, werereluctant to disclose information about the industry their parents work in however, or reveal too much about their background.
'We don't bring our parents into our blog!' Sutton said.
Hmm, can anyone guess why?
If only we could all wax languidly about the good old days of our formative years as spoiled brats brooding writers.
Kiki becomes a Socialite: "My Life as a S.L.U.T"