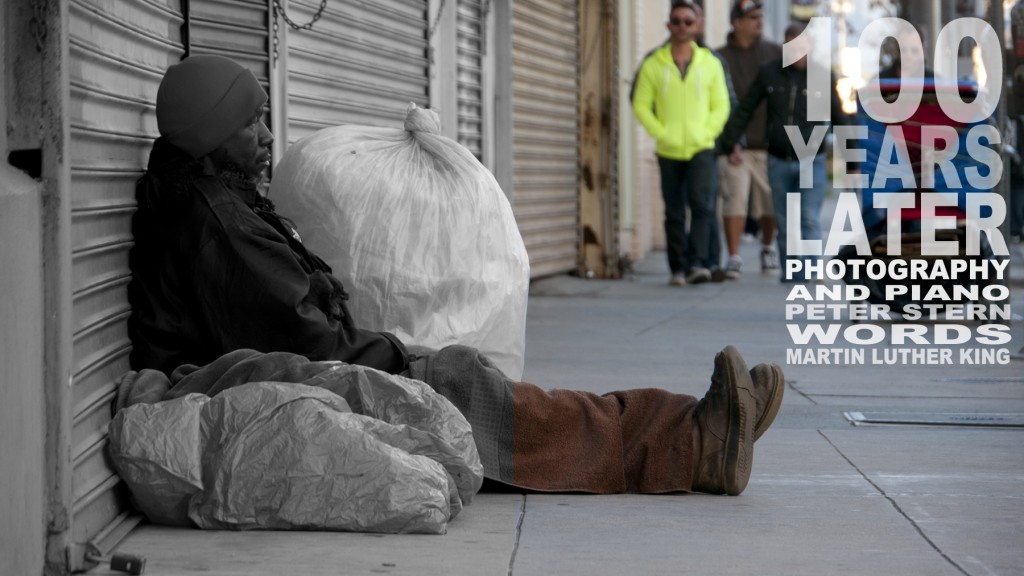 With the recent passing of Martin Luther King's birthday which is traditionally celebrated every third Monday here in the United States one English expatriate decided to take an intimate look at how much racial equality and harmony and social mobility has changed over the years. His focus? Los Angeles' gritty Skid Row. That said I decided to pose Peter Stern some questions to see what he discovered. Food for thought indeed…
Peter Stern's poignant work can be seen at full here
SCV: What inspired the project?
Peter Stern: The neighbourhood in which i shot these photographs starts a couple of blocks away from where i recently moved to in downtown Los Angeles. The juxtaposition of poverty and priviledge is extreme.  The plight of so many peoples living on the streets, effected me deeply. I had to emotionally respond in a creative way. In the way i know how to. And Martin Luther King inspired me to also "dramatise this shameful condition" some 50 years later after he made his speech in 1963.
SCV: How does homeless in Los Angeles compare to that of the UK?
Peter Stern: Homelessness is a huge issue in London too. But in LA, on Skidrow as it's called, the homeless are almost entirely black Americans. My camera didn't lie.
SCV: Is homeless predominantly a race/prejudice issue or something that can happen to anyone?
Peter Stern: It seems the societies in which we live are divided by those that have and those that have not. As if one cannot exist without the other. The fact that here in donwtown LA, it is predominantly one race of people homeless on the streets, to not consider the race issue as being a major factor, would be naive at best.
SCV: What is one story as a photojournalist that stands out for you whilst you were building this portfolio?
Peter Stern: I knew I had to document this situation from the very first time I witnessed it . I just didn't know how to. As a white man with a camera in this potentially volatile neighbourhood, I knew i'd get into trouble getting as a close in as I needed to. And then I awoke on the 1st of January 2013 knowing how to shoot this series. I went straight out and shot these photographs in one session, taking about a half hour in which to get in there, capture the images and get out again. And I achieved it by shooting from a moving skateboard, which acted as both a dolly of sorts and also as my security system, theory being that I could quickly skate out of trouble if need be.
On a skateboard I became a part of the street. I was hardly noticed, but at the same time I was right in where I needed to be.