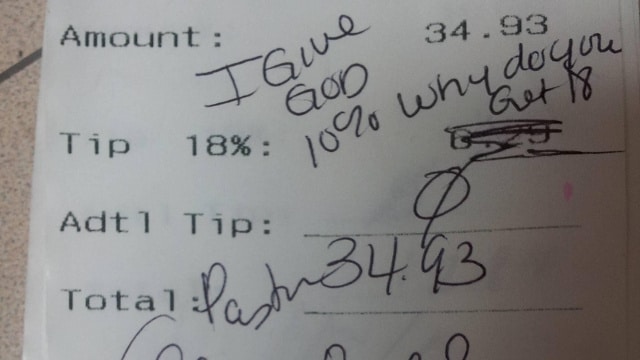 Christianity has just claimed another victim…
Here comes the story of one woman, actually a pastor whose snide musings on an Applebee's food receipt ('I give god 10% why do you get 18) has escalated with the firing of the server who decided to post the snide remark on social media outlet reddit.
The server's dismissal came after Pastor Alois Bell was mortified that her musings had suddenly gone viral on the web and in fact she had originally called the establishment to demand everyone involved be fired. I know God doesn't take any shit kids.
But now Pastor Bell has had a sudden change of heart (yes God can forgive you if you try) and has now gone on to express contrition. Not necessarily because the scorned server got fired (they just wanted their tip, which Pastor Bell challenged after it was automatically added after Bell and her party of greater than 5 dined) but because her actions has 'brought embarrassment to my church and ministry.'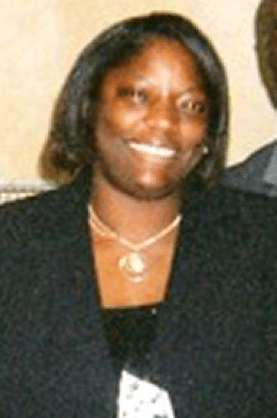 Meanwhile Pastor Bell has gone on to offer her notation on the receipt was a "lapse in judgment that has been blown out of proportion."
And what about the fired waitress, what's her take on being at the center of God's fury?
"I originally posted the note as a lighthearted joke," Chelsea Welch told Consumerist. "I thought the note was insulting, but it was also comical. I posted it to Reddit because I thought other users would find it entertaining."
And in fact they did, you can go here to read some of the comments but unfortunately Pastor Bell and God weren't too pleased.
And finally what does Applebee's think about God raining down on their storefront?
Applebee's has made it clear that they would rather lose a dedicated employee than lose an angry customer. Indeed!
Hell have no fury like Pastor Bell God scorned…
The below YouTube video shows Bell preaching last year before a small crowd at her church, St. Louis-based Truth in the World Deliverance Ministries