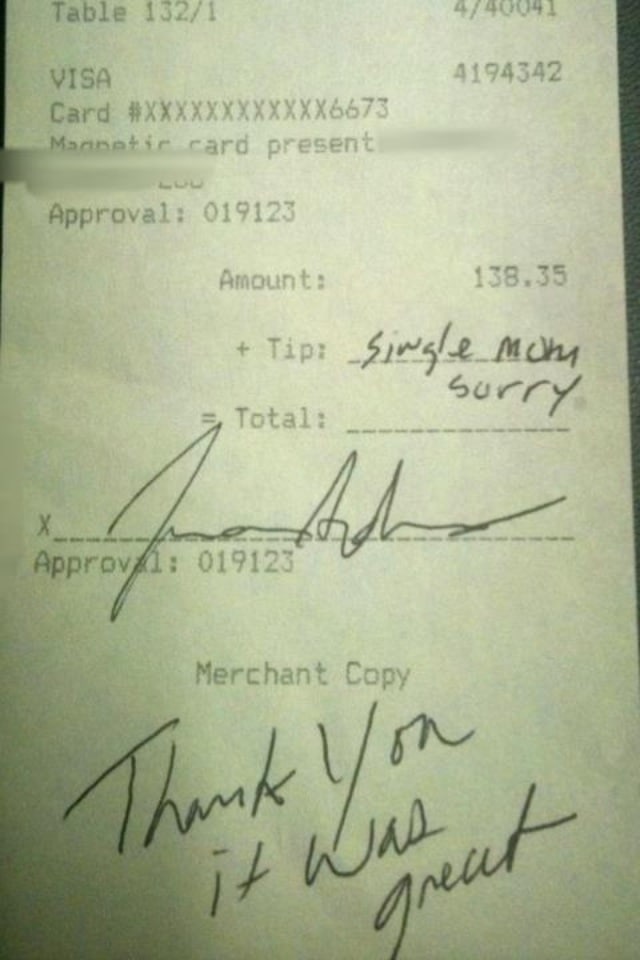 It is thought as a matter of good manners and decorum that if one has enjoyed their meal to offer their server here in the United States a tip. In fact one can even say even if they haven't really enjoyed their food or the service tended to them that their server will still expect a decent tip (usually on the low end 15% but at many NYC restaurants even 30% has become the new norm).
That though was all put to the wind pursuant to one photo copy of a recent tip message one woman left her server (see picture above) which found its way on social media outlet redditwhere it has now gone viral and stirred up the usual controversy that so often comes up when the matter of gratuities becomes the focal point. Which is to say economics and good manners go hand in hand or maybe not…?
huffpo:  A photo of a receipt allegedly left by a single mother at a restaurant has gone viral after it was originally posted on Reddit. The bill shows a charge for a $138.35 meal with no additional tip. Instead, there's a note that reads "single mom sorry" — implying that whoever signed the bill doesn't have enough money because it is expensive to raise kids alone.
Redditor PhoenixSongFawkes posted the photo and wrote, "I'm sure $140 could have gotten you and your kids a week worth of groceries, but instead you spend it one one meal?! For shame!"
To be sure the posting has elicited quite a heated reactionas many have opined that to leave a server no tip is tantamount to heresy where as others have wondered out aloud whether it may in fact be the job of the restaurant itself to make up the shortfall (between the hourly wage and the state mandated minimum wage) to their employees most whom only pay their servers a paltry $2.50 and thus in effect pass on the burden of paying the server's keep to that of the diner. Then again one wonders if the restaurant continually had to find themselves having to make the shortfall how long that server would last at their venue?
One is also inclined to wonder what would happen if wages approximated what other skilled trades in general paid their staff (but define skilled) and whether this in itself would mean the restaurant demanding higher meal prices (assuming they could make this stick) and waiters themselves making a more steady living albeit giving up the advantages of high tips that sometimes comes as a result of working for a very well sought venue. But then again try telling that to those waiters who at some establishments pull in over six figures each year…
Responded a variety of reddit readers:
To anyone who just arrived and are sifting through the comments: A bunch of people who have never worked in a restaurant in the U.S. are complaining about having to tip, and then people who have worked in U.S. restaurants are bitching at them because they don't understand how U.S. waiters/waitresses/servers make money.
Then when it is explained that the servers only get paid enough of a wage to cover taxes and have to rely on tips to pay bills, everyone comments on how shitty of a system that is and how restaurant managers and owners must be the biggest d-bags ever to perpetuate this kind of system.
This happens every time this sort of thing is posted on reddit.
The sad fact is that, in most states, minimum wage is not enough to pay one's bills. However, most servers make well above minimum wage, because, thankfully, most people who patronize restaurants know that their waiter/waitress depends on tips.
Minimum wage in south carolina will get you 15k/year, full time. If your monthly fees are 600 for rent, 80 for electric, 400 for food ($13 a day for food, good luck with your nutrition!), and 40 for internet you have already spent 13.5k of your budget. That doesnt even get into gas, car insurance, renters insurance, a car, a phone, games, any medical issues because min wage jobs don't give you that, a night out every once in awhile, vices, etc. Maybe you could knock another $100 off the rent if you lived in a ghetto and bring your free cash from $1600 a year to $2800 a year.
So yes, if you live alone and you've managed to stretch a min wage job at 40 hours a week into something other than abject poverty you are a financial genius.
The point is, it doesn't matter if she tipped or not. The point of this post was that her writing 'sorry single mom' was unnecessary.
It was to show that someone was ridiculous enough to come into a place, and use the fact that their a single mom to not tip. Then to say everything was great… There are many times we only get a few tables at night. We depend on those big tickets to make money.
I wouldn't be so bold as to call the patron a bad person, but I really have to question the wisdom of going out and paying this much money for a meal if you don't even have three or four dollars to spare to ensure that your server is paid fairly for the effort he put in to ensuring that you had a pleasant dining experience.
I have to think people incensed by OP's selfishness simply don't understand that American servers depend on tips, rather than on hourly wage, to pay for their own food. If a person had that knowledge, and still claimed to feel that way about OP's complaint, I'd just have to assume that they were completely unreasonable, or intentionally misrepresenting their perspective for purposes beyond my primitive reckoning.
What constitutes service that needs a tip? Waiters, hair dressers, bell hops? Why? Why not the IT guy that just fixed your computer? Why not the McDonalds worker that just brought your meal out to the table because it was slow? Why not Home Depot, where the worker just explained how to caulk a bathtub to you? I don't understand why tipping is still around, or why we don't tip for EVERYTHING.
"It's completely possible that someone wanted to be an asshole and blame it on single moms. Honestly, the more I think about how anyone would do this to a waitress, the more I think it's likely that this was just a very awful prank to make single moms look bad," 
And? I'm tired of this sense of entitlement. So she spent money at an expensive restaurant. Big deal. She didn't tip you? GET OVER IT ! can't live off $2 an hour? Get a better job. Yes, it's that easy. Plenty of places hiring.
Maybe the woman went out for the first time in years and wanted to treat herself as best she could, but was only left with enough money to perfectly pay her bills. The waiter gets paid, the restaurant makes money, and of course the entitlement driven waiter moans, and gets on reddit (aka where every ignorant loser on the internet spends most of his time). I always hated coworkers like that. God, I wish America was like so many other countries where tips are not expected and even considered inappropriate in some instances. How hard is it to just pay someone minimum wage or a little more? Leave the woman alone. She paid her bill. If you work at a restaurant that lets someone rack up $138 just for their self, you will obviously get good tips from others.
i fully agree, when i hear, "OH I ONLY MADE $100 IN TIPS TODAY" and then come to find they worked 5 hours.That angers me. That's $20/hr, and here i am in retail, dealing with equally shitty people making $7.50/hr. That's coming for me though.
And in other words, the worst you can end up is the same as the retail person, with a substantial possibility of doing better.
Not saying it's not tough being a server, but it's probably one of the best paying low-education jobs out there that doesn't have much of a chance of killing you.
I'm a single Mom, and this is bullshit. What exactly are you teaching your kids? That it's all about you – what you need, what you want, and screw everyone else. It's YOU first.
Dear Parents of all kinds – your kids are watching you and learning. Treat others with respect please!
Douchebags come in all shapes and sizes, even single Mom types.Sighhhhhh.
If you complain about your service to someone who needs to earn a tip, they will probably try to do the best they can rectify the problem in hopes of still getting a good tip. If you complain to someone who is just doing the job to get by on a set salary, you are asking for all kinds of nice things in your food and drink. Now that is why the tip system works.
I live in a country where you tip when the food and service was better then expected. You don't tip a standard ammount. Waiters and waitresses get paid a better salary when compared to America too. I personally don't tip people doing the job they are paid to do. If they made my stay at their restaurant better then expected or more special, yes, then I tip.
America has a weird system… But it has pros too I guess…
for business owners, yes lots of pros
Tipping is one of the most fucked up concepts ever… everyone loses out except for the management.
Fuck capitalism.
For those of you who think tipping is just encouraging employers to pay low wages, you're incorrect. Yes, the minimum wage for servers is around $2.00 in most states, but those laws were put in place BECAUSE of tips, not the other way around. There are a few (VERY few) states, like Washington State, who actually guarantee that servers make minimum wage by offering them an offset if their tips don't make up the difference, but that is the exception, not the norm. 
It absolutely ASTOUNDS me that people keep telling servers/waitstaff to "get another job." Don't you think that if a better paying job with flexible hours (for those people who are in school or have to have flexible hours to take care of their kids) were available, they would take it? "Getting another job" isn't as easy as people make it seem, particularly not in this economic climate. The majority of people don't serve because it's a lifelong dream, but because it is the only thing allowing them to pay rent at the time. 
Overall, I'm completely appalled at this woman's audacity to pay $140 dollars for a meal and not tip. Even if she'd left $5.00 with the same apologetic note, it would have showed empathy and a desire to do the right thing. In my opinion, this woman is a TOOL. 
Either way, tipping really isn't relevant to this picture. The point is the customer is apparently complaining about being a single mom who doesn't have money, but she just spent $140 to go out.