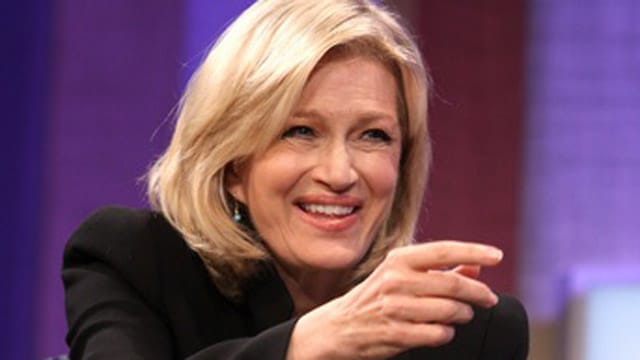 Does Diane Sawyer have a habit of getting drunk on air?
A source is telling nydailynews this morning that respected tv journalist Diane Sawyer might be looking to leave ABC this year so as she may concentrate on tending to 'personal' issues. Interestingly ABC to date has asserted that this is all news to them…
Tells a source to nydailynews:
"She has discussed with a few close friends and some people at ABC that she is seriously considering retiring. She said she'll be ready to hang it up not long down the road. She loves work and what she does and has endless energy, but she's overwhelmed with personal problems and she is thinking about leaving to take care of her family."
Of course the first question one is apt to ask is what personal problems is Diane Sawyer dealing with and does it have anything to do with her recent strange behavior during a live telecast late last year?
The source goes on to say that Sawyer is also helping her mother battle an illness.
Yet here is where things get iffy and really confusing. An ABC source goes on to tell the nydailynews that there is "no diagnosis" for her mother — as well as a rep denying Sawyer is leaving soon.
"Diane has been going home for long weekends for years every couple of weeks, and that has not been new," says the source. "She doesn't have any plans to be taking off any time."
A rep for ABC says: "That's a bunch of nonsense as we made clear and Diane's plans for 2013 haven't changed in any way."
Who knows perhaps the veteran journalist might be losing her nerve or her resolve but then again at 67 and one imagines fairly well set up for life does she really need to care what anyone thinks anymore? Or could it just be that ABC might be planning some behind the scenes re shuffling and are denying anything of the sort as Sawyer plays to the notion that she simply wants to leave. The question now is does ABC want her to leave too?