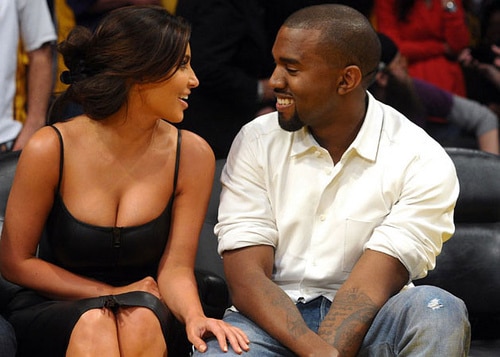 There will soon be an additional character cast addition in the Kardashian's can make more money than you and me.
Kids just in time for New Year's eve celebrations comes the good cheer that our collective hero Kim Kardashian and her hawt birch in residence, Kayne West are now expecting a child as Kim publicly dropped the holy news on unsuspecting attendees in Atlantic City last night.
tmz: Yeezy dropped the baby bombshell on stage Sunday night in Atlantic City by simply asking the crowd, "Can we make some noise for my baby mama right quick?"
Our Kardashian sources confirm Kim is 12 weeks pregnant, and apparently several members of the K clan have been sitting on the secret.
But here's where the shit gets real good, with Kimbo now pregnant circa 12 weeks now, she now has a leg up on Kate Middleton who only recently announced her own pregnancy which means Kate has got some work ahead of her if she's going to compete with Kim (I know Kim planned it perfectly, payback for the royal snub).
That said as I begin to wrap my head in spare oxygen bubbles (yes, like you I am sufficiently dizzy) I wonder out aloud what Kim and Kayne will end up naming their little hawt bixch in waiting?
Here are my 5 name choices below boy or girl unisex:
1/ PRINCE/SS KARDASHIAN
2/ VISA KARDASHIAN
3/ FERRARI KARDASHAIN
4/ KLOUT KARDASHIAN
5/ KUTE KARDASHIAN.