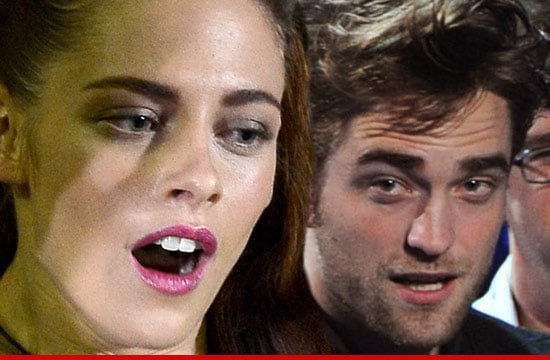 The world can finally sigh with relief…
It was a nauseating summer for most twilight fans with the news that their dream couple Kristen Stewart and Robert Pattinsonhaving split up courtesy of Ms Stewart's 'indiscretion' with Rupert Sanders. At the time the media postulated what it all could mean and whether Ms Stewart was the scumsucker that her soon to be ex fans believed her to be, but now that is all about to change…
gawker: After myriad rumors and alleged sightings, star-crossed lovers Robert Pattinson and Kristen Stewart were finally spotted hobnobbing with each other in wild by someone with a camera (see photo here).
The couple was seen "cozying up" last night at the Ye Rustic Inn in Loz Feliz, where they reportedly spent four hours in the company of several friends.
"Onlookers said there was no sign of tension between them at all, as they laughed and joked and enjoyed their drinks," says Entertainment Tonight, which will unveil even more exclusive photos and video on tonight's show.
But not everyone is convinced, with tmz wondering if it's all just a set up with the Twilight next installment just round the corner.
Nevertheless for now we can all sigh with relief that our young heartthrobs have found once again found common ground and given all us jaded grown ups the opportunity to once again believe that love and looks and money and a good pr blitz machine does come up trumps after all….
Kristen Stewart and Robert Pattinson reunite. Fooled us all with disguises….were seeing each other all along.
Really? Kristen Stewart and Robert Pattinson said to have had dramatic makeup.
Kristen Stewart opens up about Robert Pattinson: 'We're going to be fine.'
Liberty Ross walks for Alexander Wang Spring 2013 collection. 'I'm Still a hawt bixch Kristen Stewart!'
Kristen Stewart looks very lonely on the red carpet without Robert Pattinson.
Kristen Stewart heads out to Toronto film festival wearing Robert Pattinson's IRIE t shirt.
Kristen Stewart tells British Vogue she doesn't know who she is after affair
Robert Pattinson's sisters would kill him if he re unites with Kristen Stewart.
Yes, Robert Pattinson can't help reading about the Kristen Stewart affair either.
Oh my! Is Robert Pattinson making a break back to London now?
Liberty Ross struts in her its bitty shorts and heels as husband mulls her marriage demands.
Liberty Ross steps out once again without her wedding ring.
Kristen Stewart seeks self help books to forgive herself for breaking Robert Pattinson's heart.
Robert Pattinson looks like a wreck on Jimmy Kimmel. 'Feels homeless…'
Kristen Stewart t shirts hit at all time low as actresses is dumped on.
Kristen Stewart and Robert Pattinson are given permission not to attend Twilight conventions.