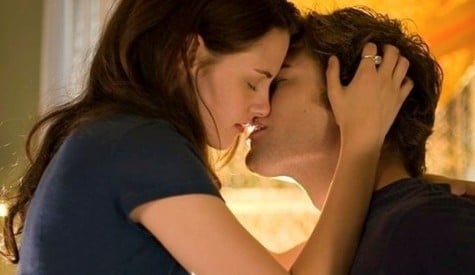 Now the proof you have been waiting for: Kristen Stewart and Robert Pattinson are really back together.
It's been reported that Kristen Stewart and her estranged boyfriend Robert Pattinson have reunited ending months of speculation as to whether the couple who have been involved for over 3 months would get back together after Pattinson asked her to move out pursuant to an illicit affair she had with Rupert Sanders.
usmagazine: "They are living together and have reconciled," an insider tells Us Weekly in the new issue, on stands Friday. 
Which might all be good news but things wont necessarily go back to being it was before news of the infidelity first broke.
As Us revealed last week, Pattinson, 26, and his estranged love recently "had a dramatic makeup." But a source tells Us the British hunk "is extra-sensitive right now. He's insecure."
It's understood that the pair have also been seeing each other clandestinely for a number of weeks now which perhaps might explain Kristen Stewart's off handed remark when asked about her upcoming union with Pattinson at the next 'Twilight' installment in November when she flippantly said 'it's all good.' At the time the comment sent the media world into a tizzy as once again speculation increased as to the nature of her relationship with the actor.
What though might be most compelling is how the couple were able to see each other in recent weeks without triggering any alarms to an ever prying media which probably is good news as news of them initially reuniting may have put under pressure on the couple.
examiner: A close friend of Robert Pattinson's spilled the beans on the "Twilight" couple and their "amazing" ability to transform themselves into different people when stepping out and about. "They can disguise themselves so well that even their own parents wouldn't recognize them," claims their unnamed friend.
Kristen and Robert's strategy includes using many different disguises and props without looking like they are in a costume. They have a "nondescript wardrobe" and even a few "old beater cars" that they use for traveling the roads without being noticed.
How perfect that these two actors have been able to literally act out of the unrelenting media quagmire that was forced upon them and will probably be so for some time.
Of course some commentators have noted that the resuscitation of their relationship is too good to be true given the near release of the next installment of the Twilight trilogy (with some even wondering whether the actors were paid by the producers) whilst others have even wondered if the two ever broke up in the first place and whether the 'impromptu' snaps of Kristen Stewart and Rupert Sanders was just a charade to build momentum for the actor's next acting vehicles.
Really? Kristen Stewart and Robert Pattinson said to have had dramatic makeup.
Kristen Stewart opens up about Robert Pattinson: 'We're going to be fine.'
Liberty Ross walks for Alexander Wang Spring 2013 collection. 'I'm Still a hawt bixch Kristen Stewart!'
Kristen Stewart looks very lonely on the red carpet without Robert Pattinson.
Kristen Stewart heads out to Toronto film festival wearing Robert Pattinson's IRIE t shirt.
Kristen Stewart tells British Vogue she doesn't know who she is after affair
Robert Pattinson's sisters would kill him if he re unites with Kristen Stewart.
Yes, Robert Pattinson can't help reading about the Kristen Stewart affair either.
Oh my! Is Robert Pattinson making a break back to London now?
Liberty Ross struts in her its bitty shorts and heels as husband mulls her marriage demands.
Liberty Ross steps out once again without her wedding ring.
Kristen Stewart seeks self help books to forgive herself for breaking Robert Pattinson's heart.
Robert Pattinson looks like a wreck on Jimmy Kimmel. 'Feels homeless…'
Kristen Stewart t shirts hit at all time low as actresses is dumped on.
Kristen Stewart and Robert Pattinson are given permission not to attend Twilight conventions.
Is Kristen Stewart mutilating herself? From bad to worse…