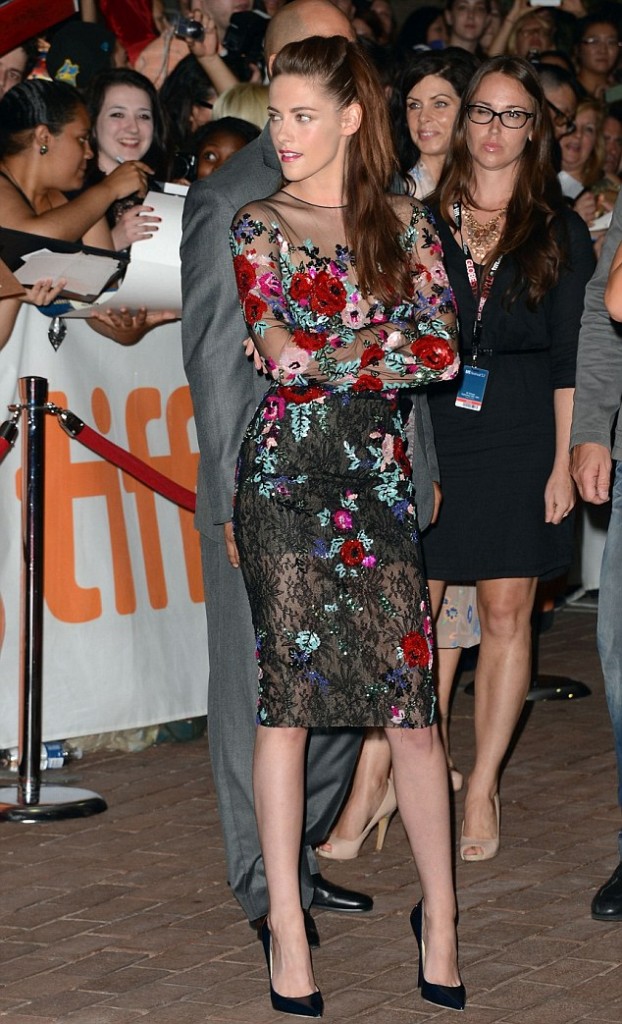 Now the proof you have been waiting for: Kristen Stewart and Robert Pattinson are really back together.
Kristen Stewart and Robert Pattinson reunite. Fooled us all with disguises….were seeing each other all along.
Really? Kristen Stewart and Robert Pattinson said to have had dramatic makeup.
Kristen Stewart opens up about Robert Pattinson: 'We're going to be fine.'
Liberty Ross walks for Alexander Wang Spring 2013 collection. 'I'm Still a hawt bixch Kristen Stewart!'
Is Kristen Stewart's world collapsing around her?
Kristen Stewart yesterday attended her first red carpet since her illicit union with British director Rupert Sanders at the Toronto Film Festival and it appears things didn't go down so well for the actress.
Conspicuously feeling the pinch of the public glare, the actresses' body language was quite indicative of the mental strife she is undergoing as all eyes were watching her closely.
While Kristen offered a smile for the camera when posing with a hand on her hip for photographers, the atmosphere proved a little overwhelming and she was later seen with crossed arms looking sad.
But Kristen wasn't going to disappoint fans (again) as she chose to remain on the red carpet for an extended hour just so she could sign autographs and take pictures for fans and one imagines too remind the media she's hardly mince meat yet.
And then there was this comment by one reader that caught my eye:
She looks very pretty, but there's a sadness behind her eyes. She used to have a kind of edgy, irritated look all the time, but the eyes just look so sad. I'm not a fan and know nothing much about her, but I have been following her story a little because it's so horrible how the media/paparazzi feel compelled to completely destroy people. I guess I keep hoping I'll see her looking healthy and happy, but I don't think she's there quite yet.
Kristen Stewart heads out to Toronto film festival wearing Robert Pattinson's IRIE t shirt.
Kristen Stewart tells British Vogue she doesn't know who she is after affair
Robert Pattinson's sisters would kill him if he re unites with Kristen Stewart.
Yes, Robert Pattinson can't help reading about the Kristen Stewart affair either.
Oh my! Is Robert Pattinson making a break back to London now?
Liberty Ross struts in her its bitty shorts and heels as husband mulls her marriage demands.
Liberty Ross steps out once again without her wedding ring.
Kristen Stewart seeks self help books to forgive herself for breaking Robert Pattinson's heart.
Robert Pattinson looks like a wreck on Jimmy Kimmel. 'Feels homeless…'
Kristen Stewart t shirts hit at all time low as actresses is dumped on.
Kristen Stewart and Robert Pattinson are given permission not to attend Twilight conventions.
Is Kristen Stewart mutilating herself? From bad to worse…