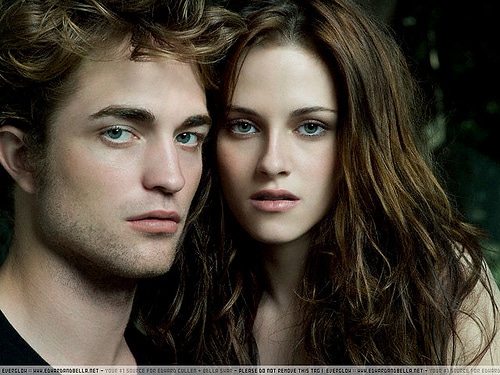 Now the proof you have been waiting for: Kristen Stewart and Robert Pattinson are really back together.
Kristen Stewart and Robert Pattinson reunite. Fooled us all with disguises….were seeing each other all along.
A source has told US Weekly that Kristen Stewart and her estranged boyfriend Robert Pattinson have had a 'dramatic makeup' in Los Angeles this after Pattinson asked Stewart to move out of his shared house when news of her affair with 'Snow White and the Huntsman' director Rupert Sanders was caught by paparazzi.
Said the unidentified source (can we really believe them?):
'They're working it out and he's in love with her.'
The source goes on to tell Us that after two months of heartbreak and drama in the press, Pattinson, 26, finally relented to meeting with his 22-year-old ex, and the couple have been meeting on occasion ever since.
Reports peoplemag: .…according to an insider, the Twilighthunk's pals "think they'll be a couple again."
Could the two really be back together or is this just a desperate attempt by studio heads to save the next installment of the Twilight saga that is set to premiere in November?
Of course what's not also being said is how much most of teenage America and diehard Twilight fans are in love with the couple who have embodied in the three years since they have been together a kind of fatalistic love conquers all mysticism in the cultural collective. The question now is if Pattinson does indeed take back Stewart will all the Twilight fans who were sorely bruised and disillusioned and let Stewart know it take her back now as well….?
Kristen Stewart opens up about Robert Pattinson: 'We're going to be fine.'
Liberty Ross walks for Alexander Wang Spring 2013 collection. 'I'm Still a hawt bixch Kristen Stewart!'
Kristen Stewart looks very lonely on the red carpet without Robert Pattinson.
Kristen Stewart heads out to Toronto film festival wearing Robert Pattinson's IRIE t shirt.
Kristen Stewart tells British Vogue she doesn't know who she is after affair
Robert Pattinson's sisters would kill him if he re unites with Kristen Stewart.
Yes, Robert Pattinson can't help reading about the Kristen Stewart affair either.
Oh my! Is Robert Pattinson making a break back to London now?
Liberty Ross struts in her its bitty shorts and heels as husband mulls her marriage demands.
Liberty Ross steps out once again without her wedding ring.
Kristen Stewart seeks self help books to forgive herself for breaking Robert Pattinson's heart.
Robert Pattinson looks like a wreck on Jimmy Kimmel. 'Feels homeless…'
Kristen Stewart t shirts hit at all time low as actresses is dumped on.
Kristen Stewart and Robert Pattinson are given permission not to attend Twilight conventions.
Is Kristen Stewart mutilating herself? From bad to worse…