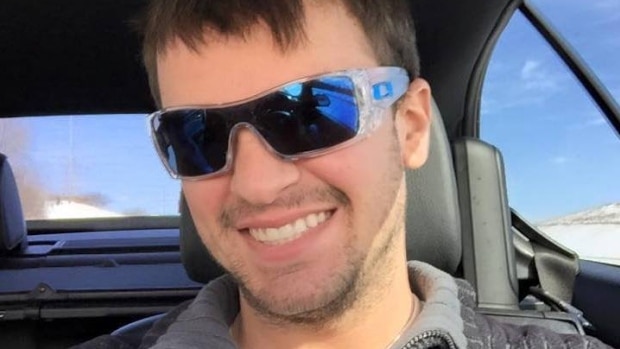 Andreas Lubitz tribute advertisement: A question of good taste or a family's insistence of preserving the memory of their fallen son?
The relatives of infamous Germanwings pilot Andreas Lubitz who last March purposefully dove a plane of 149 passengers into French mountains have heaped scorn on the pilot's parents after taking an ad in the local newspaper paying a tribute to their son.
In their ad with the Westerwald newspaper in their local town, Gunter and Ursula Lubitz in a homage to their son described their son as a 'lovely and valuable person.'
The advertisement comes as the first public expression of grief from the mother and father of the man who has become reviled for the mass murder-suicide.
The crash came to take place after the depressed and increasingly suicidal, Lubitz managed to evade health and safety checks, which allowed him to remain flying until he decided to end his life on March 24 last year while at the controls of Flight 4U9525 en route from Barcelona to Dusseldorf.
'I'm going blind' Andreas Lubitz Germanwings pilot final email
Andreas Lubitz researched suicide methods, cockpit security day before crash
Andreas Lubitz fiance, Kathrin Goldback to flee Germany: 'The world hates us'
Cover up? Germanwings investigators deny mobile video of crash exists.
Kathrin Goldbach: 'Im pregnant with Andreas Lubitz child'
Germanwings black box: Andreas Lubitz insisted pilot take toilet break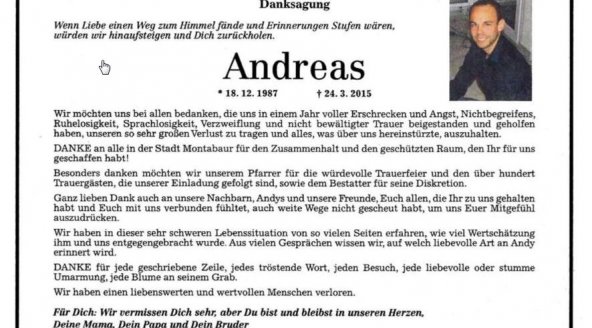 In the newspaper announcement his parents thanked friends and relatives who had stood by them. 
The tribute, which features a photo of Lubitz, said: 'Thanks to everyone in the town of Montabaur for cohesion and the protected space that you created for us.' 
'Thank you for every written line, every flower placed on his grave, every comforting word, every visit, every loving or silent embrace,'
The parents described a 'year of horror and fear, without rest, of speechlessness and despair and unexpressed mourning. We have lost a lovely and valuable person.'
That said the tribute has hardly gone down too well with some of the families relatives.
Told the incensed parents of victim Sebastian S., 24 referencing the area of the crash which has since become a memorium: 'We can visit our assassinated child only at this spot. The parents of Lubitz describe him as a valuable human being. You cannot describe our anger in words.'
Jürgen Fareed from Wesseling, who lost his son, also told: 'I can understand the grief of the parents, they have lost their son.
'But with this thanksgiving in the public domain where there is not a to go where not a word of mention of the 149 people this man murdered – this is ignorance and impiety.'
Andreas Lubitz girlfriend broke up cause he told her he was planning crash
Tomato Andy: What medical secrets was Andreas Lubitz hiding?
Andreas Lubitz depression: Did it drive him to suicide?
Why did Andreas Gunter Lubitz Germanwings pilot murder 144 passengers?
Germanwings plane 4U 9525 grounded over faults 24 hours earlier
Germanwings Flight 4U 9525: Why didn't pilots send SOS message?
Pictures: Lufthansa CEO Carsten Spohr: 'I don't know why.'
Germanwings plane crashes, 148 dead. Airline refuses to confirm.