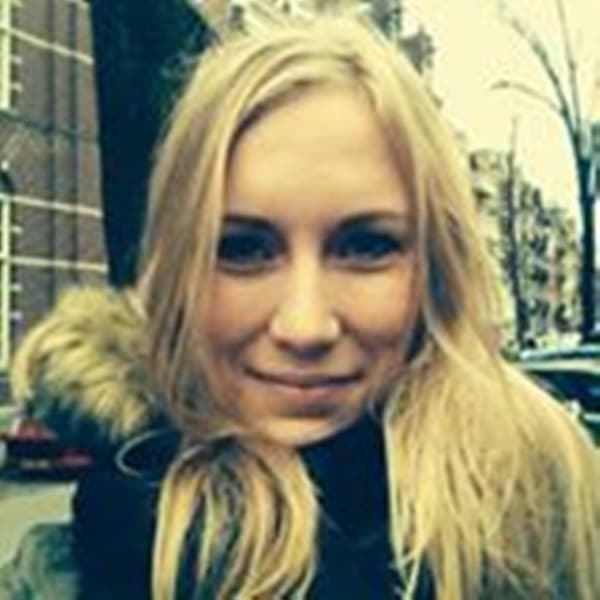 Andreas Lubitz's fiance, Kathrin Goldback has fled the small German town of Montabaur she grew up with the Germanwings co pilot, fearing that she will forever face the hatred of the world.
Angst ridden that her and her family will forever face the wrath of the community and the world's indignation after her boyfriend purposefully crashed a Germanwings plane into the French alps, the 26 year old math teacher has told she has had no choice but to forever leave the close knit community which has since shunned them, vowing to never return.
Told a friend of the family via Germany's Bild magazine: 'The girlfriend of the co-pilot has nothing to do with what happened.
'But the hatred of the world is coming down upon her, and you know this place is so small, it is very hard for them to come back here.
'They would have to look to find somewhere to stay around here if they wanted to get away. It is just not possible for them to keep a low profile so they are not coming back.
'It is so much easier if you live in Dusseldorf or somewhere like that.
'But for the parents to come back here, it was almost impossible for them, it is just too small a town.'
Cover up? Germanwings investigators deny mobile video of crash exists.
Kathrin Goldbach: 'Im pregnant with Andreas Lubitz child'
Germanwings black box: Andreas Lubitz insisted pilot take toilet break
Andreas Lubitz girlfriend broke up cause he told her he was planning crash
Tomato Andy: What medical secrets was Andreas Lubitz hiding?
Andreas Lubitz depression: Did it drive him to suicide?
Why did Andreas Gunter Lubitz Germanwings pilot murder 144 passengers?
Germanwings plane 4U 9525 grounded over faults 24 hours earlier
Germanwings Flight 4U 9525: Why didn't pilots send SOS message?
Pictures: Lufthansa CEO Carsten Spohr: 'I don't know why.'
Germanwings plane crashes, 148 dead. Airline refuses to confirm.
In the wake of the tragedy, the math teacher who is now pregnant with Lubitz's unborn child who has sought comfort from a priest told investigators that her long-term boyfriend Lubtiz had whisked her away on holiday just days before his death.
Family members were also said to have joined the couple – who first met while working in a local Burger King as teenagers – on the final holiday.
Kathrin left her teaching job in Montabaur after her on and off boyfriend qualified as a pilot in 2013 and the pair moved to a flat in Dusseldorf. She got a job in a secondary school in a town called Krefeld just outside of the city.
The teacher also confirmed that in the weeks before the crash her estranged fiance had bought 'his and her' luxury Audi's for himself and her.
At the time she would decline to take passage of the automobile after it was revealed the co pilot was embroiled in an affair with a Germanwings flight attendant, Maria W.
Offered a source: 'His girlfriend was very nervous in the interview. She had a female minister with her to try to keep her calm but she was wringing her hands and was very tense.
'She knew he was ill but had no idea he was in this state of mind. He showed no signs of suicidal thoughts.'
At present it is not necessarily understood where the woman and her family will settle with some wondering if she might be forced to leave Germany…