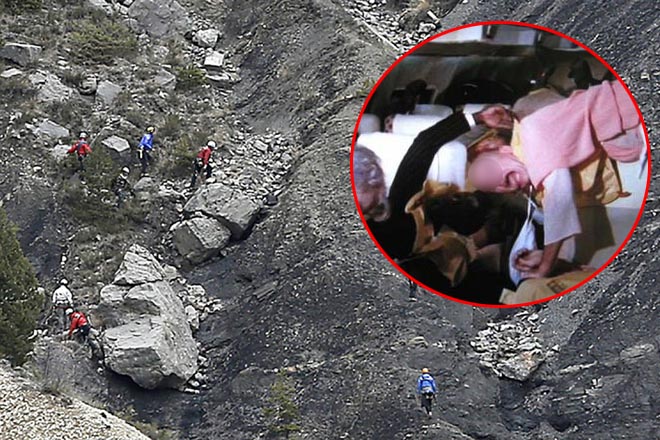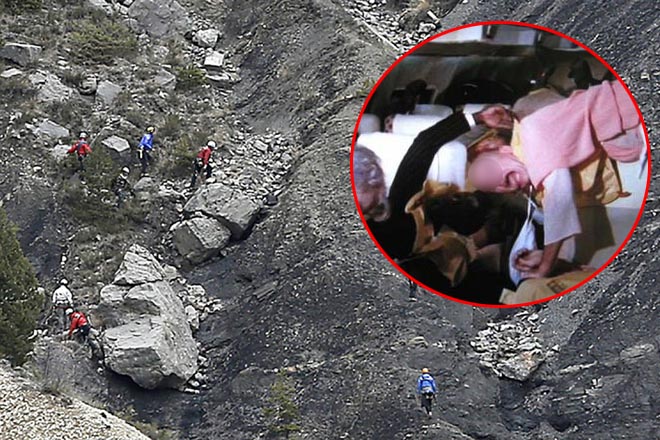 A prosecutor leading Germanwings crash investigations has denied the existence of a mobile video purportedly showing the last moments of the doomed flight just before crashing into the French Alps.
The denial from Marseilles based prosecutor, Brice Robin comes despite the insistence of French and German media outlets, Paris Match and Germany's Bild editors insisting that a video memory card was recored showing the seconds long video of screaming passengers who knew they were about to die, with cries of 'Oh God,' in different languages purportedly heard moments before 150 people perish to their deaths.
Andreas Lubitz fiance, Kathrin Goldback to flee Germany: 'The world hates us'
Kathrin Goldbach: 'Im pregnant with Andreas Lubitz child'
Germanwings black box: Andreas Lubitz insisted pilot take toilet break
Andreas Lubitz girlfriend broke up cause he told her he was planning crash
Tomato Andy: What medical secrets was Andreas Lubitz hiding?
Andreas Lubitz depression: Did it drive him to suicide?
Why did Andreas Gunter Lubitz Germanwings pilot murder 144 passengers?
Germanwings plane 4U 9525 grounded over faults 24 hours earlier
Germanwings Flight 4U 9525: Why didn't pilots send SOS message?
Pictures: Lufthansa CEO Carsten Spohr: 'I don't know why.'
Germanwings plane crashes, 148 dead. Airline refuses to confirm.
The respective journals also described the sounds of metallic banging from inside the aircraft being heard, presumably as the plane's captain, Patrick Sondheimer attempts to break open the cockpit door with an axe or metal object, as Andreas Lubitz set the aircraft onto a collision course into the mountain.
Paris Match and Bild further insist that the footage captures the plane shaking heavily, before the screaming 'intensifies'.
Bild added that the aircraft appears to be touching a mountain, as more screams are heard. The camera then cuts out.  
The contested video is said to have come from a memory card amid wreckage found at the site purportedly belonging to a cell phone. Video which Brice Robin insists has not been handed to investigators and in all likelihood does not exist.
Both papers say the footage supports the idea that the passengers 'knew what desperate situation they were in'. It added that no individuals could be identified.
Told Robin via CNN: 'A person who has such a video needs to immediately give it to the investigators.'
Whilst neither publication chose to broadcast the video, both Paris Match and Bild who collaborated on the story stand by their reports.
German daily Bild and French magazine Paris Match said their reporters were shown the video after it was found on a memory chip that could have come from a mobile phone inside the aircraft.
Lieutenant Colonel Jean-Marc Menichini, a high ranking official involved in the recovery operation has since denied that any mobile phone footage had been found by investigators, describing the reports as 'completely wrong' and 'unwarranted.'
Asked whether staff involved in the search could have leaked a memory card to the media, Menichini answered with a categorical 'no.'
But Paris Match insisted the footage, thought to have been filmed from the rear of the plane, was found 'among the wreckage by a source close to the investigation', with Julian Reichelt, editor-in-chief of Bild online, saying he had watched the 'very disturbing' clip and is 'very confident' is it authentic.
Asked how the video was acquired, the lead editor from Paris Match, Frédéric Helbert answered: It was a long investigative process to find contacts who would be able to access this difficult terrain.  It required several levels of intermediaries.  Intermediaries connected to people working on the terrain.
Responding to the police charge that the video was false, Helbert asked whether the police had seen it.
On the police and prosecutor's charge that mobile phone evidence from the crash site had not yet been analyzed, Helbert said that would suggest there was a problem with the inquiry and it was high time the analysis of phone evidence began.
Offered mobile phone tester Dirk Lorenz via Bild: 'It's very unlikely a mobile phone could have survived such an impact.
'However, a memory card can be very durable. Even if a mobile phone smashes into a thousand pieces the memory card can remain intact. For example when the impact was somewhat cushioned.'
In a statement, Lufthansa said it was aware of reports about the footage but questioned whether a mobile phone could have withstood the impact.
A spokesman for the company said: 'We have also read of reports in a French newspaper about the video.
'But we have not seen the video and we do not know if it exists. Therefore we cannot confirm if the video is genuine.
'Considering that everything on the plane was destroyed, it would be unusual for a mobile phone to survive the impact.' 
top image found here