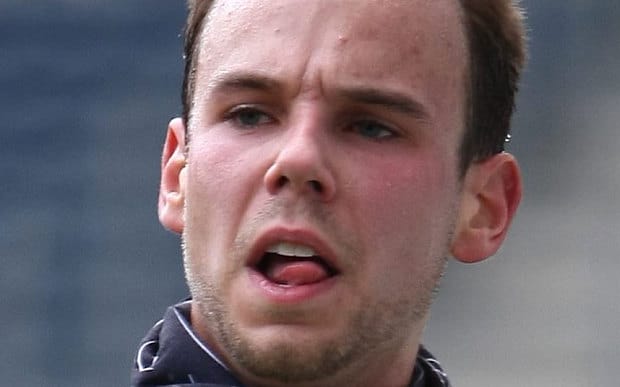 Andreas Lubitz Germanwings pilot email: To what degree does the drug industry bear culpability?
Shocking new revelations relating to Germanwings co pilot, Andreas Lubitz who purposefully crashed a plane into the French Alps has revealed the man having sent desperate emails where he told of his fears of going blind.
The revelations come almost a year after when Lubitz, then 27 took control of the A320 (after locking the plane's pilot out) and slammed it en route from Barcelona, Spain to Dusseldorf, Germany. At the time all 149 passengers and 6 crew on board, including Lubitz were killed.
Andreas Lubitz researched suicide methods, cockpit security day before crash
Andreas Lubitz fiance, Kathrin Goldback to flee Germany: 'The world hates us'
Cover up? Germanwings investigators deny mobile video of crash exists.
Kathrin Goldbach: 'Im pregnant with Andreas Lubitz child'
Germanwings black box: Andreas Lubitz insisted pilot take toilet break
News of the man's final emails which Lubitz had sent to his doctor two weeks before the suicide sabotage crash come via Germany's Bild magazine.
Cites the tabloid in part this weekend: 'I am afraid to go blind and I can't get this possibility out of my head.'
At the time of the crash, Lubitz was suffering from both depression and loss of vision, with the pilot fearing the exacerbation of his condition would lead to him losing his job as a pilot. A position the man had coveted ever since he was a teenager.
According to Bild, Lubitz was on the highest dose of Mirtazapine, an anti-depressant which is also used as a drug to induce sleep.
A report via Germany's Focus also reveals the presence of the sleeping pill Zolpidem in the pilot's hair which has been shown to being calming and anxiolytic. At the same time, however, the journal notes the agent reduces ones ability to concentrate along with driving ability.
Lubitz, who put the plane into a steep dive after locking his co-pilot out of the cockpit, said the increased medication he was taking was making him more restless and made him panic about his vision. 
Of question is to what degree the psychotropic drugs may have induced the man's sense of suicide, issues relating to the use of depressive medication that many studies have raised , despite the ongoing objection of the pharmaceutical industry.
He also told his therapist that he was bothered about the permanent tension he felt in his eyes and wrote: 'If it wasn't for the eyes, everything would be fine.'
It was later revealed that Lubitz had, in the five years before the crash, consulted 41 different doctors.
He was suffering from severe depression which almost led to him taking his own life a few years before.
The final report on the accident will be released on March 13, according to the Office of Research and Analysis of France .
Bild has released further details about Lubitz and his health and the role various doctors played in giving him sick notes.
The tabloid says that two days after the air crash, a psychiatrist told the police: 'Do not tell me he has flown a plane.' 
Andreas Lubitz girlfriend broke up cause he told her he was planning crash
Tomato Andy: What medical secrets was Andreas Lubitz hiding?
Andreas Lubitz depression: Did it drive him to suicide?
Why did Andreas Gunter Lubitz Germanwings pilot murder 144 passengers?
Germanwings plane 4U 9525 grounded over faults 24 hours earlier
Germanwings Flight 4U 9525: Why didn't pilots send SOS message?
Pictures: Lufthansa CEO Carsten Spohr: 'I don't know why.'
Germanwings plane crashes, 148 dead. Airline refuses to confirm.