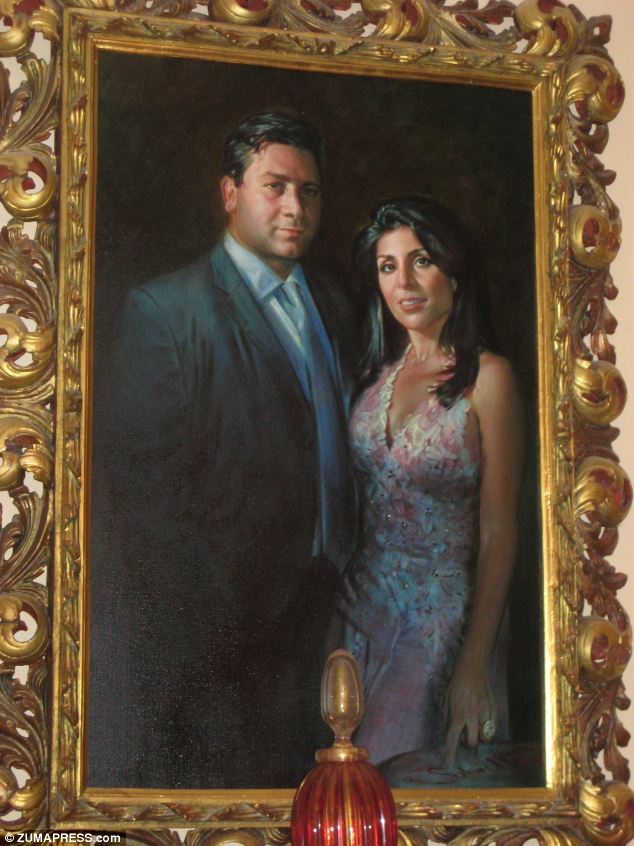 Jill Kelley would like to assure you she's not broke yet and has no plans on releasing a best seller book for now.
The UK's dailymail is in fine firing form this morning with its revelation that Jill Kelley and her husband Scott are in possession of what it deems to be an oversized 'tacky' commissioned painting of themselves hanging on their wall.
The garish painting comes encased inside an ornate gold brass frame which admittedly does very little to embellish the cause of the Kelleys who increasingly now find themselves going from once socialite stars of Tampa,Florida who once with their lavish parties had adjoining streets closed to that of tarnished matinee rivaling that of  'desperate housewife' tabloid stars.
As continuing revelations come to the fore it now becoming supposed that the Kelley's paid lavish attention to their 'friends' in high places in an effort  to gain a type of access to society, political and military circles. Unfortunately for the Kelley's who now find themselves deeply in debt, and shit out of luck, the fallout from the David Petraeus scandal has left their public image in tatters as questions as to the veracity of their affairs has become public fodder.
But if one really wants to gain a sense of the dailymail's sensibility to the Kelley's increasingly desperate plight, perhaps the following statement could be anymore clearer as a kind of metaphor to the debacle that the Kelleys now find themselves in.
'A closer look, however, and you notice that the paint is peeling on the outside and wooden chairs at all rather too well worn.'
Indeed! Aren't you glad you're not an aspiring socialite who has taken a savage public falling from grace, unless of course you are….?

Jill Kelley, Florida socialite has tacky painting of herself and husband. But do you care?
David Petraeus' wife threatens divorce as she demands to know how many other women he has slept with.
Paula Broadwell emails had Jill Kelley scared for her life. Death threats?
Jill Kelley's twin sister Natalie Khawan gives useless emotional speech.
Paula Broadwell regrets her affair with David Petraeus. Will the public buy it?
Paula Broadwell, David Petraeus mistress returns home with her husband. Still together for now.
Paula Broadwell, David Petraeus mistress turns up in public with husband.
Jill Kelley would like to remind you that Paula Broadwell is a criminal.
Jill Kelley writes pleading emails to Tampa mayor claiming she is receiving threats all night.
Oh really? Jill Kelley got to visit the White house three times in the last three months with her twin sister. But how?
Jill Kelley writes pleading emails to Tampa mayor claiming she is receiving threats all night.
So what's Fred Humphries the shirtless FBI agent really hiding?
Paula Broadwell's emails to Jill Kelley revealed. Very catty indeed…
David Petraeus affair scandal part of a White House cover up?
David Petraeus' wife can't believe the shame Paula Broadwell has caused.