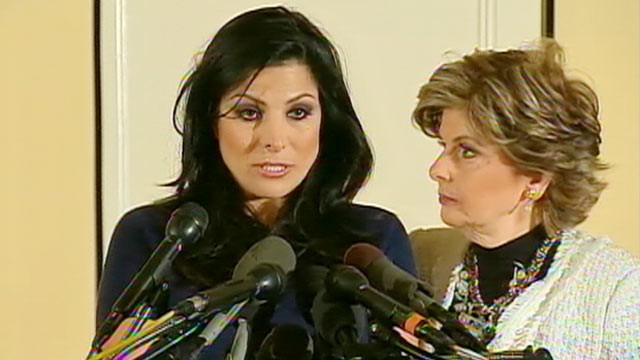 Jill Kelley would like to assure you she's not broke yet and has no plans on releasing a best seller book for now.
Jill Kelley, Florida socialite has tacky painting of herself and husband. But do you care?
David Petraeus' wife threatens divorce as she demands to know how many other women he has slept with.
Paula Broadwell emails had Jill Kelley scared for her life. Death threats?
Paula Broadwell regrets her affair with David Petraeus. Will the public buy it?
Paula Broadwell, David Petraeus mistress returns home with her husband. Still together for now.
Paula Broadwell, David Petraeus mistress turns up in public with husband.
Jill Kelley would like to remind you that Paula Broadwell is a criminal.
Jill Kelley writes pleading emails to Tampa mayor claiming she is receiving threats all night.
So what's Fred Humphries the shirtless FBI agent really hiding?
Paula Broadwell's emails to Jill Kelley revealed. Very catty indeed…
David Petraeus affair scandal part of a White House cover up?
David Petraeus' wife can't believe the shame Paula Broadwell has caused.
The desperate housewives of suburban Washington DC has officially aired.
In a much anticipated press statement, Jill Kelley's twin sister Natalie Khawan this early afternoon held a press conference with the aid and guidance of famed celebrity lawyer Gloria Allred where she essentially said nothing of consequence but to regale how all in the end will be revealed.
Said Natalie Khawan:
"My sister Jill and I aren't just twins; we're best friends. Literally inseparable. During my darkest times, Jill held the light for me,"
Stopping to pause and shed the requisite tears Ms Khawan then moved on to offer the following:
"I look forward to the day when I am able to answer everyone's questions and explain what really happened in this matter," she said.
Citing "pending investigations," Allred then offered Khawam would not be available for follow-up questions or other statements.
Which raises the question what pending investigations was Ms Khawarm actually referring to?
At present there have been instancess of both sisters having behaved and acted inappropriately as they have both enjoyed privileges and access normally not given to civilians, including intimate dinners and tours at the White house, supposed 'diplomatic status,' immunity, access to FBI agents and yesterday's revelations that they had received free flights on military planes at the taxpayer's expense. This on top of other questionable behavior courtesy of Jill Kelley who it said to have had an avalanche of  flirtatious and sexually tinged email exchange with Gen John Allen, who now also finds himself being questioned.
Not boding well for Natalie Khawan, a lawyer, is her losing custody of her son to ex husband Grayson Wolfe after it was deemed she had lied about domestic violence that she had supposedly suffered at his hands. Adding to her woes are debts to the tune of $3.2 million she has incurred including $100 000 legal divorce litigation fees as well $53,000 she owes the Internal Revenue Service.
Ms Khawan's debts come in light of recent news that her sister, Jill Kelley is also grappling to pay her mortgage and extensive credit card liabilities (said to have been incurred after putting on lavish boites to entertain military higher ups) which have also left her in debt to the millions. It is understood in Natalie Khawan's case she has gone on to declare bankruptcy.
Today's press statement comes after a mystery 'close friend' of Jill Kelley going on record to disclose how emails sent to her  via Paula Broadwell left her imminently fearing for her life. A heightened cry than one previously publicly indicated.
Natalie Khawan's lawyering up follows in the heels of her twin sister hiring trial lawyer Abbe Lowell and that of Paula Broadwell now having hired Washington DC pr outlet Glover Park Group.