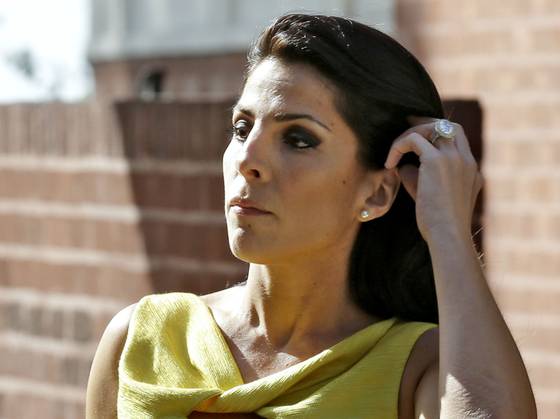 Jill Kelley's twin sister Natalie Khawan hires celebrity lawyer Gloria Allred. But why?
Paula Broadwell emails had Jill Kelley scared for her life. Death threats?
Paula Broadwell regrets her affair with David Petraeus. Will the public buy it?
Paula Broadwell, David Petraeus mistress returns home with her husband. Still together for now.
Paula Broadwell, David Petraeus mistress turns up in public with husband.
Jill Kelley would like to remind you that Paula Broadwell is a criminal.
Oh really? Jill Kelley got to visit the White house three times in the last three months with her twin sister. But how?
So what's Fred Humphries the shirtless FBI agent really hiding?
Paula Broadwell's emails to Jill Kelley revealed. Very catty indeed…
David Petraeus affair scandal part of a White House cover up?
David Petraeus' wife can't believe the shame Paula Broadwell has caused.
It seems socialite, highly connected insider Jill Kelley, the housewife who was able to get the FBI to pursue email exchanges that normally would never have fallen under their ambit has once again able to use her prowess and her looks to exploit her connections once again.
As the drama involving disgraced former CIA chief David Petraeus and  his paramour Paula Broadwell escalate (some are even wondering if Jill Kelley herself has some loose ends that she is fighting to keep private) Mrs Kelley has now been able to reach out to Tampa Florida mayor, where she resides, Bob Buckhorn urging for his hospice.
tampabay: TAMPA — The emails were anguished, pleading and sent straight to the mayor.
"Bob, hope all is well," Jill Kelley wrote at 5:57 a.m. Tuesday to Tampa Mayor Bob Buckhorn, whom she knows socially.
"My kids are scared, and need their 'home' back," she wrote, asking for help with "paparazzi" at her Bayshore Boulevard mansion.
At 6:18 a.m. Wednesday, she emailed again.
"Dear Mayor Bob," she wrote, saying that her name, along with those of former CIA director David Petraeus and Gen. John R. Allen, "have been exploited by the media."
"I wouldn't care — if they got the facts right and the focus was on the criminal that stalked all of us," she added in an apparent reference to Petraeus biographer and mistress Paula Broadwell. "But the truth will one day prevail."
The truth will one day prevail? Is that to belie that there's more than meets the eye that is going on? Has there been something that we have yet to all find out? Or is this just Jill Kelley's way to engage sympathy and circumvent uncomfortable questions as to her own complicity in the unfolding CIA scandal which has now pegged Gen. John Allen a military man engaging in questionable back and forth racy email with the married Mrs Kelley.
Mrs Kelley goes on to complain about the incessant press convening at their house and that she's been receiving threats all night. The nature of which Mrs Kelley has yet to disclose.
Writes Mrs Kelley: "I'm scared and cannot believe what my city — in which I have contributed so much of my love, time, money and leadership, has now done to me and my innocent family."
To date, Mrs Kelley's reaching out to an official is the second instance of her trying to exploit her 'position' – after she called the police asking for 'diplomatic protection' from the media due to her role as honorary consul to South Korea.
'I'm an honorary consul general, so I have inviolability, so they should not be able to cross my property,' she told the 911 operator. 'I don't know if you want to get diplomatic protection involved as well, because that's against the law to cross my property because, you know, it's inviolable.'
Alas for Mrs Kelley's sake that ploy backfired with authorities releasing the call to the media and failing to provide her with protection normally afforded to those in genuine authority, something interestingly Mrs Kelley believes herself by proxy to be, given her social status.
It is no open secret that Mrs Kelley has designs on extrapolating her social connections and the lavish receptions she has from time to time given in her house (including ones for Gen. John Allen and David Petraeus) having even thrown a boite for newly elected Tampa mayor Bob Buckhorn.
In the interim Mrs Kelley remains besotted as she tries to assuage how to retain her autonomy and anonymity as the media lurch closer to the scandal which Mrs Kelley unwittingly turned into a brush fire.