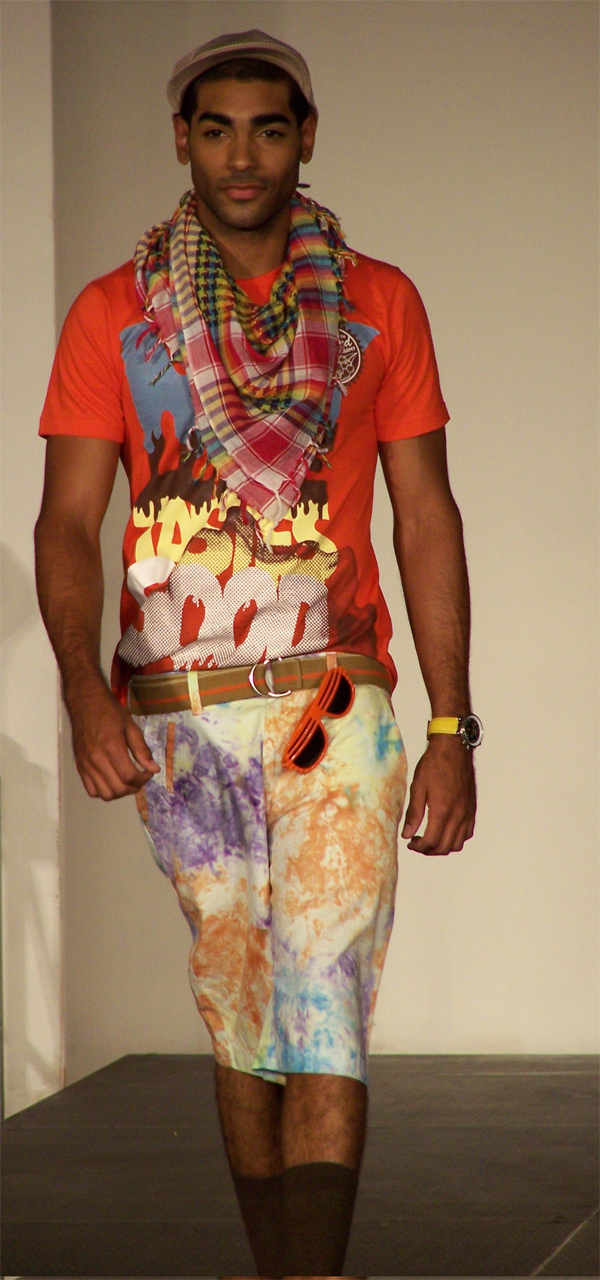 [slideshow id=1]
Last month's display at BKFW brought together a ballad of grunge, Victorian, preppy auteur, languid hip hop veneer and avande garde sensibilities. There were some notable hits, Nico and Adrien as always excelled with their slinky collisions, Catou, impressed us with his dandyise remonstrations, Peacocky, gave us downtown charm, whilst newcomer Maria Mahlmann relished us with sex vixen chamber maid escapades. Apart from other notables there were also some designs that came close, correct in thought and sentiment but perhaps a little unwieldy and derivative in presentation.
That said, it was a fine ensemble, an uninhibited presentation of bohemian verve, intrigue, colloquial charm and languid dispositions reflective of pop culture, foreign accents and unbridled local talent to be reckoned with.
The Round up;
Peacocky engendered a streamlined casual hipness with casual flannel pants, languid retro knickerbockers rolled past the knees, as well as synthetic velour track top and bottom fitted into a casual but very chic countenance. One could have been forgiven for thinking that they were getting ready for a glam golfing outing or a night out in some outpost deep in Prenzlauer berg, Berlin.
Samoy Lenko samoylenko.com enthused satin luxury, unbridled love for the feminine form and simple elegant slips swapped from bedside romps to fashionable boulevards.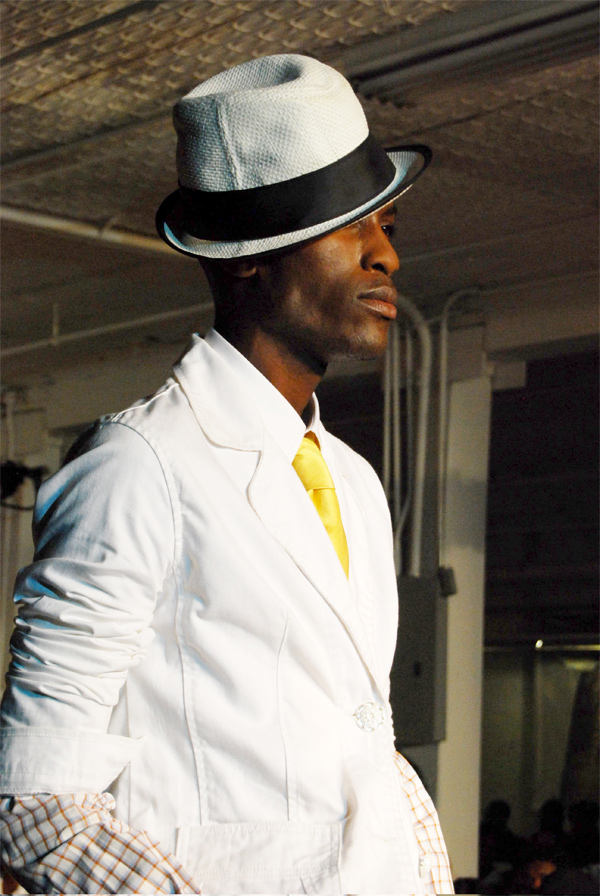 Catou catouwear.com on the other hand went for tight fitting Victorian themes, bodices, tapering jackets, sleeves wrapped over fine cotton shirts and vivid acrylic ties. It was like watching 'Jay Gatsby' parade in front of his Hamptons estate with his tilted white hat, a sly lilt and dandyesque sensibilities . A fine show infused with sartorial delight, bold colors and Saville Row cuts. It was gentry with sheen, hipness, and an insider's sense of wit. Bold and brave.
Das Komitee daskomitee.com infused us with languid body hugging cat suits with elongated silk bell bottoms, delicate elbow tassels, cordoned with mid drift chalice belts. They reiterated the theme of the preppy knickerbockers, plush, ruffled at the knees , thin braces enveloping taut shoulders, a visage of 1940's jazz elegance.
Vivian Pash gave us over flowing summery dresses of blood orange, ruffled single shoulder reiterated at the hems of bopping silhouettes. A bit boxy at times but an overwhelming diatribe to free flowing form and strolling silhouettes.
Maria Mahlmann mariamahlmann.de the German newcomer embraced the look of a sex vixen chamber maid with see through sheath emblazoned with vertical and horizontal stripes. It was a suggestive elegance reduced to the primal.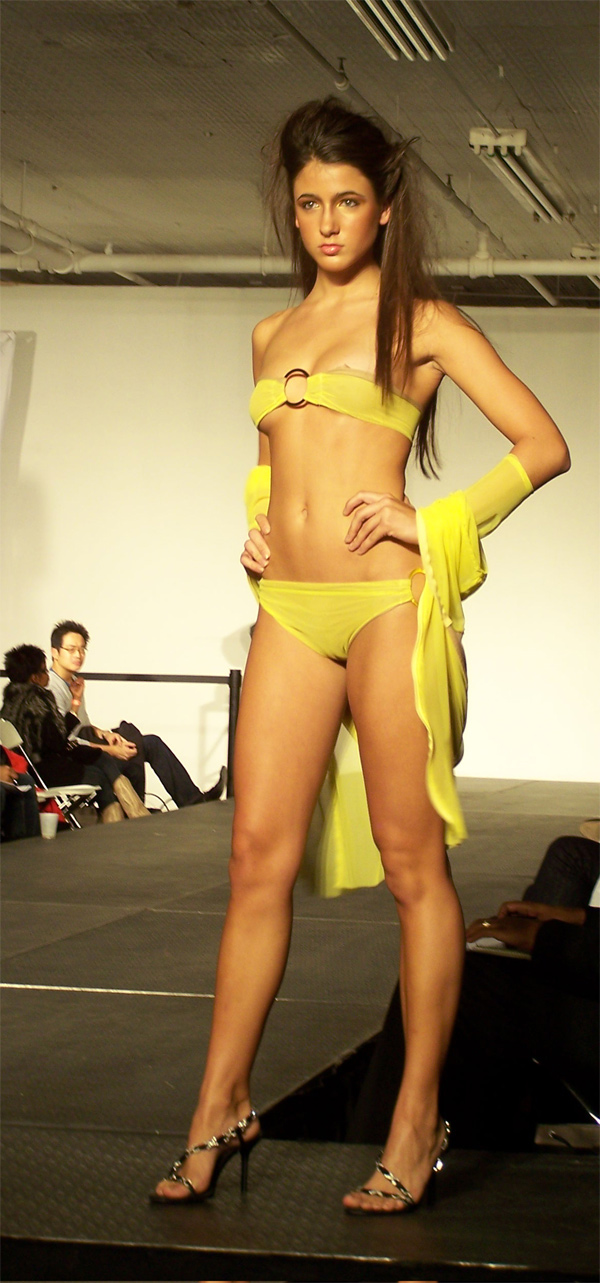 Nico and Adrian NicoandAdrian.com whet the audiences appetite for grandstanding, flamboyance and attitude. With their models pouncing to the electro beat of 'Prodigy' they effused mock irony, swagger and cadence courtesy of Vivienne Westwood inspired asymmetric cuts, mesh tops, hoods and aplomb. With light chamois and overlaying silk tunics an ephemeral lightness was suggested. They were happy to report after the show that they were set to open a flagship in Shanghai, China, with a concentration in faux furs, 'super rich' colors and textures…..but of course.
Fuesik rejoiced calypso themes, Tahitian sensibilities, lucid violet pastels, vivid embroidery swept up in puffed shoulders and mini hems. With lilac lycra, paisley silk chiffon bell bottoms, wrapped around the neck ruffles redolent of a tightly strung accordion. One could of have imagined that the painter Paul Gaugain was present when Fuseik went to work.
Alador and Smith aladorandsmith.com on the other hand took homage to the grunge veneer and beautified it with lilac infused printed rayon shorts, decorative kerchiefs and bold funky t-shirts (with smiling skulls wearing Ray-bans), t-shirts once meant for skate boarders but now meant for me and you. They continued their 'mock' presentation with cleverly designed t-shirts, deftly placed page boy inspired caps and basket ball inspired sneakers. A look that any 'dude' south of 14th st and aware of his bohemian sensibilities would be proud to be caught dead in.