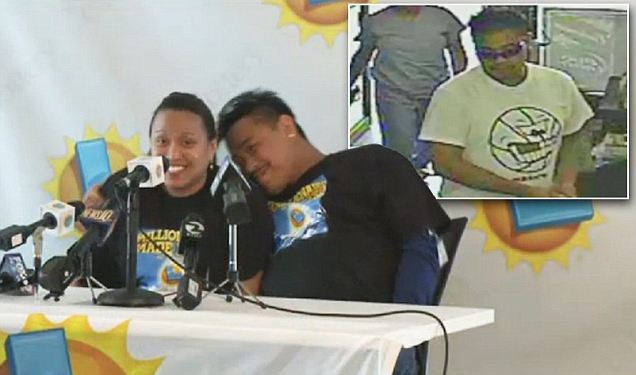 An unemployed man who hadn't realized he had won a lottery jackpot of $52 million has stepped up to claim his prize after a friend inadvertently came across his picture seeking the whereabouts of the missing winner.
Speaking to reporters, Bladimir and Marita Agnite told of how after realizing that they were indeed the sole winners of the lottery jackpot how they started crying and hugging each other.
Unable to track the winner of the July 27 drawing, Californian lottery officials resorted to releasing a still shot of an unidentified man dressed in a white T shirt and sunglasses buying the winning ticket at a Kwik Stop in Fremont, California.
According to reports, Bladimir Agnite was recently laid off from a printing company whilst his wife, Marita Agnite works at a local hospital as a nurse. At present Marita Agnite plans to continue working at the hospital whilst planning with her husband to use the funds to buy a new house (and one imagines a few trinkets) as well as sending off their children to college.
Offered Russ Lopez, deputy director of corporate communications for the lottery: "The California Lottery truly believes that when a person buys a lottery ticket with the hope and prayer of changing their lives, we should do all we can to connect them with their winnings. We believe this effort will make a lot of Californians very happy."
For the fiscal year 2011-12, Californian Lottery officials offered that more than $20 million went unclaimed.
For his part Mr Agnite is grateful that Californian Lottery officials went the extra mile. Indeed….